It's become common place to give the National Alliance for Mental Illness (NAMI) a really hard time for accepting such high levels of pharmaceutical funding.  While far too many people might still be surprised to learn the percentage of NAMI's total donation income made up by big Pharma (about 75% last I knew, or – in cold hard cash terms – around 23 million dollars from 2006 to 2008 as reported in the 2009 New York Times article, 'Drug Makers Are Advocacy Group's Biggest Donors'), it's no surprise to those of us regularly lurking around these parts.  Why?  Because several of us reference it with varying levels of snark just about every other day.
I was most recently reminded of this phenomenon through the comments section of my blog post, 'I Love…Stigma?'  However, I've come to realize that NAMI is taking an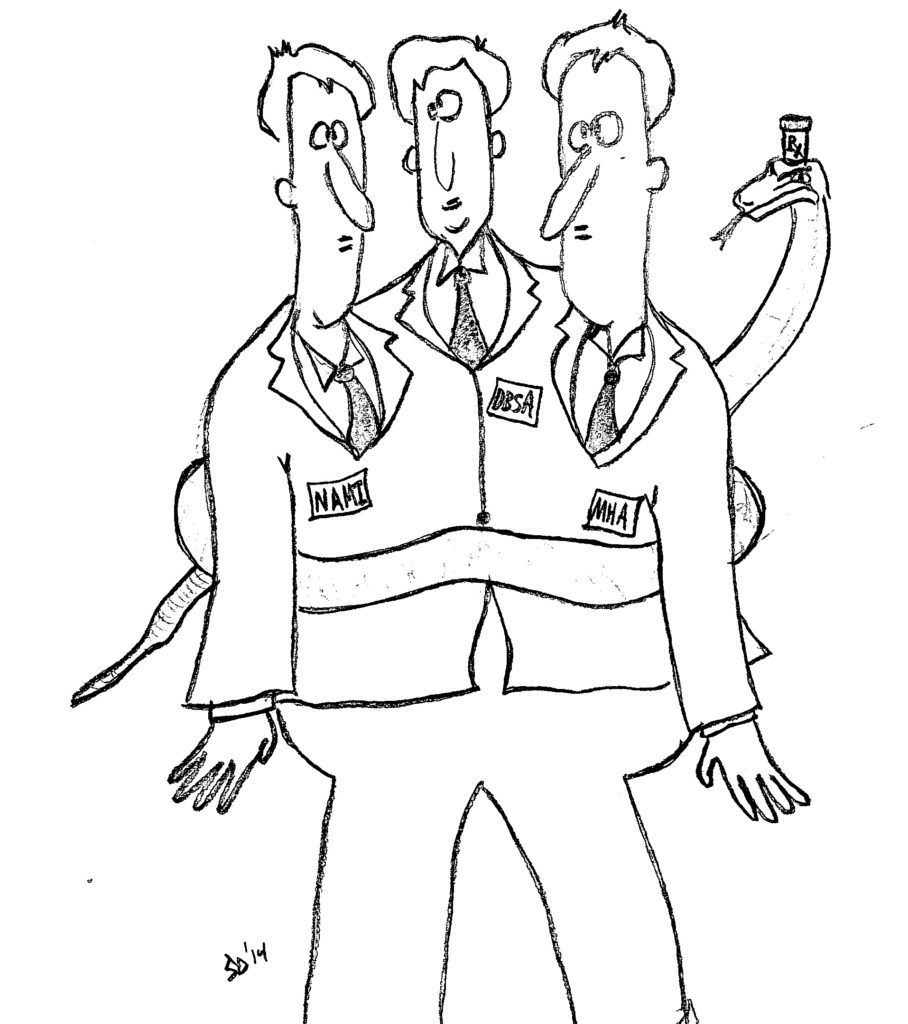 inequitable amount of heat on this topic, and that I, in fact, have been complicit in maintaining that imbalance.  Am I saying that NAMI should not be criticized for accepting pharmaceutical funding?  Absolutely not.  Rather, I'm simply not sure why, in our zeal to lambast NAMI, we've often given organizations like Mental Health America (MHA) and the Depression and Bipolar Support Alliance (DBSA) a free pass.  Hell, even organizations like the American Foundation for Suicide Prevention (AFSP) deserve their own fair dose of our ire.
First, More About NAMI:
There are many critics who say paying too much attention to NAMI's donation logs is misguided.  For example, Pete Early, author and self-proclaimed lifetime NAMI member, counters that while the level of pharmaceutical funding may be excessive, the funds are put to good and meaningful use.  This is similar (though not quite the same) to another argument I've heard more than once (and that I myself used to believe to some degree many years ago):  Isn't there a certain degree of irony to using drug company funds in ways that might just lessen the need for their drugs?
Others are quick to point out the exceptions, like NAMI Vermont who appear to have changed their policy as of 2011 and no longer accept drug company donations.  Along those same lines, people cite other sporadic signs of change such as Robert Whitaker's (highly controversial) invitation to speak at the 2013 National NAMI Convention in Texas or the appointment of Keris Jän Myrick as President of the NAMI national board in 2008.  (Keris is a very outspoken advocate and fellow Mad in America blogger who herself has been diagnosed and hospitalized, and was seen as largely responsible for Bob's invite.)  And, of course, the most popular counter-argument is that pharma contributions simply do not have anything to do with the vast majority of individuals involved with NAMI who generally range from extremely well intended to simply desperate for connection and support.
Most of these points are quite valid.  Previously impossible conversations have begun to happen that could lend support to critical shifts in national perspectives.  As with all national organizations, each chapter and group has its own personality, and some are run with a much keener eye to ethics than others.  Most importantly, many have begun to see the error in demonizing every last friend and parent who got desperate and reached out to what was quite frankly often the only option available for support – an option that we simply can't deny has helped some.  Ultimately, the demonization does us little favors, and I'll be the first to admit that I like many people who are connected to each one of the organizations I'm also criticizing herein.
Truth: NAMI does harm, and it does harm in many different ways that cannot be ignored.  While some may say that blaming all the parts for the actions of the whole is an over-generalization, excusing the practices of the whole as simply a way to fund important parts is equally – if not more of – a dangerous over-simplification.
It seems dubious to claim that NAMI is not influenced by its big pharma ties.  NAMI is a regular old conveyor belt for the message, "Mental illness is just like diabetes," which itself is a one way ticket to a potentially permanent drug regimen.  NAMI national also appears to have drunk the Treatment Advocacy Center (TAC) Kool-Aid, and offers a fact sheet on Anosognosia and its 'cure,' forced outpatient laws, easily accessible on their website.  In 2013, at the Massachusetts NAMI Convention, they had a fascinating little one-sided session on the charms of Electro Convulsive 'Therapy' (ECT) called "No More Cuckoo's Nest: Exploring ECT," and other chapters have posted newsletters with articles so enticingly titled as:
That last one is my personal favorite.
But, like I said, we're getting stuck on NAMI and there's way more to look at, here.
Mental Health America
Mental Health America was actually the subject of my very first Mad in America blog: 'I am the Number 60.'  In the article, I critiqued their new screening tool, the 'M3,' which purports to evaluate you for depression, bipolar, anxiety and PTSD in a mere 3 minutes.  It was clear to me then that MHA was getting pharmaceutical funding if for no other reason than that M3 seemed just a tad bit too eager to rush me off to my doctor, no matter how I answered most of the questions.
Here's some of the hard facts, though:  As much as NAMI may want to claim their status as top dog in the 'mental health advocacy' giants realm, MHA is also throwing their hat in the ring.  On their website, they state:
"Mental Health America, the leading advocacy org addressing the full spectrum of mental and substance use conditions and their effects nationwide, works to inform, advocate and enable access to quality behavioral health services for all Americans. "
It's a somewhat poorly written, windy little sentence, but it ultimately gets its point across:  MHA is a big player in the world of 'mental health.'  And are they any less guilty of spreading the medical-disease-psych-drugs-are-the-only-answer mantra?  Well, in some areas of their website they do pay lip service to the idea that there can be many causes of distress and disruption (only two examples of which they identify as biologically or genetically based).   However, when they're at their most honest and straight forward, it's clear where they stand with unequivocal declarations such as, "Clinical depression is a serious medical illness."  While they're public about their stance against Outpatient commitment, they're equally 'out' about their advocacy to have children screened for 'mental health issues' as early on as possible.
And the question of the hour:  From where does their funding descend?  In their 2010 annual report, 8 of the top ten named contributors were pharmaceutical companies (including all five that gave over $100,000 and 3 of five who gave between $50,000 and $99,999).
Depression and Bipolar Support Alliance
The Depression and Bipolar Support Alliance (DBSA) seems equally as troubled as its friends above.  Among fellow giants, DBSA's particular claim to fame is that it is, "created for and is led by individuals living with mood disorders."  However, many don't seem to know that DBSA is 'guided' by a 'Scientific Advisory Board' made up of 47 clinically-oriented professionals, 34 of whom are doctors and some of whom have come under investigation for conflict of interests relating to pharmaceutical ties.  This includes former Board member and psychiatrist, Joseph Biederman.
On their site, DBSA also promotes many pamphlets and facts sheets, including an 'educational brochure' on clinical trials.  And just like MHA and NAMI, they promote the idea of significant emotional distress as a medical illness, jumping right to the now well-debunked myth that depression involves "an imbalance of brain chemicals," in their very first sentence on the topic.  Similar to MHA, they appear to stand against Outpatient Commitment laws, but are equally as supportive of early childhood 'mental health' screening.
And their funding?  Once again, of their 10 top funders named in their 2012 annual report (each giving unspecified amounts over $25,000), eight were pharmaceutical companies.
American Foundation for Suicide Prevention
The American Foundation for Suicide Prevention (AFSP) may seem like small potatoes next to NAMI, MHA and DBSA, but they're worth an honorable mention.  After all, AFSP stakes the claim that at least 90% of individuals who die by suicide have a "mental disorder at the time of their deaths."  (Posthumous diagnoses, anyone?)  The site goes on to claim, "One of the best ways to prevent suicide is by understanding and treating these disorders," which once again sounds like an express ticket to the drug mill to me.  (Though, to their credit, the site does recognize – however briefly – that some prescriptions appear to increase suicidal urges.)
AFSP also boasts the honor of having a former president – David Shaffer – who was responsible for leading the development of the now somewhat infamous TeenScreen.  TeenScreen is a controversial tool that Marcia Angell (Harvard Professor and former editor-in-chief of the New England Journal of Medicine) was described as, "just a way to put more people on prescription drugs."
And the verdict on AFSP's funding?  Well, their 2012 annual report doesn't look quite as grim as the others, but there one and only donor over $100,000 is Forest Laboratories, and Eli Lilly, Pfizer, and at least five other drug companies (keep a sharp eye out for the ones that are less familiar and/or don't put 'pharmaceutical' at the end of their name!) donated in amounts ranging from $10,000 to $99,000.
So What?  Doesn't it Matter Most What They Do With That Funding?
Well, yes… and no.  In 2012, Dalhousie University Doctoral student Sharon Batt found this issue compelling enough that she composed her dissertation on a study of the policy implications of pharmaceutical company funding of 'patients' groups.'  Colleagues and college officials found her final report so compelling that she was awarded the "Dalhousie University Faculty of Graduate Studies Doctoral Thesis Award for the university's most outstanding doctoral thesis in the humanities and social sciences."  (She is currently preparing to write a book based on her research.)  Some of her most relevant findings included the following:
"Non-profit advocacy groups that are independent of industry . . . support a strong government role in drug regulation by demanding rigorous safety standards, improved post-marketing surveillance, enforcement of the ban on direct-to-consumer advertising (DTCA) and controls on the proportion of health care funds that are devoted to pharmaceuticals. These groups typically define pharmaceutical funding of advocacy groups as problematic. Industry-funded non-profits . . . contest the assumption that strict government regulations favour the public interest. Their demands tend to be consistent with those of industry: rapid drug approvals, legal DTCA and no limits on formulary drug spending."
Meanwhile, in a 2004 article by Pharmaceutical Executive Josh Weinstein titled, "Public Relations:  Why Advocacy Beats DTC" he states:
"DTC promotions result in excesses in spending, awareness overkill, mistargeted messages, and an overall negative image for our industry . . . DTC promotion regulations obligate advertisers to frighten the public with laundry lists of side effects… As a veteran pharma marketer, I have witnessed that the most direct and efficient tool for driving long-term support for brands has been, and continues to be, a well-designed, advocacy-based public education program . . . working with advocacy groups is one of the most accomplished means of raising disease awareness and enhancing the industry's image as deliverer of new and tangible value to patients. Often this advocacy work is unbranded, stimulating consumers to ask doctors about their symptoms. Then, companies can compete by promoting their brands to physicians."
Could it be any more plain?  Industry professionals are themselves publishing articles publicly acknowledging that one of the most effective 'tricks' they have up their collective sleeve is partnership with advocacy groups such as NAMI, MHA, and DBSA.  Need a specific example?  Try this one on for size:
In 2002, the Wall Street Journal published an article by Paul Glader revealing that Mental Health America (in collaboration with the JED Foundation) agreed to send 3,000 college presidents a letter and 13-page study titled, "Safeguarding Your Students Against Suicide." It was underwritten by Wyeth and Forest Labs, and apparently all geared toward offering widespread campus talks on depression (by the makers of Effexor!).
Other Points for Consideration
Not surprisingly, pharmaceutical companies frequently refer the press to the very advocacy organizations (NAMI, MHA, etc.) that they themselves fund.  ("Hey, don't ask us!  Ask those national leaders on mental health right over there.  We'll be right over here minding our own business. Pay NO attention to the man behind the curtain!" [Twiddles Thumbs])  What's the harm in that?  Well, take the book 'Prozac Backlash,' as an example.  When Joseph Glenmullen (a doctor from Harvard Medical with no other real claim to fame) authored 'Backlash' in 2001, he exposed problems with under reporting of negative effects and withholding of viable and much less dangerous alternatives.  The response?   Very public and very poor reviews by representatives from both NAMI and MHA (as noted in this Salon article).  Of course, those representatives failed to mention the millions in pharma funding their respective organizations had received, so mostly all the public got out of it was that officials from well-respected national organizations said the book was bad and wrong.  Counter message squashed!
But everyone has a fair shot at getting their opinions published, right?  Freedom of the press?  Not so much.  This brings me back to the CT Mirror Op-Ed piece by Rich Shulman (Mental Illness: Another Point of View) that I mentioned in my last post and that focused on the one sided and overwhelmingly medicalized perception of emotional distress being offered at a Connecticut Forum event called, "An Honest Look at Mental Illness."  On March 9th, Deron Drum of Advocacy Unlimited posted a statement in the comments section of Rich's piece sharing how his organization's voice had been outright silenced when they also tried to speak up about about the Forum event.
"We sought to have our view, similar to Rich's perspective, heard. One media outlet said that the last time they let someone speak against the current bio-medical philosophy in mental health – they received "angry letters" for weeks – so they would not let us be heard."
Deron had a similar experience with another media group who actually invited his opinion, but then shut it down once said media group heard what the opinion actually was and decided it was too askew of the mainstream message.  In the film 'Beyond the Medical Model,' Robert Whitaker himself talks openly about having no longer been allowed to write about 'mental health' in mainstream media in the period following the release of his book (the namesake of this very site), "Mad in America."  The point here is this:  The allegiance between the pharmaceutical industry and these 'advocacy' agencies has the power to shape public opinion in profound ways, including leaving very little space for other voices to even be heard let alone taken seriously.
Meanwhile, let's not miss just how entangled organizations like MHA, DBSA, NAMI and AFSP truly are with one another.  AFSP has shared at least one prominent board member with DBSA's Scientific Advisory Board (Jan A. Fawcett, M.D, who has also reportedly had pharmaceutical ties at times).  And, all the organizations are known for quoting one another to support their own claims (for example, this DBSA article that cites NAMI-reported statistics).  Given that the public is much more likely to believe what they hear from multiple sources (even if it's just the same misinformation passed around between 'friends'), recycling data between one another is a highly convenient, 'smoke-and-mirrors' strategy that leaves everyone involved looking all the more reliable.
It's also worth taking a closer look at the donation numbers between the four organizations and how they intersect with one another.  Strangely, the New York chapter of MHA donated somewhere between $25,000 and $49,000 to AFSP in 2012.  And, while Pfizer's gifting to MHA was fairly low (only totaling $21,500 in 2013), at least one of the grants making up that amount was for the specific purpose of improving "access to medication."  Meanwhile, by looking at the gifting disclosures publicized on each pharmaceutical's websites, one can also spot other odd little crossovers.  For example, in 2009 Wyeth reportedly gave $40,000 to AFSP,  $269,000 to DBSA,  $388,500 to MHA and  $255,500 NAMI.  However, upon closer examination, it becomes clear that DBSA, NAMI and MHA (along with the American Psychiatric Foundation, League of United Latin American Citizens, National Medical Association and the National Urban League) were all a part of the so-called 'Depression is Real' Coalition, and each individually received funds from Wyeth for that exact same project totaling $176,000.  The reason for approaching the gifting in that way is unclear, but nonetheless intriguing.
Side note:  Conveniently, if you want to know what other pharmaceuticals might be up to but need a list of names to look up, just check out the MHA 'How Can I Get Information About Medications' page.  There, they list the contact information for all 'major' pharmaceuticals.  (Once you know the name of the company, you can generally just search on that combined with 'gifting' or 'donations' and come up with their grant disclosure report.)
And what about that whole 'peer' element?  As most are aware, there's a trend sweeping the nation involving peer-to-peer supports that has included the development of 'Certified Peer Specialist' (CPS) trainings.  Well, guess what?  DBSA currently holds the national contract for CPS trainings for Veterans.  But never fear, MHA and NAMI have not been left out in the cold!  For example, they apparently co-sponsor the 'Via Hope' CPS training in Texas.  The people being trained for these 'peer' roles are the folks that are supposed to be guiding the system because they've experienced it first hand.  They're supposed to be change agents!  Yet it would appear that they are just one more group from which at least a significant percentage are unknowingly under the influence of drug companies, however indirectly.
Clearly, the impact of pharmaceutical funding to advocacy organizations runs far deeper than just what those organizations superficially appear to be spending said dollars upon
Conclusion
So, what are all the implications of having giant 'advocacy' organizations that are continuing to actively promote the medical disease model as the way, that are supporting their pharmaceutical funders by denouncing contrarians who dare speak up, that often have the monopoly on the ear of the media, that are paving the pharmaceutical 'path' in much less 'scary' ways than those 'DTC' commercials with their pesky, long lists of unintended effects, that collaborate among themselves and repeat each other's 'facts' to build credence, and then have also deemed themselves expert 'trainers' of the nation's 'peer' supporters who we're supposed to trust all the more because they've 'been there'… all the while amidst a general public that often has no idea about their funding relationships?  Well, gosh, I'll let you take it from here.
But for now, I can at least say this:
Dear NAMI, I'm sorry I acted as if you were ever all alone in this.  (Though, all told, you probably are still the worst of the bunch if for no other reason than your apparent stance on forced outpatient commitment laws.)  As we all know, it's hard to feel as if there's no one there for you who really 'gets it.'  But, you're clearly not alone, and so I apologize.  In the future, I promise to do a better job of balancing out my snide remarks among your various acronymized companions, as well.  I wouldn't want anyone to feel left out.
***
Mad in America hosts blogs by a diverse group of writers. These posts are designed to serve as a public forum for a discussion—broadly speaking—of psychiatry and its treatments. The opinions expressed are the writers' own.
***
Mad in America has made some changes to the commenting process. You no longer need to login or create an account on our site to comment. The only information needed is your name, email and comment text. Comments made with an account prior to this change will remain visible on the site.