Have you ever tried to do community engagement or join a coalition of people working on mental health stuff? How do you keep the disease model people from dominating? My friend Paul Komarek from ReDesigning Mental Illness says,
"Here's my take. Coalitions are not social change vehicles. They are power transmission utilities. They are cultures of their own. They're imperfect. Facilitated processes get what they are aimed at. 'The system' has a kind of gravity. It draws resources to it. And people in systems have blind spots. They can't even imagine what outsiders consider normal. So: take power, don't wait for it to come. Make demands you can stand up for. Unless it's your coalition, it's not 'the' coalition, it's THEIR coalition."
Research on Including Disenfranchised Viewpoints in Coalitions
If you have been unhappy doing coalition work or community engagement, they may have said it was you. They may have complained that you were too demanding or too triggered by your trauma issues. But the problem is not on us as advocates. This is a structural problem. Research by David Chavis from the Community Science Institute shows that coalition decision making often is incapable of hearing from oppressed or disenfranchised voices. This may be despite the best intentions of members of that coalition. One coalition I was in here in Kansas City, every single member of our steering committee was deeply committed to hearing from recovery movement advocates. Yet the funding came through mainstream sources, the committee was dominated by people who adhered to a disease model view of emotional distress. It was a project about "community solutions," and yet we had to continually fight to define community as "actually in the community: ie. Churches, schools, boxing clubs, gardening groups, yoga studios." Many other cities working on that same project had obviously slipped with this concept and obviously defined community as "a community mental health center."
In our city, we also struggled with inviting advocates to the table yet punishing them for remaining advocates. This tension between mainstream funders and coalition members is quite common, according to David Chavis' classic research article with 128 citations called "The Risks and Promises of Community Coalitions."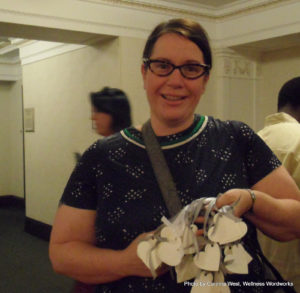 In this article, he explains that hearing voices like the recovery movement is basically impossible in a coalition based structure. Despite the best intentions of many people in a given project, coalitions are always likely to struggle with mixed loyalties, accountability, status quo vs, visionary debates, diversity struggles with different faction needs, scarce resources, and lead agency domination. 
How This Affects Advocates:
What is worse is that advocates have become actively discouraged with the whole process of community engagement. One advocate from North Carolina says,
"I am distancing myself from organizing, in part because my experience trying to work with and engage with the local coalition for a "recovery oriented system of care" and organize toward community engagement under the Creating Community Solutions banner was such a rip. So much is problematic in efforts to be a part in making change in the way we approach mental health/being human. These dialogues were – in the end – a platform for the existing paradigm (seek mental health treatment) to assert itself.

"I saw footage from one city where – in opening the dialogues – they shared anecdotes and quips like "so, maybe you have family member whose just not seeming right, he's quiet, spends a lot of time by himself, might be acting a little, you know, maybe a little off, might just be he needs some medication!

"The issue – or one of them, anyway – is that almost everyone who is involved in the mental health and community care systems has been brought up in and educated in the rhetoric and beliefs of the medical model. So that is the foundation (literally, in some cases) that the creating community solutions dialogues were organized around. So, participation as a psychiatric survivor and as A peer was fraught with stresses, microagressions, and straight up wounds. To be fair, there were some really really good people involved, but they were all so busy that organizing a series of community dialogues just wasn't happening and that contributed to the failure of the initiative. It's problematic that the President did this whole big thing and blah, blah, blah and then *nothing much changes*. (ahem.)"
In my own resignation letter from Kansas City's steering committee, I said, 
"Unfortunately, I can no longer afford to do this kind of advocacy work on a personal or professional level. Each time I came to one of our meetings it activates my trauma issues and costs me days or weeks of productive or non reactionary work time. At every meeting I was forced to educate people about a mental health civil rights movement that some didn't even know existed and others wanted to marginalize."
And, again, this experience is not alone in academic literature. A review of community engagement projects found that many community members exprienced signification amounts of negative wellbeing impact for their efforts. The highest risks were for people with disabilities and people working in projects based on "consulting" instead of shared tasks or co-production:
It was also found, however, that community engagement could pose risks for personal well-being, and that the potential gains may be unevenly distributed. Importantly, for some 'vulnerable' groups, such as disability and older people, the negative consequences of  engagement may outweigh the perceived benefits. It is important therefore that those planning such initiatives are sensitive to users' specific concerns and support requirements, comprehensively addressing their requirements throughout the process of participation.
So next time you are asked to join a committee and you feel like it may be a waste of time? It may be too traumatizing? It's not just you. If they are not really, really ready to hear what you have to say, you might as well stay away. I usually do more positive posts, but sorry, I feel that "Peer input" and "nothing about us without us," is actually a real hazard to our health unless it is done very skillfully. And so many groups think the process will happen by magic and they set us up for failure by not using good science on community engagement.
***
Mad in America hosts blogs by a diverse group of writers. These posts are designed to serve as a public forum for a discussion—broadly speaking—of psychiatry and its treatments. The opinions expressed are the writers' own.
***
Mad in America has made some changes to the commenting process. You no longer need to login or create an account on our site to comment. The only information needed is your name, email and comment text. Comments made with an account prior to this change will remain visible on the site.