A team of researchers offers a new perspective on how repeated or chronic childhood adversity impacts individuals' social and cognitive abilities. Rather than focusing solely on the detrimental effects of experiencing adversity, their work, published in Perspectives on Psychological Science, examines how children develop adaptive skills relevant to coping with the high-stress nature of their surrounding environment. Subsequently, understanding these skills, they assert, is central to designing effective interventions and promoting success in school, work, and civic life.
"We argue that the deficit model is incomplete because it misses how individuals adapt to their environments by fine-tuning their cognitive abilities to solve recurrent problems faced in their local ecologies."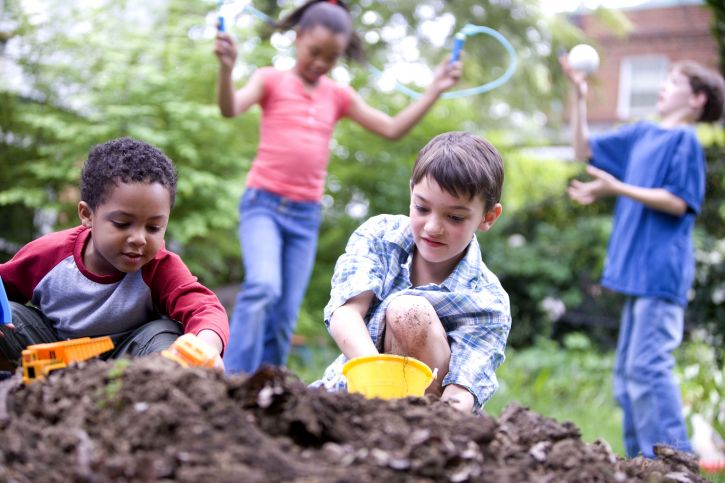 Ellis and his team of researchers do not minimize the well-documented deleterious effects of stress and instability on aspects of children's health, development, and learning. They thoroughly acknowledge, for example, how poverty has been linked to lower cognitive, learning, and achievement outcomes, as well as exposure to other harmful contexts which may expose children to violence, environmental chemicals, and family instability.
After addressing the magnitude of these hardships, the authors point out that the discussion almost exclusively revolves around what is wrong with children who have faced adversity, and what qualities they are lacking, culminating in a deficit-focused approach that overlooks the unique strengths and skills children may develop in the process of meeting the unique needs of their environment.
"Implicit in the deficit approach is the assumption that children and youth from high-risk backgrounds are broken and need to be fixed (e.g., made better at sustaining attention, delaying gratification, and following rules—to help them think and act more like children and youth from low-risk backgrounds)."
By comparing these children to their low-risk counterparts, and by observing their performance on only a specific subset of abilities deemed relevant to certain environments, the context of their development has been removed, placing them at a disadvantage.
For example, children who have been exposed to predominantly high-stress environments might develop the ability to rapidly shift their attention in order to avoid threat and take advantage of opportunities, whereas children from safer backgrounds may prioritize inhibitory control, making the opposite trade-off. Assessing students exclusively on the latter skill is an example of how a deficit approach fails to accurately capture abilities and potential. Furthermore, it simply portrays an incomplete story of children who have faced adversity.
Rather than referring to this population as "vulnerable" or "at-risk," Ellis and researchers opt to use the term "stress-adapted," with "adaptive" being used in evolutionary terms to mean survival and reproductive outcomes. The researchers argue that a greater understanding of what is promotive rather than harmful for stress-adapted children is central to effectively implementing interventions. Already-existing interventions, on the other hand, seem to have been borne out of the deficit approach and assume that success involves getting stress-adapted children "to think and act more like children from low-risk backgrounds," the researchers contend.  The cost of their shortcomings
Already-existing interventions, on the other hand, seem to have been borne out of the deficit approach and assume that success involves getting stress-adapted children "to think and act more like children from low-risk backgrounds," the researchers contend.  The cost of their shortcomings extends beyond implementation fees to iatrogenic effects.
"Although exposures to high-stress environments certainly jeopardize health and survival (e.g., Mulvihill, 2005; Shonkoff et al., 2009), and traditional interventions approaches are part of the solution to that problem, the challenge is that extant interventions work against, rather than with, social and cognitive adaptations to high-stress environments"
Ellis and his team reviewed empirical studies to tackle their primary questions:
"What are the attention, learning, memory, problem-solving, and decision-making strategies that are promoted by exposures to childhood adversity?"
"What do youth from high-risk environments do well?"
"How can we work with, rather than against, these strengths to promote better intervention outcomes?"
Interestingly, their review was not confined to literature on human adaptivity. The researchers also reviewed evidence of how birds and rodents adapt to high-stress environments and found that across all species there were both context-dependent detrimental and advantageous effects.
"As per life history theory, growing up under harsh, unpredictable conditions creates apparent resource-allocation trade-offs that cause some neural structures to be diminished so others can be enhanced or preserved."
For example, some species of birds developed enhanced physical abilities and memory that enabled them to catch food more effectively and to remember locations of food when supply was unpredictable or scarce. Rodents also demonstrated the ability to adapt to early-life stress through early puberty, greater skill in attracting mates, faster fear conditioning, enhanced learning, enhanced memory for early life events, more play behavior, and increased dominance-related behavior in social contexts.
As with the above examples, the researchers found that the literature on humans similarly supports hypotheses claiming conditions of high-adversity influence the development of adaptive responses. People who had been exposed to unpredictable or stressful environments demonstrated enhanced developments in the following areas:
Social-emotional skills (e.g. emotion recognition, empathic accuracy)
Memory in particular areas (e.g. remembering early-life events, remembering emotionally laden or stressful events, rapid-shifting working memory)
Learning in specific domains (e.g. learning about animal danger, learning motor skills and habits)
Cognitive speed and accuracy in specific domains (e.g. recognition of angry or fearful faces)
Increased attention-shifting ability
Problem solving abilities focused around attainment of rewards
Such skills mirror the ecological demands of the individual. For example, the ability to more quickly identify and orient toward angry faces and voices may serve as protective by increasing one's chances of survival. However, it is important to highlight the context-dependent nature of these abilities. Alternatively, if one is easily distracted by certain stimuli, they may exhibit poorer inhibitory control and worse performance on other skills involved in longterm memory.
The authors point out various challenges that arise when attempting to study the effects of stress on human development. The data on humans is limited, and because high-stress environments cannot ethically be experimentally manipulated, the research is largely correlational. Oftentimes, the research uses SES and conditions of poverty to conceptualize adverse living circumstances. Future research, the authors note, can seek to further distinguish dimensions of adversity and high stress (e.g. chronic vs acute).
"In total, research in birds, rodents, and humans suggests that developmental exposures to stress can improve forms of attention, perception, learning, memory, and problem solving that are ecologically relevant in harsh or unpredictable environments."
The findings of this article offer a number of implications toward interventions, education, and employment. The researchers recommend moving away from a one-size-fits-all model to revise and modify current approaches accordingly to the evidence presented here on human adaptivity and resilience.
Classroom curriculums and instruction can be altered to represent more dynamic forms of learning better-suited to the needs of students who demonstrate the ability to rapidly shift attention. The authors also note that this population may perform better in settings that "do not attempt to minimize movement or suppress the reality of daily uncertainties," by openly addressing and speaking to the prevalence of daily stressors.
Another way to modify instruction is by focusing on the content itself. Stress-adapted students might better be able to learn complex reasoning more easily if it were to be taught within the context of power implications, for example. Standardized testing often neglects to take this context into consideration.
More evidence may be needed to further guide the details of these interventions, but the authors' notion to thoroughly understand the strengths-based side of adversity effects is compelling.
"The better we understand these strengths and abilities, the more effectively we can tailor education, policy, and interventions to fit the needs and potentials of stress-adapted children and youth."
****
Ellis, Bruce J., et al. "Beyond Risk and Protective Factors: An Adaptation-Based Approach to Resilience." Perspectives on Psychological Science (2017). (Abstract)