In a review published this month in The Lancet Psychiatry a team of researchers out of Hellesdon Hospital and Norwich Medical School investigate supportive features of the psychiatric diagnosis process from the perspective of providers and clients alike.
The researchers, Amorette Perkins, Joseph Ridler, Daniel Browes, Guy Peryer, Caitlin Notley, and Corinna Hackmann, recognize inconsistencies in provider understandings of best practices in communication and collaboration with clients, and recent efforts to integrate patient voice into the development of improved policies. They reviewed 78 qualitative studies to establish a picture of some of the preferred and problematic characteristics of the diagnosis delivery process.
Across stakeholder perspectives, Perkins and colleagues identified a discernable call for a movement toward an individualized, collaborative, and multifaceted approach to psychiatric diagnosis. Their results indicate that disclosure, openness, information provision, collaboration, timing, the stigma associated with a diagnosis, and the ultimate function of a diagnosis are some of the factors that determine overall satisfaction with the diagnosis process.
As the experience of receiving a diagnosis is so closely intertwined with one's long-term relationship to that diagnosis, Perkin and team's contributions have important implications. In their review, they disentangle unique features of diagnostician, client, and caregiver perspectives regarding the diagnosis process, including modality and quality.
"This review aims to incorporate the views of all key stakeholders, throughout the diagnostic process, across mental health conditions," they write. "This broad scope offers an opportunity to gain a comprehensive and widely applicable understanding of the factors that influence service­user experience, through which we seek to reveal nuanced consideration of the experiential similarities and differences across contexts, such as diagnosis and service setting."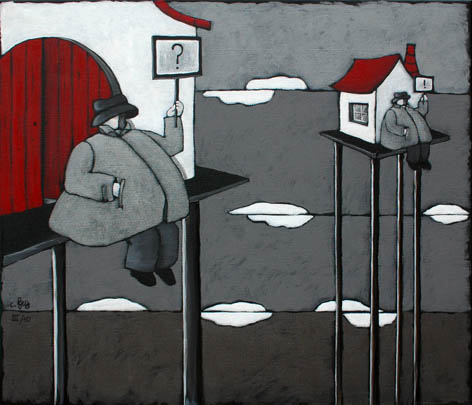 The authors highlight that qualitative investigation is perhaps the most sensitive approach to the exploration of the experiences of providers and clients alike. Open-ended, non-judgmental, and unstructured review of preferences concerning best practices paint perhaps the best possible picture of the way things have been and the direction service delivery should move to support clients on both an individual and systematic level.
A large number of qualitative studies have examined service-user experiences with specific components of the diagnosis process, but often these studies have focused on specific diagnoses, and have been limited in their scope and perspective (e.g., looking only at views shared by a particular subset of stakeholders). Perkins review integrates preferences across multiple stakeholders and to examine an array of dimensions of the diagnosis process across a spectrum of diagnoses and settings.
It is not uncommon for individuals who've received a psychiatric diagnosis to feel skeptical, hurt, or angry about label they've been assigned. It is also common for individuals with psychiatric diagnoses to think that their experiences have been misunderstood and misinterpreted by others. Often, psychiatric diagnoses require clinicians to make judgments about the personal and interpersonal functioning of a client, sometimes through inference, deductive reasoning, and limited exposure to the client in question.
Past research has revealed that the voices and opinions of clients themselves are often overshadowed by clinicians' preconceived notions, leading to a failure to incorporate the lived experiences of their clients in clinical decision making. Additionally, details of a client's context unrelated to formal diagnostic criteria are sometimes inappropriately applied to the diagnostic process.
Qualitative studies reporting service-user (client), clinician, and caregiver experiences and perceptions of the diagnosis experience were included in this review. Their search yielded articles published in 13 countries, and materials satisfying inclusion criteria written in languages other than English were translated and included.
One theme that was present in all studies meeting inclusion criteria was the perception of psychiatric diagnosis as othering and as a stigmatizing label. The authors highlight that acknowledgment and discussion of the potential for stigma associated with diagnosis could serve to reduce fear among clients in a clinical setting. They suggest that initiating conversations around the implications of a label, providing sources for informational and social supports, and taking a constructive, person-centered approach serve to support clients' clinical and diagnosis experiences.
An interesting difference between client and provider perspectives was identified concerning diagnosis disclosure. In some studies reviewed, providers and diagnosticians expressed hesitance to disclose diagnoses to their clients due to "concern about causing harm," while many client frustrations stemmed from providers withholding relevant health information. Providers and service-users also expressed discrepant trends in perspectives regarding time-to-diagnosis. Service-users were inclined to report that their path to diagnosis was longer than they thought it should have been, while clinicians reported challenges stemming from the pressure to diagnose quickly.
Integration of diagnosis and recovery approaches would be more supportive of clients than diagnosis processes followed by treatment planning at a later date. Variation exists concerning client attitudes regarding the acceptability of a psychiatric diagnosis, but acceptability generally increases when a label catalyzes immediate support experienced as acceptable to the person receiving services.
"Receiving a mental health diagnosis can hugely affect service users' lives, but research into how to best approach the diagnostic process has been limited. Our co­produced, evidence-­based model can directly inform clinical training and practice, functioning as a reflective guide for clinicians. The model promotes a holistic understanding of individuals, which can empower service users, provide hope, and guide treatment."
Above all, findings from the current study suggest a need for increased provider-client communication, honesty and openness, and for a diagnosis that is tied to a recovery-focused model. Psychiatric diagnosis requires clinicians to make judgments about the lived experiences of their clients, and inclusion and education of service-users can go a long way towards improving clinical outcomes. Improved communication also has the potential to repair trust compromised by many years of systematic abuse against those with psychiatric diagnoses perpetuated by paternalistic policies infused in clinical interactions.
****
Perkins, A., Ridler, J., Browes, D., Peryer, G., Notley, C., & Hackmann, C. (2018). Experiencing mental health diagnosis: A systematic review of service user, clinician, and carer perspectives across clinical settings. The Lancet Psychiatry. (Link)
***
Mad in America hosts blogs by a diverse group of writers. These posts are designed to serve as a public forum for a discussion—broadly speaking—of psychiatry and its treatments. The opinions expressed are the writers' own.
***
Mad in America has made some changes to the commenting process. You no longer need to login or create an account on our site to comment. The only information needed is your name, email and comment text. Comments made with an account prior to this change will remain visible on the site.