A new study by Michael P. Hengartner, Jules Angst, and Wulf Rossler found that those who took antidepressants were more likely to have worse depression symptoms after 30 years. This finding was independent of illness severity as well as a large number of other potential confounding factors.
The authors, from Zurich University of Applied Sciences and the University of Zurich, published their findings online this month in the journal Psychotherapy and Psychosomatics. The study followed 591 Swiss adults from the age of 20/21 until they were 49/50 years old. Antidepressant use at some point in the study was associated with worse depression symptoms at the end of the study—even when controlling for initial symptoms and other factors.
"These findings are in line with a growing body of evidence from several naturalistic observational studies suggesting that (long-term) antidepressant use may produce a poor long-term outcome in people with depression," Hengartner writes.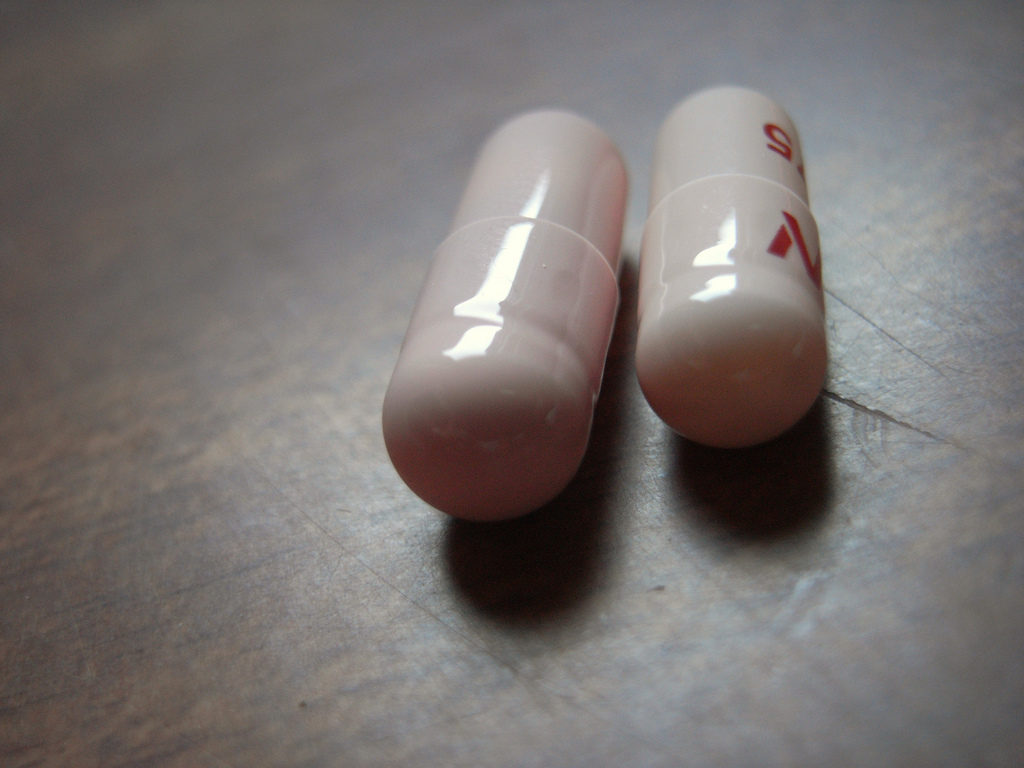 The evidence that antidepressants worsen long-term outcomes mostly comes from research that charts real-world outcomes. For instance, a one-year study in a community sample found that only 5% enjoyed a "sustained remission," which is a much lower remission rate than is typically found in studies of unmedicated depressed patients. Similarly, in the large STAR*D trial, only 108 of the 4041 (3%) patients who entered the study remitted and then stayed well during the one-year followup. All of the others either never remitted, relapsed, or dropped out of the study. Another study in real-world patients published last year found that antidepressant use was associated with worse outcomes after 9 years.
The prevailing theory on why antidepressants might make depression worse is receptor sensitization—the idea that long-term use modifies the ways that neuroreceptors work, causing the medication to become ineffective, and potentially making people vulnerable to worsening depression.
This new contribution to the literature presents the results of 591 adults in a community sample. The participants were assessed by trained psychologists and psychiatrists with a semi-structured interview. Assessments began in 1979 (baseline assessment) when participants were all 20-21 years old, and assessments were conducted again in 1981, 1986, 1988, 1993, 1999, and finally in 2008 (when they were 49-50 years old). At each assessment, the primary outcome was the severity of depressive symptoms within the previous year. Also at each assessment, participants reported whether they had been prescribed antidepressants within the previous year.
In order to create their predictive model, the authors tested whether being prescribed antidepressants at one assessment (e.g. 1988) increased the likelihood of more severe depressive symptoms at the next time point (e.g. 1993). The authors stratified the participants into several groups: no depressive symptoms; few depressive symptoms that did not last for more than 2 weeks; "subthreshold" depression that did not quite reach diagnostic criteria; and major depression as defined by meeting criteria as specified in the Diagnostic and Statistical Manual (DSM).
Averaged across time-points, 6% of those with few depressive symptoms were taking antidepressants; 7% of those with "subthreshold" symptoms were taking antidepressants, and 22% of those with major depression were taking antidepressants.
After controlling for numerous factors—including gender, education level, marital status, any affective disorder at baseline, suicidality at baseline, family history of depression, subjective distress, childhood adversity, and low parental income—the researchers found that antidepressant use was associated with an 81% increased likelihood of depression severity increase. For example, this means that people who had "subthreshold" depression but took an antidepressant were 81% more likely to worsen to major depressive disorder than those who had "subthreshold" symptoms but did not take an antidepressant.
Because the researchers in the current study could not randomize people to antidepressants or a control group, this limits causal conclusions. There is always the possibility that some other factor accounted for the poor long-term effect that the researchers found, e.g. some trait shared by people who sought medication that led to worse outcomes. However, when the researchers controlled for all the usual risk factors—such as depression severity, subjective distress, baseline symptoms, demographic traits (e.g. gender, education level) and even childhood adversity—they still found that antidepressant use was associated with a worse long-term outcome.
****
Hengartner, M. P., Angst, J., & Rössler, W. (2018). Antidepressant use prospectively relates to a poorer long-term outcome of depression: Results from a prospective community cohort study over 30 years. Psychotherapy and Psychosomatics. doi: 10.1159/000488802 (Link)