A new study, published in JAMA Pediatrics, investigates the patterns of mental health diagnosis and medication treatment within a cohort of children from birth to 8 years old insured by Medicaid. The results confirm previous findings that children on Medicaid receive more psychiatric medication, and prolonged mental health treatment, when compared to their privately insured counterparts.
"In this cohort study of 35, 244 newborns, 19.7% received a psychiatric diagnosis and 10.2% received a psychotropic medication by 8 years; 20% of medication users received 2 or more medication classes concurrently for 60 days or more," the researchers report. "At age 7 years, half or more of the medicated children had more than 200 days of drug exposure."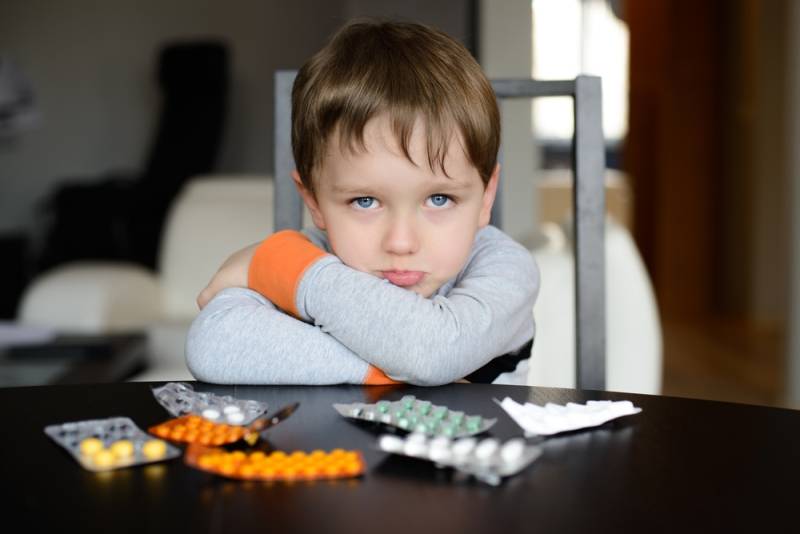 The accelerating increase in the use of psychotropic medication among children in the United States has generated public concern. Particular attention has been given to the use of antipsychotics for behavioral management in children as, "most pediatric psychotropic medication use (67%) is not approved by the US Food and Drug Administration and is therefore prescribed off-label, whereby the evidence for the benefits is not available to balance the risk of potential harm."
The researchers raise social and ethical concerns about the finding that it is poor, near-poor, and foster care children that are most prevalently prescribed psychotropic medications. In this study, the majority of those being treated were also predominantly African American.
In fact, "little research has been devoted to developmental psychopharmacology despite concerns that early exposure to such medications in utero or in the preschool years could potentially alter physical, cognitive, and emotional development."
This study is the first of its kind to assess cumulative mental health services in a Medicaid-insured cohort of children from birth until 8 years. Additionally, sex differences in the patterns of initiating psychiatric services among children were examined, information largely unknown prior to this study.
The research team began by selecting a cohort from computerized Medicaid claims data from a mid-Atlantic state in 2007. The outcome measures include psychiatric diagnoses, psychotropic medication class use, the use of psychosocial services, the annual duration of psychotropic medication class use, and additional sex-specific differences between psychiatric diagnosis and psychotropic medication class use. Covariates included sex, race/ethnicity, residence (urban, suburban, rural), and Medicaid eligibility group (i.e. foster care, supplemental security income, family at or below poverty level).
The birth cohort represents 92.2% of the 38,225 Medicaid enrollees born in 2007 and enrolled in this mid-Atlantic state, totaling 35,244 participants. The population is largely African American, 42.9%, with similar distributions of white and Hispanic children. The cohort did not drastically differ by sex, including 17,267 girls to 17,977 boys.
Several findings were significant. First, the percentage of children receiving a psychiatric diagnosis increased linearly from 0.3% at age 1 year to 19.7% by age 8 years. Nearly sixty of all psychiatric diagnoses were categorized as behavioral diagnoses. Attention-deficit/hyperactivity disorder (ADHD) accounted for 43.9% and learning disorder for 31.6% of the psychiatric diagnoses.
The likelihood of receiving a psychiatric diagnosis was greater among white children compared with African American and Hispanic children. More than half of the children living in foster care received a diagnosis contrasted with 16.6% of income-eligible children on Medicaid. Additionally, children living in urban or rural districts were two times as likely to receive a diagnosis compared to those living in suburban counties. Boys were more likely to receive an ADHD diagnosis, while girls were more likely to receive a diagnosis of adjustment disorder or anxiety disorder, though the ratio of boys to girls with an ADHD diagnosis has lowered over time. Nearly one-third of diagnosed children received a learning disorder diagnosis, regardless of sex.
Concerning psychotropic medication use, "the 8-year cumulative incidence of psychotropic medication class use was 10.2%." By age 8 years, 74.9% of children taking medication were prescribed stimulants, followed by 32.1% receiving an α-agonist (such as clonidine, which can be prescribed for anxiety symptoms), and 19.5% an anxiolytic or hypnotic medication (including benzodiazepines). The authors found that white children and African American children were more likely than Hispanic children to receive a psychotropic medication by 8 years. Boys were likely to begin medication on a stimulant, whereas girls were likely to be introduced to anxiolytics and hypnotics. On this issue, Pennap and colleagues add:
"This finding is particularly concerning because there is insufficient evidence to support the use of anxiolytics and hypnotics as first-line treatment for pediatric mental health conditions."
Additionally, 86% of the 11.5% of children who initiated treatment with psychotropic medication received a benzodiazepine, "a highly potent subclass of anxiolytics with high potential for addiction and dependence in both pediatric and adult populations." The duration of psychotropic medication use ranged depending on the age and medication type, from 49 days to 210 days. Those in foster care had 153 additional days of psychotropic medication use from ages 3-7 years, while those eligible for supplemental security income had an additional 193 days compared to other children.
Finally, the use of psychosocial services reached 12.2% by 8 years. The most commonly accessed service was family therapy, followed by individual therapy, and group therapy. The authors also explored the variance of concomitant use of psychotropic medications, finding that most concomitant use begins upon the beginning of school, around 5 years. Ultimately, this study illustrates a substantial use of mental health services in Medicaid-insured youth.
Replication of this study is warranted, as the sample is derived from only one state in the United States and may not be generalizable. Furthermore, this study is based on medications dispensed and not necessarily consumed. Finally, data was lost due to death or migration, and follow-up information was not able to be maintained with those participants. The researchers conclude that their sample contribution is "more modest because we captured services in a single-state Medicaid population without critically important data on clinical outcomes or academic performance," and instead provide an "8-year cumulative incidence and duration of psychiatric service use in the same children and captures long-term exposures to medications prescribed largely off-label."
Pennap and colleagues note that while it is not surprising to have an increase in services "given the considerable incidence of trauma and physical abuse among very young Medicaid enrollees," still there needs to be follow-up research to ensure safety in pursuing these treatment methods. They conclude:
"Our cumulative estimates highlight the extent of early exposure to psychotropic medication and support the need for drug safety monitoring and outcomes research to provide evidence for the benefit-risk, particularly in the early years of life."
****
Pennap, D., Zito, J. M., Santosh, P. J., Tom, S. E., Onukwugha, E., Magder, L. S. (2018). Patterns of early mental health diagnosis and medication treatment in a medicaid-insured birth cohort. Jama Pediatrics. doi: 10.1001/jamapediatrics.2018.0240 (Link)