A team of Boston researchers published an article in JAMA Psychiatry investigating the impact of non-gender affirmative treatment on transgender people. Of the nearly 28,000 adult transgender survey respondents, close to 20,000 had spoken to a professional about their gender identify, of whom almost 4,000 reported exposure to gender identity conversion efforts (GICE). Lifetime exposure to GICE was significantly associated with severe psychological distress in the last month as well as lifetime suicide attempts, and exposure before the age of ten was significantly associated with lifetime suicide attempts.
"GICE is associated with adverse mental health outcomes in adulthood, including severe psychological distress, lifetime suicidal ideation, and lifetime suicide attempts," write the authors.

"In this study, exposure to GICE before age 10 years was associated with adverse mental health outcomes compared with therapy without conversion efforts. Results from this study support past positions taken by leading professional organizations that GICE should be avoided with children and adults."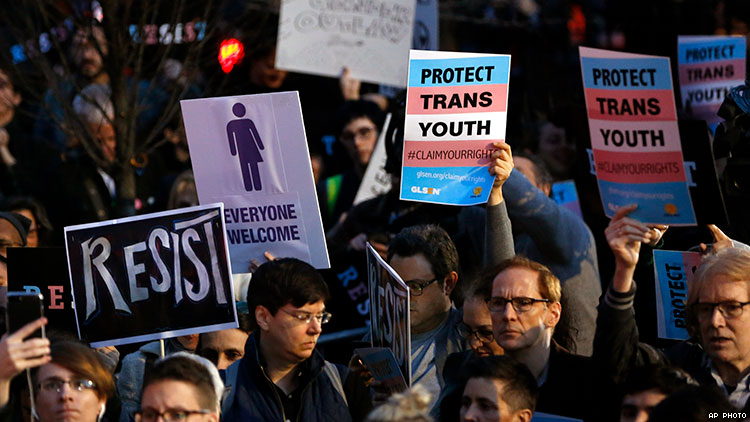 Literature has established that transgender people have a higher prevalence of adverse mental health outcomes and that gender-affirming care is associated with positive mental health outcomes as contrasted to gender conversion 'therapy.' Numerous professional organizations such as the American Medical Association and the American Psychiatric Association have labeled the 'therapy' unethical and ineffective, yet non-licensed religious advisers and mental health practitioners have nonetheless advertised GICE.
The prevailing wisdom is that gender identity stabilizes after puberty, and as such most GICE efforts have focused on young children. There has been an increased understanding that gender diversity is not a 'disease that requires alteration,' but the practice remains nonetheless.
To evaluate the prevalence and impact of GICE, the researchers evaluated results from the 2015 US Transgender Survey, which received 27,715 responses from trans adults in the US. They analyzed whether individuals had ever experienced GICE, age of exposure, source of exposure, psychological distress, binge drinking, cigarette and drug usage, suicidal ideation, and suicide attempts. Demographic and socioeconomic variables served as controls.
After adjusting for demographic variables, lifetime exposure to GICE significantly associated with multiple outcomes such as severe psychological distress during the previous month, lifetime suicide attempts; exposure to GICE before the age of ten significantly associated with multiple measures of suicidality such as lifetime suicide attempts.
There was no statistically significant difference between those exposed to GICE by secular vs. religious professionals. Once sexual orientation conversion efforts were taken into account, both lifetime exposure and childhood exposure to GICE associated only with lifetime suicide attempts. The study was limited by the cross-sectional design, lack of data on duration, frequency and forcefulness of GICE, inability to capture GICE in non-professional settings, and not knowing at which age respondents received non-GICE therapy.
"Based on the findings of the current study, it appears that transgender people are exposed to GICE at high rates, perhaps even higher than the percentage of cisgender non- heterosexual individuals who are exposed to sexual orientation conversion efforts, although direct comparisons are not possible," write the authors.

"One potential explanation for this is that compared with persons in the sexual minority group, many persons in the gender minority group must interact with clinical professionals to be medically and surgically affirmed in their identities. This higher prevalence of interactions with clinical professionals among people in the gender minority group may lead to a greater risk of experiencing conversion efforts."
While other studies have found that conversion efforts for sexual orientation significantly associated with depression and suicidal ideation, this study was the first to find an association between any conversion efforts and suicidal ideation as well as attempts. The authors suggest that GICE may associate with emotion dysregulation, interpersonal dysfunction, and maladaptive cognitions.
Those in lower socioeconomic groups had a higher likelihood of being exposed to GICE; due to the cross-sectional design, the authors could not suggest whether lower-SES individuals were more likely to receive GICE, or whether GICE was so emotionally damaging that future educational, professional, and economic challenges emerged.
There has been a concern that early exposure to GICE may lead to feelings of shame, and this current study expanded that to focus on adverse mental health outcomes. Early rejection of gender identity may have important developmental implications. As such, the authors recommend against such 'therapy' at any age, suggesting that any intervention to alter gender identity is associated with poorer mental health.
****
Turban, J.L., Beckwith, N., Reisner, S. L., & Keuroghlian, A. S. (2019). Association Between Recalled Exposure to Gender Identity Conversion Efforts and Psychological Distress and Suicide Attempts Among Transgender Adults, JAMA Psychiatry, [ePub ahead of print]. DOI: 10.1001/jamapsychiatry.2019.2285 (Link)