A new study, published in the journal of Psychiatric Research and Clinical Practice, investigates the effect of complementary, integrative therapies in the treatment of Post Traumatic Stress Disorder (PTSD) for U.S. military veterans. The results of the multisite randomized control study indicate that both Mindfulness-Based Stress Reduction (MBSR) and Present-Centered Group Therapy (PCGT) may be effective complementary treatment options for PTSD, with significant improvements in self-report data reported by MBSR participants.
"The therapeutic process in the treatment of PTSD depends on the simultaneous presence of vivid experience and nonreactivity. Simple distraction from the distressing cognitions and emotions provides only temporary relief, as the underlying circuits remain intact and ready to fire whenever triggered," the authors, led by Lori Davis from the University of Alabama School of Medicine. "In the case of MBSR, traumatic memories that arise may be experienced within an accepting frame of mind and be less likely to induce the fear-conditioned stress response."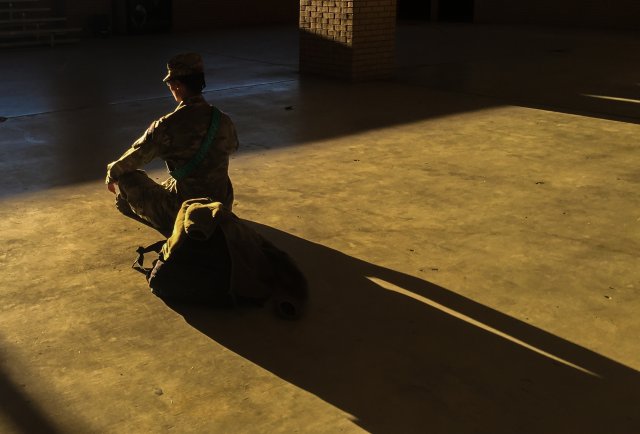 While the American Psychiatric Association recommends trauma-based psychotherapies and psychotropic medications as first-line interventions for Post-Traumatic Stress Disorder (PTSD), others have raised concerns about the use of psychotropic treatments for PTSD.
Davis and her colleagues conceptualize PTSD as "an overgeneralization of a conditioned fight-or-flight response to previously neutral stimuli . . . firing automatically in response to stimuli that would be better served by a more flexible response."
Treatment for PTSD involves utilizing neuroplasticity to form and strengthen new neural circuits in ways that are adaptive for the individual's life. Mindfulness-Based Stress Reduction (MBSR) is one therapy mentioned as a non-medical option to treat PTSD. MBSR is an evidence-based treatment that has been shown to decrease anxiety, prevent depression relapse, and have been used to reduce suicidal thoughts and improve wellbeing.
"In theory, mindfulness could be useful in the treatment of PTSD, in teaching patients to stay in the moment and not dwell on past or future events beyond their control," the authors write. "This less reactive mode of coping may provide a way for people with PTSD to feel a greater sense of control and be less avoidant, which may lead to improved quality of life and emotional well-being."
The current study attempts to investigate the effect of MBSR as a complementary and integrative health approach to treating U.S. military veterans diagnosed with PTSD. The studied took place at three separate clinical sites in the United States. Participating veterans were randomized to receive either eight weeks of MBSR training or eight weeks of Present Centered Group Therapy (PCGT), chosen as a control group.
PCGT, a secondary complimentary group-based treatment, shares similarities with the MBSR group. The group therapy approach aimed to reduce symptoms by normalizing veterans' experiences, decreasing isolation, and increasing awareness and objectivity of how PTSD affects one's daily life.
Primary outcomes were evaluated using the Clinician-Administered PTSD Scale for DSM-IV (CAPS-IV) as well as participant's self-report responses on a PTSD Checklist (PCT), a 17-item self-report scale. Data were collected at baseline, three weeks, six weeks, and nine weeks (one-week post-intervention).
Following eight weeks of receiving either MBSR or PCGT treatment, data were collected and analyzed. Both MBSR and PCGT participants showed significant improvements in PTSD symptomology according to the CAPS-IV scale (completed by clinicians). This outcome suggests therapies with aspects of group cohesion, validation from other veterans, health education, and psychosocial support are beneficial interventions for veterans with PTSD.
On the 17-item self-report scale completed by veterans following the study, individuals indicated that they "felt greater efficacy and control, which led to a perception of clinical improvement that was not noted by investigators charting symptoms." While MBSR and PCGT participants both showed reductions in symptomology from a clinician's point of view, participants in the MBSR group endorsed greater felt wellbeing than the PCGT control group.
More research is needed to understand the mechanisms of complementary therapies such as MBSR and PCGT. However, studies like this are encouraging, provide support for non-medical based therapies, and assist in the treatment of disorders such as PTSD for veterans and civilian populations.
**
You can find a list of non-drug treatments for PTSD here: https://www.madinamerica.com/non-drug-therapies-ptsd/
****
Davis, L. L., Whetsell, C., Hamner, M. B., Carmody, J., Rothbaum, B. O., Allen, R. S., … & Bremner, J. D. (2018). A Multisite Randomized Controlled Trial of Mindfulness-Based Stress Reduction in the Treatment of Posttraumatic Stress Disorder. Psychiatric Research and Clinical Practice, appi-prcp. (Link)