New research examines the relationship over time between the use of smartphones, smartphone dependency, loneliness, and depressive symptoms among young adults. The study, recently published in the Journal of Adolescent Health, was led by Matthew Lapierre, Pengfei Zhao, and Benjamin Custer from the University of Tucson.  The team's findings suggest that smartphone use may predict smartphone dependency over time, that smartphone dependency may be linked to loneliness and depression over time, and that loneliness may predict later experiences of depression.
"In just over a decade, the smartphone has become a technological necessity. The Pew Research Center indicates that 77% of American adults own a smartphone, and that such ownership is nearly universal (95%) for adolescents. Yet, with the growing importance of smartphones in teens' daily lives, there is some concern that these devices are interfering with their overall health and well-being."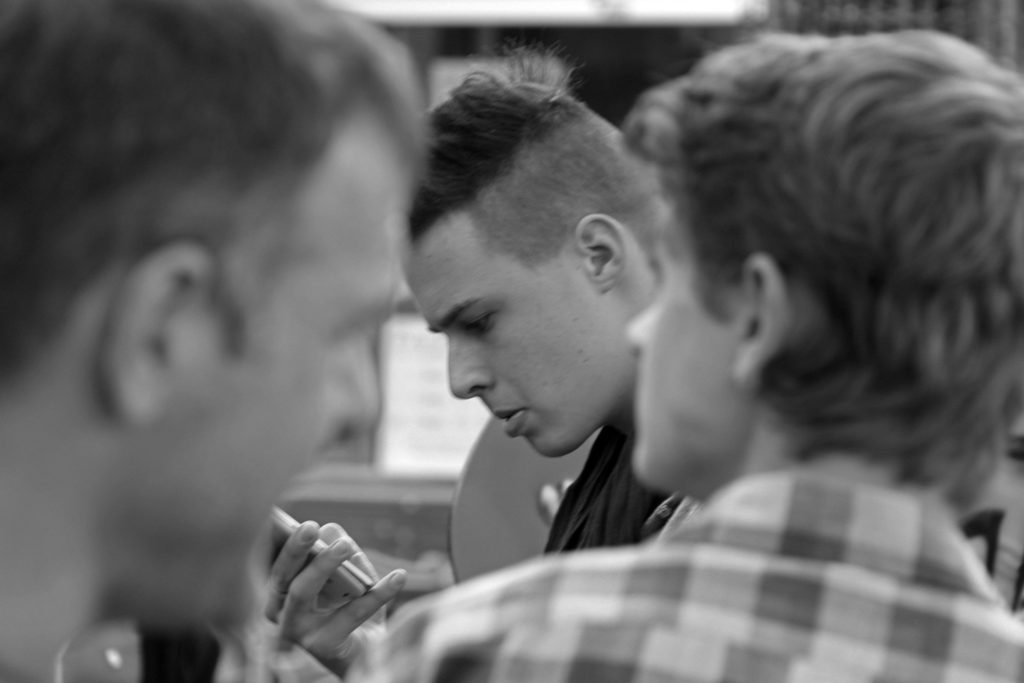 The team tracked these characteristics in a sample of 17- to 20-year-old participants at two time points separated by approximately three months. Despite various limitations to the study and its preliminary nature, grains of insight provided here have significant implications.
Although recent research in the realm of technology use and wellbeing is abundant, it can be challenging to navigate. For example, in the wake of what has been termed a "depression epidemic," research has linked smartphone use to stress, loneliness, sleep deprivation, depressive symptoms, and various other facets of mental health among teens.
The notion of a depression epidemic may be a narrow conceptualization of broader structural issues, but research has indicated recent, palpable shifts in wellbeing among teens. And yet, some studies have suggested that relationships are weak between technology use and adolescent wellbeing, and others have promoted app-based interventions to combat experiences of depressive symptoms and mental health challenges.
The interplay between technology, smartphones, social media, mental health, wellbeing, etc. is complex and cannot be easily reduced to a predictable channel of causality. Research is needed both to examine these intricacies and dispel common misconceptions about directionality — Lapierre, Zhao, and Custer's work chips away at these questions.
"[W]hat is unknown is whether smartphone dependency fuels diminished well-being or if the relationship works in the other direction (i.e., depressive symptoms/loneliness breeds smartphone dependency). In addition, because of mixed findings, the association and directionality between smartphone use and well-being are also underdetermined. [T]his study uses a longitudinal examination of late adolescents' smartphone use, smartphone dependency, loneliness, and depressive symptoms to help answer these important questions."
The authors explored directionality using a "two-wave longitudinal survey" in a sample of college students (N=346) across three schools in the US with an average age of 19. As described above, smartphone dependency, smartphone use, loneliness, and depressive symptoms were measured across two time points separated by an approximately three-month stretch (or "waves") using a variety of self-report rating scales.
"The results revealed that smartphone dependency predicted depressive symptoms and loneliness over time, and loneliness marginally predicted smartphone dependency over time. Also, smartphone use was associated with later smartphone dependency, yet smartphone use did not have a direct relationship with either depressive symptoms or loneliness."
The researchers highlight the clinical significance of the finding that smartphone dependency may be a mechanism underlying loneliness and symptoms of depression experienced by young adults. In interpreting the results, it is crucial to recognize that the influences of smartphone use cannot necessarily be generalized to interaction with screens or technology in general. They explain that smartphone and internet dependency is associated with "different constructs."
The limitations to Lapierre, Zhao and Custer's study include a relatively homogeneous sample (predominately white, female college students), the short period that elapsed between both waves of data collection, attrition limiting the size of the sample, the absence of application of clinical thresholds to indicate depression, and issues regarding the strength of smartphone use and smartphone dependency measures applied. The focus of the study on relationships between smartphone use and adverse outcomes may have limited the picture painted, as it meant that positive aspects of smartphone use could not have been identified.
Despite these limitations, this study sets the stage for future work "…[using] multiple-wave data over a longer period to test these relationships", "…[using] direct observations of smartphone use (i.e., using smartphone applications such as Moment) to further validate the findings of the present study," and more.
"[It] is necessary to acknowledge that late adolescents are vulnerable to becoming depressed and lonely, particularly when many of these young people are making significant life changes such as joining the workforce or moving away to college. Therefore, understanding the directionality of the relationship between smartphone engagement and depressive symptoms and loneliness may shed light on late adolescents' mental health maintenance."
****
Lapierre, M. A., Zhao, P., & Custer, B. E. (2019). Short-Term Longitudinal Relationships Between Smartphone Use/Dependency and Psychological Well-Being Among Late Adolescents. Journal of Adolescent Health. DOI: 10.1016/j.jadohealth.2019.06.001 (Link)