Educational books about mental health conditions have become a booming part of the children's book market. Now, researchers are investigating the accuracy of explanations given in these books—how well do they reflect the research on diagnoses such as "ADHD?"
In a new study, published in the Scandinavian Journal of Child and Adolescent Psychiatry and Psychology, researchers looked at nine educational books intended for children and adolescents of various ages. The books ranged from being targeted to eight-year-olds to being aimed at teenagers from 12 to 18 years old. The researchers included informational books (nonfiction) published in Dutch, and only included one book by each author (to prevent a single author from skewing the data). All of the books were intended to teach children about the nature and treatment of ADHD.
The researchers investigated how much each book focused on biomedical narratives of ADHD, and how much each book included psychosocial information about ADHD.
"Providing the main focus for information in eight out of nine books, biomedical information about ADHD predominates in the available youth information books, while psychosocial information about ADHD is far less well covered."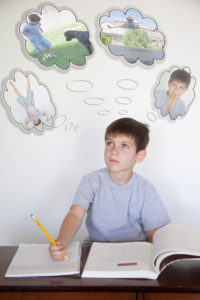 Ernst Daniël Thoutenhoofd led the research at the University of Gothenburg, Sweden. The team also included ADHD researchers Laura Batstra, Linda Foget, and Caroline van Haeringen from the University of Groningen, The Netherlands, and Sanne te Meerman at Hanze University of Applied Sciences, The Netherlands. 
The researchers examined the text of each book, breaking down the potential information found into eight "biomedical" narrative elements and five "psychosocial" narrative elements. The biomedical narrative elements were ADHD as a cause (underlying illness causing symptoms), biological factors, clinical diagnosis (diagnosis as a medical label), brain abnormality, medication (as treatment), neurofeedback (as treatment), heritability (genetics) and persistence (ADHD as a long-lasting or lifelong "illness").
The psychosocial narrative elements were ADHD as a label for behaviors that others perceived (like parents or teachers), and that may change, environmental factors, descriptive diagnosis (diagnosis as a way of describing behaviors/experiences), behavioral intervention (treatment) and normalization (ADHD behaviors as existing on a spectrum of what is "normal" for children).
All of these explanations are, to some degree, present in the scientific literature, although many of them are still under debate. For instance, slight average differences in the size of specific brain areas have been detected, which disappeared when researchers included IQ as a factor in their analysis. Likewise, stimulant treatment has been criticized as improving attention in the immediate, but resulting in no benefit or even worsening over the long term. 
The researchers found that over the nine books, more than twice as many (207) passages fell into the biomedical narrative category than the psychosocial category (91). The most common narrative texts included explaining ADHD as a brain abnormality, explaining the medical treatment, usually stimulants, and explaining a behavioral treatment for ADHD. 
In all but one of the books, researchers found that more than half of the text passages involved biomedical explanations. In some books, as much as 90% of the text was biomedically-focused. There was one outlier that provided a balance between psychosocial accounts and the biomedical model: 58% of that one was psychosocially-focused. 
Only two books included environmental factors in their explanations of ADHD, and only two books included the idea that ADHD behaviors could be a normal part of childhood experiences. 
The researchers include examples of text from the books—text, which involves a biomedical explanation of ADHD that is at odds with the current research. For instance,
"It means that there is a clear connection between biological factors (the brain) and ADHD. Both the form and the functioning of certain brain areas are different when you have ADHD." (ADHD? Laat je niets wijsmaken!, p.57) 

"If you are a child or young person with ADHD, the development of your brain will be delayed by two to three years, relative to a child or young person without ADHD." (Chaos in je hoofd, p.38) 

"And indeed … scientists have discovered that the brain of children with ADHD does function just a little different from the brain of children without ADHD!" (ADHD? Laat je niets wijsmaken!, p.32)
In 2017, an article in Lancet Psychiatry overstated the biological differences researchers detected, resulting in extreme pushback from the scientific community. After calls for a retraction, Lancet decided instead to publish an entire issue of their journal devoted to re-analyzing that study. In their re-analyses, researchers found that the supposed brain differences were only present in a few extreme outliers and that they disappeared altogether when IQ was included in the tests. That is, there was no evidence that children with an ADHD diagnosis had any brain differences at all. 
Laura Batstra and Sanne te Meerman—researchers on the current study—teamed up with legendary ADHD researcher Keith Conners (namesake of the Conners Comprehensive Behavior Rating Scale), and Allen Frances, chair of the DSM-IV task force, to author an article in the re-analysis. They write,
"The most important argument against the authors' conclusion that 'patients with ADHD have altered brains' is that it is not supported by their own findings."
In another article in the same issue, researchers write,
"There is no point in conveying that a child with ADHD has a brain disorder."
****
Batstra, L., Foget, L., van Haeringen, C., te Meerman, S., & Thoutenhoofd, E. D. (2020). What children and young people learn about ADHD from youth information books: A text analysis of nine books on ADHD available in Dutch, Scandinavian Journal of Child and Adolescent Psychiatry and Psychology, 8, 1-9. DOI: 10.21307/sjcapp-2020-001 (Link)