Dear Fellow Dialoguers,
The success of Mad in America has, from the start, been connected with our ability to create a safe space for dialogue. MIA was, to be sure, carried into existence on a wave of response to Robert Whitaker's books by people whose experience had been previously invalidated and whose voices had not been heard. But the ultimate success of MIA's mission has to do with creating a safe space for a dialogue that includes everyone who has a stake in the narrative around the diagnosis of, and response to, human distress.
The surprising finding of the creators of "Open Dialogue," the municipal response to "mental health crisis" that originated in Western Lapland, was that crises—including "psychosis"—tended to resolve when they shifted their focus from "treating" or "fixing" to simply fostering a safe space for dialogue. In a similar spirit, MIA has striven to provide a safe and welcoming space for for discussion of treatments that, at best, have not helped, and in many cases, caused harm. But we have also striven to change the narrative around how to respond to this pain and these crises.
At many points this has been a difficult and painful mission. However, it may be that in times of crisis such as this, when dialogue is arguably the hardest and likely the most painful, that it is also the most urgent and most beneficial. This, too, has been the experience of the Open Dialogue practitioners, and after nine years Mad in America has similarly made progress. Our purpose has begun to be accepted as valid; from the United Nations, to many individual nations, even to high levels of government as well as within the halls of psychiatry and medicine, it is acknowledged that the ways we have sought to redress human distress through narrowly medical treatments have not been working. These approaches are being re-assessed at human, economic, societal, or scientific levels.
Not only is dialogue necessary, it is happening. It may be that we find what some have said all along; that dialogue may be in the end be not only necessary, but possibly the best—and often sufficient—response to human distress at its deepest level.
The need for and benefits of dialogue have perhaps never been more stark on a global level than now. The response to the Town Halls and the Urgent Dialogue that MIA, HOPEnDialogue, and Open Excellence have convened so far seems to affirm that the time we have spent learning to make safe spaces for dialogue has been time well spent. We arrive at this moment well prepared and eager to build on that dialogue as we find our way together toward a future where the pain we all face is met by responses we all share in creating.
Our next Town Hall, on May 15th at noon Eastern U.S. time, will be a discussion between Russell Razzaque of London, Regina Bisikiewicz of Poland, Corinne Hendy of Nottingham, Rob Cotes of Atlanta, and Martijn Kole of Utrecht that begins with their experiences of fostering a dialogical perspective in systems of "mental health" care. Register here!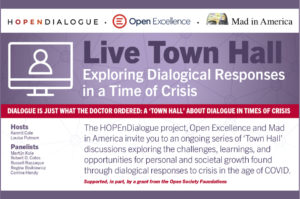 A part of this discussion may focus on the ways that peers have been so critical to bringing dialogicity to system change. Among the possible reasons for this that have come up in preparation for this meeting have been the need for the voice of people who have been and might be hurt by existing standards of care, and the need for questioning, dubious voices to continue the dialogue in the face of diagnostic or treatment-based authority. It may be that advocates are needed to stand apart from vested interests in ideology or outcome, and simply—as Martijn Kole, a peer advocate from the Netherlands, said—to "just be", as dialogue swirls about but may not include the person at the center of concern. Whatever the reason, it seems inescapable that as people have sought to adapt the "Open Dialogue" that has been part of system change in Western Lapland, peers have proven to be integral to the effort to bring about grassroots cultural change to systems elsewhere.
More perspective on why this might be will likely come on June 5 with the dialogue between Caroline Mazel-Carlton, Cindy Marty Hadge, Chackupurackal Mathai, Clarissa Mendonça Corradi Webster, and Rufus May on historical and current efforts to bring the spirit of the Hearing Voices Network to both the "real" and "virtual" worlds.
I would like to thank the support the MIA team has given to make these dialogues possible. Shira Collings' enthusiasm and skill, James Moore's graciousness and problem-solving, and Miranda Moore's speed and acumen have been invaluable. As is so often the case, the face that you see is just the beneficiary of so many who give so generously. We all share in our gratitude for the chance to join with all of you to build on the opportunity for dialogue that each new challenge we face—together—presents.
***
Mad in America hosts blogs by a diverse group of writers. These posts are designed to serve as a public forum for a discussion—broadly speaking—of psychiatry and its treatments. The opinions expressed are the writers' own.
***
Mad in America has made some changes to the commenting process. You no longer need to login or create an account on our site to comment. The only information needed is your name, email and comment text. Comments made with an account prior to this change will remain visible on the site.