A new study, published in BMC Psychiatry, examines the feasibility and acceptability of a Mindfulness-Based Crisis Intervention (MBCI) for patients experiencing psychosis in the inpatient setting. Results of the parallel-group, randomized control trial (RCT), led by Pamela Jacobson from King's College London, suggest that mindfulness-based interventions delivered during inpatient hospitalizations may reduce short-term readmissions, a key indicator of quality in mental health care.
"Psychological therapies may reduce the risk of short-term readmission; however, these are not widely offered to service users with psychosis during an inpatient admission, and there is considerable heterogeneity in type and delivery of therapy offered," Jacobsen and her co-authors write. "This is despite the fact service users report high levels of dissatisfaction with inpatient care, and say they would like better access to psychological therapies during their admission."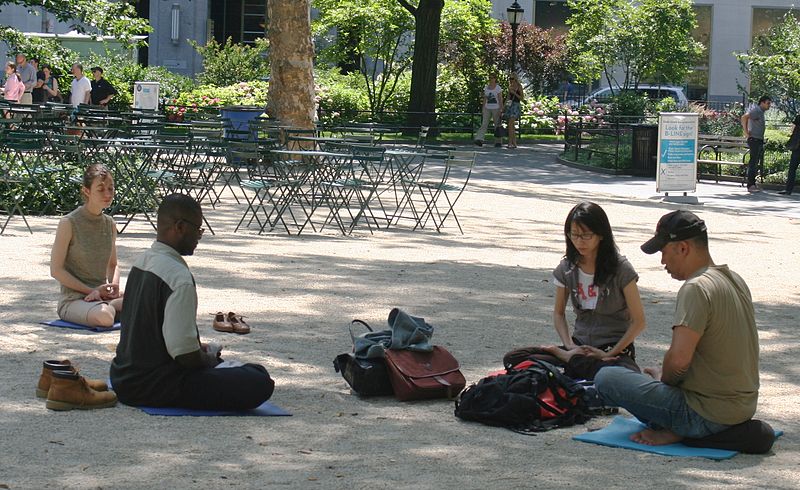 Research suggests the quality of inpatient psychiatric care is influential in service users' ratings of overall trust in the mental health system. Due to coercive practices and abuses in inpatient settings, advocates and professionals have called for the development of alternatives to psychiatric hospitalizations. In addition, researchers have called for more studies that emphasize understanding service user's experiences of inpatient hospitalizations.
In this study, Jacobson and colleagues highlight the importance of implementing an effective intervention for patients during inpatient experiences that lowers the likelihood that they will be readmitted and improves recovery. The authors propose that mindfulness-based approaches may help facilitate recovery following a mental health crisis.
Jacobson and colleagues' studied the implementation of an MBCI intervention, a protocol based on mindfulness and Acceptance and Commitment Therapies (ACT) adapted for a crisis. Mindfulness may be helpful due to its effectiveness with complex trauma, the potential to reduce depressive symptomology, and suggestive use for suicidal thoughts.
In short, each session of MBCI includes some variation of the following components: 1) developing mindfulness skills, 2) making sense of crisis using a mindfulness model, and 3) identifying values and setting goals. The current study aimed to test the feasibility and acceptability of the intervention and, secondarily, to explore the clinical outcomes for users.
Service users in the UK were recruited at admission and randomly sorted into one of two groups. Data were collected at baseline, end of therapy, and three, six, and twelve-month follow-ups post-discharge. Service use, collected via electronic medical records, and self-report measures, were used to learn more about experience and readmission rates.
The trial utilized two arms of treatment: The treatment group which received MBCI and the control group, which received treatment as usual in the form of Social Activity Therapy (SAT). SAT involves working collaboratively with the clients, to "keep the sessions activity focused, and to be supportive, collaborative and empathic without employing any techniques specific to any model of therapy, including CBTp or mindfulness-based therapies."
Overall, 50 participants were recruited, 26 randomized into the treatment group, and 24 into the control group. All participants received at least one therapy session, with no participants dropping out during the intervention stage. Overall, on a scale of 0-10 (10 being extremely helpful), service users rated their experiences positive in both arms (MBCI= 9.11, SAT= 8.27).
Additionally, eight staff across the psychiatric ward completed feedback surveys with generally high reviews of both intervention arms. The emphasis, for staff, was placed on the availability of therapeutic treatments with the acknowledgment that the routine access to such therapies was limited.
Results of the first-ever trial on MBCI for psychiatric settings demonstrated similar improvements in mental health symptoms between groups at the initial discharge. Similarly, scores at 3 and 6 months follow up periods were comparable between both groups.
Differences, however, were notable at 12 months follow up in favor of the MBCI group. At this time, a higher rate of readmission (SAT= 11 individuals; MBCI= 7 individuals) and relapse (SAT = 19 individuals; MBCI = 9 individuals) could be seen in the SAT group. At follow up, only one participant had dropped out, reflecting data from 49/50 participants captured in the RCT.
Both SAT and MBCI demonstrated positive outcomes for users of inpatient settings, suggesting therapeutic interventions during brief inpatient experiences may be feasible and acceptable. The researchers write:
"Offering these brief, targeted interventions at a time of mental health crisis may be particularly helpful, as difficult thoughts and emotions are more at the surface, and people may be more open to the offer of psychological."  
In conclusion, this study sets the groundwork for larger-scale studies to explore the effectiveness of therapeutic interventions, such as MBCI, during inpatient settings. A better understanding of effective interventions following a mental health crisis may increase wellbeing, reduce readmission rates, and improve service users' overall experiences.
****
Jacobsen, P., Peters, E., Robinson, E. J., & Chadwick, P. (2020). Mindfulness-Based Crisis Interventions (MBCI) for psychosis within acute inpatient psychiatric settings; A feasibility randomized controlled trial. BMC psychiatry, 20, 1-12. (Link)