"The pandemic is a portal. We can walk through it with our dead ideas. Or we can walk lightly, ready to imagine another world." —Arundhati Roy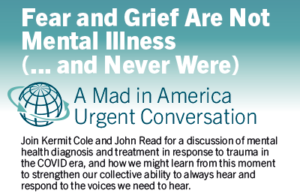 Please join us for an MIA "Urgent Conversation" about diagnosis and treatment in response to trauma in the COVID era.
Please register HERE.
Concepts of mental "illness" have always been employed to explain people whose degree of distress threatens to overwhelm our ability to understand and respond. However, in times of shared stress such as war, veterans' extreme reactions—shell shock after World War I, battle fatigue after World War II, PTSD after the Vietnam war—were understood in context, and society responded with support, gratitude, and a healthy awareness of the majority's good fortune in being spared the same fate. Similarly, after natural disasters, or childhood trauma, we are often (if not always) able to understand in context reactions that might otherwise be seen as "psychotic," and give people what they need.
Absent observable traumas, however, those who have fallen on the back side of society's bell curve and suffered the consequences are often misunderstood, if they were heard at all. Their unmet efforts to be understood may become increasingly strident or bizarre, or they may give up completely, in the face of a society that has yet to hear the words of those whose experiences reflect society's unrealized potential to care for its own.
In the COVID era we are all affected to at least some degree by these unmet ideals. So far empathy for those in distress is sufficient to direct energy and money toward supporting people in distress, without thinking they are mentally "ill." Peter Kinderman, in discussions leading up to this panel, spoke of the U.K.'s notable response to those in crisis as a shared social response to trauma, rather than as a "mental health epidemic." However the time may come that worries about frugality and a loss of collective will—fueled by the opportunity of profit—will lead to a search for "cures" for otherwise perfectly explicable trauma.
In the midst of this pandemic, tools of pathologization continue to proliferate. The American Psychiatric Association currently has a proposal to add "Prolonged Grief Disorder"* as a new diagnosis to DSM-5 (Depressive Disorders). In a time when many are losing loved ones and unable to bury or grieve their deaths in accordance with their wishes and traditions, efforts to characterize diverse responses to grief as disordered and abnormal are particularly egregious. In addition, the US is moving toward expanding universal depression screening in primary care for adolescents.** Standard screening instruments are unable to account for heightened symptoms resulting from social and environmental stressors, and therefore risk diagnosing an ever-increasing number of young people with mental disorders for simply exhibiting normative responses to world-changing circumstances amid increasing uncertainty and precarity.
Many have noted that Sweden has chosen to not go the route of a nation-wide lockdown, and have so far avoided mass infections. Panelist Carina Håkansson notes, however, that this success is in the context of Sweden's leadership exhibiting a significantly different approach than has characterized the past decades of psychiatric diagnosis: an ability to publicly say "We don't know." Carina points out in addition that there ARE things we do know that have informed Sweden's success so far in containing the virus: that we need to cooperate, that we need to look after each other, and we need to have solidarity.
Panelist Noel Hunter spoke of her personal journey through New York's COVID crisis, and the similarity to her experience with psychiatric diagnosis and treatment. In the context of inexact or entirely absent criteria for diagnosis, she relates, she experienced yet again being disenfranchised and feeling gaslit by an entrenched system of treatment that had little or no help to offer. Laura Delano's experience with withdrawal from psychiatric medication and the diagnoses that incurred them provide an important lens and skill set with which to assess the perils and opportunities we are encountering now.
We hope that as we emerge from the COVID crisis we can avoid repeating the last decades' mistakes—mistakes referenced in Thomas Insel's famous statement shortly before leaving his stewardship of the NIMH that "while DSM has been described as a 'Bible' for the field, it is, at best, a dictionary, creating a set of labels and defining each … The weakness is its lack of validity. Unlike our definitions of ischemic heart disease, lymphoma, or AIDS, the DSM diagnoses are based on a consensus about clusters of clinical symptoms, not any objective laboratory measure."
The opportunity to shape our understanding of mental health and its contributors, reflecting the ways that we are all responsible for—and share in—it, could not be more compelling than it is now. Join us to discuss how we can use this moment to strengthen our capacity to understand each other's distresses, and respond to them as we move into the uncertain future together. Now, as ever, none of us is stronger than the most vulnerable among us. As the world has been driven into retreat, and the global economy is faltering, there could not be a better or more necessary time to reflect on the possibility that, in very real ways, mental health is our common wealth.
*The "Prolonged Grief" proposal is open for public comment on American Psychiatric Association website: https://www.psychiatry.org/psychiatrists/practice/dsm/proposed-changes
**The U.S. Preventive Services Task Force posted this week a draft research plan on screening for depression, anxiety, and suicide risk in children and adolescents. The draft research plan is available for review and public comment from April 30, 2020, through May 27, 2020. To review the draft research plan and submit comments, go here.
***
Mad in America hosts blogs by a diverse group of writers. These posts are designed to serve as a public forum for a discussion—broadly speaking—of psychiatry and its treatments. The opinions expressed are the writers' own.
***
Mad in America has made some changes to the commenting process. You no longer need to login or create an account on our site to comment. The only information needed is your name, email and comment text. Comments made with an account prior to this change will remain visible on the site.