A new study finds that 86% of people will have met criteria for a psychiatric diagnosis by the time they're 45 years old, and 85% of those will have met criteria for at least two diagnoses. Exactly half (50%) of the population will have met the criteria for a "disorder" by age 18.
According to the researchers, almost nine out of ten people will meet the criteria for "mental illness" at some point in their life.
This shockingly high rate of "mental illness" is not the focal point of the study. Instead, the researchers write that "these findings suggest that mental disorder life histories shift among different successive disorders." That is, the implication of their study, according to the researchers, is that people with "mental illness" may have multiple different diagnoses.
The research was led by Avshalom Caspi at Duke University and published in JAMA Network Open.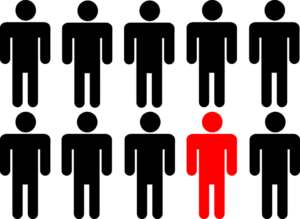 Caspi and co-authors used data from the Dunedin Study, a population-representative study that followed 1013 people born in Dunedin, New Zealand, in 1972-1973. Trained health professionals conducted in-depth interviews when the participants were 11, 13, 15, 18, 21, 26, 32, 38, and 45 years old in order to assess whether participants met the criteria for any psychiatric diagnoses. The researchers do not specify whether this diagnostic process could have overdiagnosed "mental illness."
Even more startling, the researchers report that 17 people reported receiving mental health treatment but were not captured as having mental illness by the interviews; one of those people died from suicide.
The researchers found that almost four times as many subjects met criteria for schizophrenia than is usually estimated in a population (3.7% versus 1%); a whopping 15% of the participants met the criteria for obsessive-compulsive disorder (usually estimated to have a population prevalence of 2-3%).
The researchers also write that they "tested the hypothesis that mental disorder life histories, summarized by the p-factor, reflect compromised brain function." The comparison is unusual since almost everyone in the study had a "mental disorder" at some point, but they conducted a large number of statistical tests, breaking down the people with "mental disorders" into groups such as those with "externalizing" versus "internalizing" symptoms, or those with more diagnoses versus those with fewer. They also used measures of supposed "brain ages," despite questions about the validity of that measure.
All of their results were "statistically significant" but explained very little. For instance, see the scatterplot below:
In a plot like this, the impact of a finding is demonstrated by how tightly the points (each dot representing a research participant) group around the line. In this case, the dots are scattered widely, and the correlation is minuscule. Some people with "brain ages" in the 70s, for instance, still had the lowest p-factors (likelihood of the most impairment from psychiatric problems), while some people with "brain ages" in the 30s had the highest p-factors. However, this data is reported as statistically significant findings.
The researchers do not address the possibility of overdiagnosis, or of how the broadening of diagnostic categories in each successive edition of the DSM could lead to the pathologization of more and more normal experiences.
Instead, they suggest that their analysis is more accurate than most estimates since they were able to follow a whole representative population cohort from birth and their detailed interviews captured populations that are usually missed, such as homeless people and those not receiving mental health treatment.
****
Caspi, A., Houts, R. M., Ambler, A., Danese, A., Elliott, M. L., Hariri, A., . . . & Moffitt, T. E. (2020). Longitudinal assessment of mental health disorders and comorbidities across 4 decades among participants in the Dunedin birth cohort study. JAMA Netw Open, 3(4), e203221. DOI: 10.1001/jamanetworkopen.2020.3221 (Link)