In a new article published in The British Journal of Psychiatry, researchers Joanna Moncrieff and Mark Horowitz reviewed the evidence for the use of esketamine for depression. They found a lack of evidence for efficacy and a minimization of the harms of the drug.
"Esketamine has been licensed for 'treatment-resistant depression' in the USA, UK, and Europe. Licensing trials did not establish efficacy: two trials were negative, one showed a statistically significant but clinically uncertain effect, and a flawed discontinuation trial was included, against Food and Drug Administration precedent. Safety signals – deaths, including suicides, and bladder damage – were minimized," Moncrieff and Horowitz write.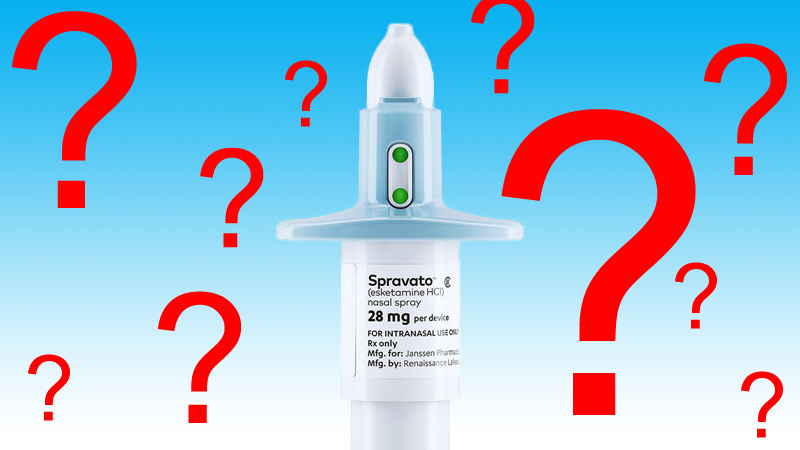 Esketamine—a recently licensed version of the animal tranquilizer and human party drug ketamine—was approved for the treatment of depression in the US, UK, and Europe last year. According to the researchers, "esketamine is twice as potent as ketamine." Unlike ketamine, which is delivered intravenously, esketamine was formulated as a nasal spray for easy use.
Ketamine is known to cause harmful effects, including bladder damage, heart attacks, and strokes. When used recreationally, it creates a dissociative state in the user, which some find euphoric.
Five trials were submitted to the US FDA in order for the drug company Janssen to receive FDA approval. Three of those trials were short-term randomized controlled trials that pitted esketamine against a placebo nasal spray—and all three lasted only four weeks, shorter than the usual efficacy trials in drug development (the FDA usually requires 6-8 week trials).
The FDA requires at least two efficacy trials to be positive, "each convincing on its own," in order to approve a new drug. However, in two of the three trials, esketamine was no better than a placebo nasal spray at improving depression symptoms. In the third trial, esketamine was marginally better than the placebo—four points better on a scale that goes to 60 points. This difference is said by researchers to be clinically insignificant—unnoticeable by both patient and doctor.
When Janssen couldn't meet the requirements for approval of the drug, the FDA made an exception—it allowed the company to submit a "discontinuation" trial as evidence of efficacy. This type of trial has participants who did well on the drug suddenly stop taking it, which often induces withdrawal effects that can mimic depression, among other harmful effects. However, in a "discontinuation" trial, these effects are considered "relapses" and taken as evidence, not of withdrawal, but the drug's effectiveness.
Perhaps even more concerning is the fact that, within the discontinuation trial, a single site in Poland drove the apparent finding of efficacy. Data from this site suggested that 100% of the placebo group supposedly relapsed (compared with about 33% of the placebo group in all the other sites)—an unlikely result. When data from this suspicious outlier was removed, the study analysis showed no evidence that esketamine was better than the placebo.
Finally, Janssen submitted a safety trial to demonstrate that taking esketamine was not dangerous. In all the trials conducted by Janssen, which included about 1800 patients in the esketamine arm, there were six deaths in the esketamine group. Three were suicides, and two of those occurred in people who had no previous suicidal thoughts. All three suicides occurred just after discontinuing the drug, indicating that they could have resulted from withdrawal effects.
The other three deaths were due to common ketamine effects: one death was a motorcycle accident (which can occur due to dissociation after ketamine use), one was a myocardial infarction, and one was due to acute heart and lung failure. One person experienced a non-fatal cerebral hemorrhage, which is also a known effect of ketamine. Five other people taking esketamine had non-fatal car accidents.
Additionally, more people experienced worsening depression, and more people experienced suicidal thoughts, in the esketamine group than in the placebo group. Because of this, the packaging for esketamine will have to carry the "black box warning" that it may increase suicidality.
About 20% of the participants experienced bladder problems after taking the drug. Half the participants experienced dissociation, and about a third experienced dizziness.
Yet the FDA accepted Janssen's argument that all of these deaths were unconnected to the drug the participants had all been given. The FDA stated that they could not conclude that even the non-fatal effects were due to the drug, even though all of these effects are commonly observed in users of ketamine.
The UK's National Institute for Health and Care Excellence (NICE) recommends against esketamine for "treatment-resistant depression" because of the lack of long-term studies and because there is no evidence that the drug is better than existing treatments. However, according to the researchers, NICE should also consider that even the supposed short-term evidence is not convincing and that the harms of the drug have been minimized.
Horowitz and Moncrieff write:
"It would seem that themes from history are repeating: a known drug of misuse, associated with significant harm, is increasingly promoted despite scant evidence of efficacy and without adequate long-term safety studies."
****
Horowitz, M. A., & Moncrieff, J. (2020). Are we repeating mistakes of the past? A review of the evidence for esketamine. The British Journal of Psychiatry. Published online by Cambridge University Press: 27 May 2020. DOI: https://doi.org/10.1192/bjp.2020.89 (Link)