A call to action published in the journal of Global Mental Health urges the field of Global Mental Health to reexamine how racism can be better addressed within their research agendas. The article was written by Stevan Weine, a psychiatrist and Director of the Center for Global Health at the UIC College of Medicine.
Weine claims that the international solidarity shown in support of the Black Lives Matter movement ought to inspire the field of Global Mental Health to take inventory of its own practices. In particular, he calls on the field to reflect on how it may contribute to modern-day colonialism and work toward actively addressing racism.
"When it comes to thinking about the nexus of racism and violence, global mental health practitioners have not shied away from these topics, but nor has the field led the necessary efforts to catalyze change," Weine writes.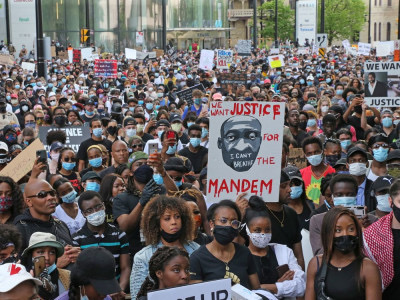 Despite the known toll racism takes on people of color's mental health, substantial evidence demonstrates that racism is alive in mental healthcare. In some countries, psychiatrists have created and signed petitions to demand independent commissions to tackle racism and colonialism.
The field of Global Mental Health has previously been criticized for resisting critics who have urged the field to consider power relations and histories of oppression, particularly in their plans for "scaling up" treatment in low and middle-income countries.
"Americans have spent decades telling other countries how to handle public health crises, yet the U.S. response to the COVID-19 pandemic has disastrously fallen short, especially for Black, Indigenous, and Latinx communities, and those with economic and health disparities whose infection and mortality rates are disproportionately higher than among Whites," Weine adds. 

"This supports a view of global mental health which is more than a set of actions in LMICs and emphasizes improving and achieving health and mental health equity within and between all countries."
Colonialism and racism are inextricably intertwined. Weine points to Global Health's beginnings in tropical medicine, created and used to support colonizing countries like Great Britain, the Netherlands, and Spain to expand their political and economic control worldwide. Arguing that, "throughout the colonial era, most non-Western groups were considered insufficiently evolved [cognitively underdeveloped] to have the privilege of suffering from mental illness." 
Moving into the 21st Century, Weine argues that global mental health research has progressed significantly, grounded in the belief that all people have the right to quality mental healthcare. However, he contends that this progress does not negate the field's history of institutionalized racism and colonialism. 
After calling attention to the field's racist roots, Weine offers a few options for Global Mental Health to address its history better. Most importantly, he calls on his colleagues across the globe to condemn both structural and police violence and to advocate strongly for policies and practices that address these problems across all cultures. 
On the one hand, he points to simple solutions such as offering Crisis Intervention Team (CIT) training, where law enforcement, mental health workers, and service users are trained to work together during times of crisis and high stress. On the other hand, Weine understands that a one-off training such as this isn't good enough, arguing that law enforcement officers ought not to be the first line of response to mental health crises and that global mental health needs to "identify and commit to decolonizing practices" in all areas of their work. This includes relying on people of color and Black people's lived experience, promoting a more diverse mental health workforce, and designing initiatives to take policing out of mental healthcare.
"Black Lives Matter and worldwide street protests have shown that regarding racism, colonialism, and police violence, silence and inaction are unacceptable," Weine concludes, and it more important than ever for Global Mental Health to commit itself to address these issues within the field itself.
****
Weine, S., Kohrt, B. A., Collins, P. Y., Cooper, J., Lewis-Fernandez, R., Okpaku, S., & Wainberg, M. L. (2020). Justice for George Floyd and a reckoning for global mental health. Global Mental Health, 7. (Link)