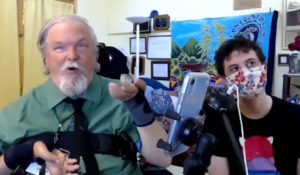 When Donald Trump was diagnosed with COVID, the world had strong reactions. But clearly he had joined our community of disabled people, potentially the biggest social change movement in the world. Welcome, Donald!
After your diagnosis, you sent a brief tweet ending with the capitalized word, "LOVE." I love you, too, Donald. We need to love our enemies, and you have been an enemy of many people with disabilities, including the tens of thousands of us in nursing homes and other congregate living facilities who have died from COVID-19. Now we need to fire you, but that is not enough. We need nonviolent global revolution. 
I feel I am a great gatekeeper for the disability community to welcome you, because I am in both the mental and physical disability movements.
Bridging Mad Pride with Breakneck Speed
This is my 44th year working in the often-invisible psychiatric survivor movement, called "Mad Pride" by some of us. For about 25 years, I was Executive Director of the human rights nonprofit MindFreedom International. During this time I gave many speaking presentations on our topic in about a dozen countries. 
And then in 2012, I broke my neck. As well as the accident resulting in my becoming a quadriplegic in a powerchair, it also profoundly impaired my voice and caused other disabilities. After this, I retired from MindFreedom. Keynote invitations dropped off… 
To zero. 
Until recently. I finally got a keynote invite to present at a major conference. Because of COVID-19, unfortunately, the conference switched from a resort hotel to web video. Fortunately, though, this meant that hundreds more folks could attend, including some from overseas. Above is a screenshot from the beginning of my keynote with my home care worker, Ian, who repeated my short sentences for clarity. You can view my keynote here:
The organizers of Peerpocalypse kindly helped by creating Closed Captioning for the video of my keynote, which is only about 35 minutes. Because of my disabled voice, I recommend Closed Captioning. Just hover over the video and click on the "CC" button in the lower right hand corner, then click "English."
David W. Oaks' Keynote at Peerpocalypse 2020 from David W. Oaks on Vimeo.
In the keynote, I called for revolution. I hope you, dear reader, now also use the "revolution" word a lot, as one of the best ways to aid global mental and emotional wellbeing. Let me explain.
Connecting the Psychiatric Survivor & Disability Movements
After my fall, I tried to live the lessons I had learned in our Mad Movement. I did tons of effective rehab. I got lots of empowering support. I attempted to apply the creative philosophy from our activism. I even started a consulting business, Aciu! Institute, for green disability empowerment. 

And this year, I finally got that first major speaking invitation: One of the four keynoters in the largest gathering each year for mental health consumers and psychiatric survivors, Peerpocalypse, on Zoom of course.
The topic of my keynote was actually motivated by impassioned responses to a recent blog I posted here on the website of Mad in America, one of the most important projects to reach the general public about rethinking a failed mental health system.
You see, way back in the olden days of the 1970's when I started in our Mad Movement, we felt we were simply part of "One Big Movement." That is, the 70's had the soil, sunlight, rain, and fertilizer of ferment. Our psychiatric survivor movement was one of many, intersecting with struggles for the rights of prisoners, workers, women, youth, elders, LGBT people, people of color, poor people, and for peace.
The Big Plan: Unite all these movements and have one big global revolution, preferably much of it nonviolent. This Big Plan has taken longer than we hoped. I guess you can call us the social/ecological potential movement. 
Over the decades, we psychiatric survivor activists and allies tried to reach many other social change movements. The mission statement of MindFreedom International actually calls for uniting people affected by the mental health system with other causes for justice and global nonviolent revolution. Outreach to other social change struggles has been met with varying amounts of success. It seems the most receptive to psychiatric survivors has been the disability movement. 
Connecting to any other oppressed community has challenges. After all, we psychiatric survivors have devoted decades to developing our ideas and perspectives; obviously there are a few topics where we disagree with one another, and we are still exploring many new areas.
Over this past couple of decades, as I have experienced the warmth and wisdom of disability rights leaders, I have tried to learn a lot. Sometimes I did experience a few clunky disconnects, because some disability leaders were very new to the complexities of psychiatric survivor issues.
Questioning My "Re-established Credentials"
I like to make the joke, which often falls flat, that there are silver linings in disasters — even breaking your neck. For instance, finding parking is way easier. 
By far, one of the shiniest "silver linings" of my catastrophe has been solidifying the bridge between the Mad Pride and disability movements. And so I wrote a blog earlier this year for Mad in America about how breaking my neck was "re-establishing my credentials." As a person with profound physical disabilities, I can now more easily see the connections between the Mad Movement and the disability movement.
My blog got a surprising amount of comments via Mad in America, including some pushback from a few fellow radical psychiatric survivors. I will not attempt to quote comments, but my impression was that there are some who object to both the idea of "Mad Pride" and the relevance of the disability movement to our work. A friend recommends that some day I write a book about bridging the Mad Pride and disability movements.
In the meantime, here are a few key points I would like to raise: 
Congregate living in the era of COVID-19 is killing people!

Yes, there are many fascinating questions and I hope to write that book. But in the meantime, we are in the middle of an emergency.

The New York Times

recently reported that 40% of deaths from COVID in the USA are related to nursing homes. The hypocrisy, arrogance, irresponsibility, and recklessness (acronym:

hair

) of Donald Trump played a role. Both the psychiatric survivor and the disability movements have pointed out for decades that people who wish to live in private homes have that right. Now this option is a matter of life and death, more urgent than any philosophical debate.

I hope our movement avoids "ableism."

As I said, the roots of our psychiatric survivor movement are connecting with other social & ecological movements, which are all relevant. Some of the principles of the disability movement include: Dignity, autonomy, participation, inclusion, choice, independence, non-discrimination, freedom, and respect for diversity. The main slogan of the disability movement is: "Nothing about us without us!" Sound familiar? You do not have to be black to get the

relevance

of antiracism. Black lives always matter. You do not have to be employed to support labor. Supporting the disability movement does not mean we are a "wholly owned subsidiary." Please, no ableism! 

Dislabeling:

Watch this nifty trick, developed years ago by radical psychiatric survivors! Say you reject all psychiatric diagnoses applied to you. Fine. Pushing psychiatric labels on folks is harmful. In other words, disabling. I call this

dislabeling

. The process of psychiatric labeling itself causes disabilities. More generally, of course, countless mental health procedures can obviously cause disability and death.

Lessons from the deaf & hard-of-hearing community:

But don't many of us psychiatric survivors reject any psychiatric diagnosis as a disability? Well guess what, folks, many in the deaf and hard-of-hearing community reject being called "disabled" because of their beautiful community. The "social construct" of disability is fascinating, and let's all learn about it. The disability community is highly diverse.

Rev. Phillip Schulman has been a leader in many peace and social justice events, as well as a minister for several Unitarian Universalist congregations.

Thank you, Rev. Phillip Schulman, Mad Movement Minister

: My close friend, Phillip, was riding a bike a few years ago and was struck by a half-ton truck causing major brain injuries. I know many of us reject our mental disability diagnoses. But doctors for Phillip have x-rays showing extensive head injury. And there is that half-ton truck. Rev. Schulman, who shares my Unitarian Universalism, has demonstrated the wisdom of his post-traumatic spiritual gifts. If your label is "real" or not, you are in our community. My point is, whether or not your diagnosis is at all accurate or meaningful, you are entitled to human rights, advocacy, empowerment, alternatives, and much more. Everyone.

"Able-passing" folks are still welcome:

Especially in the early days of the movement for human rights of LGBT people, I understand many tried to blend in with the general population. The concept of Gay Pride apparently was abhorrent to some lesbians and gays who sought to "pass." Same phenomenon with Mad Pride. You can call our social change movement to challenge the mental health industry whatever you want. But please leave room for the many of us who treasure our differences as "Mad Pride." Always remember those with invisible disabilities. And let's be sure to welcome those who think of themselves as mainly "normal." All are welcome, 100%.
I admit it. For many years, I have known there are challenges in connecting to the primarily-physical disability movement. 
Connecting two social change movements takes some bridge building, awkward moments, and growth by both movements. Consider the need for the psychiatric survivor movement to challenge white supremacy and become a far more diverse movement. 
So I get it. Back in the year 1973, "homosexuality" was challenged as a mental disorder within the American Psychiatric Association. It would have been silly and bizarre if the gay and lesbian activists had responded by saying, "We are all proud members of the disability movement because of our orientation!" Instead, activists called, as they should, for dumping the label. (By the way, the label was not entirely dumped, but that's another story.)
After my fall, for months in the middle of the night, I had repeated nightmares that I was falling. Even after relatives entered my bedroom and turned on the lights I felt I was falling. Folks, because of my disabilities, I cannot even move an inch in my bed. I was not falling. Yes, I had some problems that can accurately be called "Post-Traumatic Stress Disorder." As I blogged before on Mad in America, I found some solutions to my PTSD. For me, this healing transformed my trauma into a spiritual gift. 
Four Special MindFreedom Campaigns
During my keynote and workshop presentations at Peerpocalypse, I discussed some actions by MindFreedom, which is now my main client I consult for. Briefly, here are four I especially want to spotlight: 
MindFreedom Shield Campaign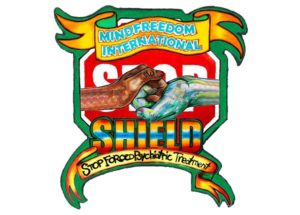 I recommend this campaign for everyone, because all 100% of us are at risk. Years ago, MindFreedom created a human rights campaign called the Shield. If individuals are ever in danger of coerced mental health treatments, they can potentially trigger MFI to look into issuing a human rights alert, similar to Amnesty International. Ideally, individuals would pre-register so that if they ever need an alert, one can be done quickly.
This year, 2020, MindFreedom activists met extensively for months to relaunch the Shield. They even have a nifty design on a patch that can be sewn on jackets, etc. (see image). For more info about the MFI Shield, click here.
MindFreedom Supports Mad Pride World
Back in the 1990's, some London psychiatric survivors were watching a Gay Pride parade and wondered about creating "Mad Pride." The idea took off and soon books, events, and articles sprang up all over the world, promoting Mad Pride as a movement. Groups in many countries began to hold Mad Pride cultural events.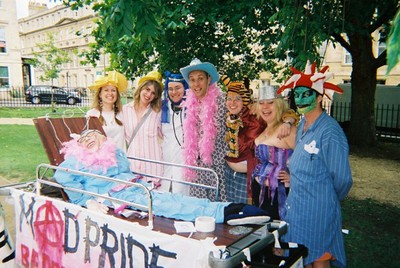 Mad Pride events in Ireland, the UK, Germany, and Canada included an innovative action called a "Bed Push." A group of Mad Pride activists, often in colorful costumes to look like nurses or doctors, would push a wheeled gurney through public places. On the gurney would be a mannequin or another activist playing someone in restraints, periodically getting forced drugging. The purpose of the street theater was to mock and provoke public discussion about abuse, using biting humor, plus showing the resilience of psychiatric survivors. Based on experiences in the UK, which were widely publicized on BBC, MindFreedom issued a little "how to" guide here.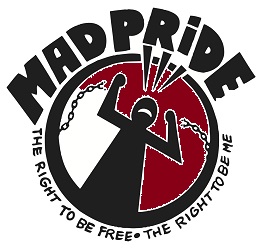 Mad Pride has gotten a major boost. It turns out that last year, 2019, Mad Pride Seoul in Korea held a number of successful events. Mad Pride Seoul plans more actions soon, on October 10, 2020, which is World Mental Health Day. Check out their creative pamphlet here. 
Mad Pride Seoul contacted MindFreedom and asked for support. MFI activists realized there wasn't much time to help, so mainly they have been encouraging brief videos that answer the question: What does Mad Pride mean to me? 
Intrigued? For more information, simply email [email protected]. You will get updates, how to submit your video, plus a little online survey about Mad Pride.
My amazing and wonderful wife Debra and I plan to participate on World Mental Health Day by holding our own Bed Push at home on Zoom for a few hours, inspired by the famous Bed-In by John Lennon and Yoko Ono. Debra and I will have an inflated globe because our planet is also in crisis. 
Even if you miss this year's Mad Pride event, you can make and submit a video for future use, including future Mad Pride World events, which should be all year round. 
MindFreedom Builds Support Coalition
Back in 1990, more than a dozen groups united in a counter-conference to the American Psychiatric Association Annual Meeting in New York City. They formed what became MindFreedom International. This year, MFI has updated their network of affiliates and sponsors, which we call MFI's Support Coalition. 
MFI Affiliates use the name of MindFreedom, such as MindFreedom Ghana and MindFreedom Ireland. These are regionally-based chapters, usually just informal projects of MFI, such as MindFreedom Oregon which I coordinate. 
MFI Sponsors are independent nonprofits and community groups that endorse MFI values, such as National Association for Rights Protection & Advocacy or Gesundheit! Institute. 
The newly-updated list of the MFI Support Coalition, which I helped retool via my consulting business, is here.
Now would be a great time for supportive individuals and groups to look into starting or building MFI Affiliates and Sponsors. Just contact MFI or me for more info. 
MindFreedom Networks with National Council for Independent Living (NCIL)

For many years, a small network of activists, mainly from disability independent living centers (there are hundreds in the US), have met by Zoom almost each month to support empowerment in mental health. This is currently coordinated by the very supportive Yvonne Smith, in D.C. (see photo). MFI's director, Ron Bassman, recently spoke with this network about building support for the Shield in independent living centers.
If you are interested in NCIL's monthly network, it is very easy to become involved. The main thing is to simply join NCIL, which is a good idea in general. For more info about joining NCIL, see here.
Connect Our Movements & Promote Revolution!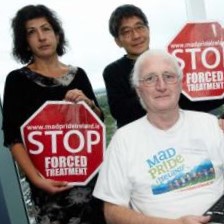 My amazing, strange, beautiful friend (and aren't you all?) Irish poet John McCarthy, despite a debilitating illness that put him in a wheelchair and eventually killed him, led many of the biggest Mad Pride events in the world, all in parks around Ireland. Hundreds of families, including children, gathered for music, food, costumed ambient performers, and creative public education such as signs with mirrors on trees about the need for peer support and the right to be different. Many of those entering the parks were "swept" for normality by fun security officials carrying rubber chicken wands. 
John McCarthy often spoke about the madness of normality, and what needs even more attention, "the normality of madness." To be a human being is to be different, experience deep passion and vision, deal with the immense mysteries of life and death, and so much more. The mental health industry is apparently trying to pathologize being human. 
Mad Pride and the disability movements include all of us, 100%. Of course it is totally okay to call yourself mainly "normal" and claim not to be part of this human movement, though personally I do not believe evidence for achieving absolute normality exists, or ever did.
A few years ago, as I mentioned during the keynote, my first client for consulting was the United Nations World Health Organization (WHO). I was one of many folks to review and advise WHO about a series of materials they have since published about human rights in mental health. In addition to my regular editorial comments, I inserted many, many endorsements of looking at global revolution. Sincerely, I believe society talking more about "revolution" would be helpful to our mental and emotional wellbeing. In fact, the strange near-silence today about revolution creates emotional distress given our immense planetary crises. I get it that some people need to remain "secret supporters" of revolution only in their hearts because of repression. But, the rest of us? Let us all be more open about the vital need for revolution. 
What kind of revolution, you might ask? Well, that is a great question and simply discussing it would be helpful. Unfortunately, WHO chose not to include my suggestions about "revolution." However, I was delighted to see that a UN leader officially called for a "revolution" in mental health. You can read my personal blog, linked below, if you'd like to learn more.
Yes, of course, we need to sweep out the White House and de-select Donald, who I love as a human but is the creator of innumerable despicable lies. But after that, we still need massive social and environmental change. We need revolution! If you think seven generations ahead (I have chosen the year 2222 to focus upon), you know we will someday have a revolution, just to survive. Will it be sooner or later? That is up to all of us. 
More Info About My Keynote, and Revolution
On my personal blog, I have more about the "Inside Story" of my keynote, including information about the three archives I know about, some links about a few of our dearly departed Mad Pride giants, etc. We also include the call for mental health revolution by the Special Rapporteur on the Right to Health at the UN Human Rights Council, Lithuanian Psychiatrist Dainius Pūras. You can read more about it here: 
http://davidwoaks.com/my-keynote-at-peerpocalypse-2020
On the website for my consulting business, Aciu! Institute, I have a blog entry about some of the projects I have been discussing in my keynote including support for great activists like my friend Rev. Phillip Schulman here:
https://aciu.info/2020/09/23/david-oaks-peer-keynote-videos/
Three Quick Things You Can Do
Thanks much for reading my blog welcoming Donald Trump to our disability community, calling for his firing and global nonviolent revolution. I fell in December 2012, the famous month when the Mayan Calendar supposedly ended. Those of us for conscious evolution/revolution envisioned renewal. For the past eight years, I have been trying to go viral, unsuccessfully. It is almost as if I have been an antibiotic. 
Here are three ways you can help the virality of my new keynote:
Please share this widely with your friends and colleagues. You will find me active on Facebook, LinkedIn, Twitter, Reddit, etc. See you?

Please comment at the end of my Mad in America blog entry. I will try to respond to as many as possible. 

Remember to support Mad Pride by emailing to

[email protected]

. This will not put you on any mailing list. You will get an automatic one-time reply, with the latest news about Mad Pride and a link to a brief online survey. Plus, I am on the World Mad Pride Campaign Action Team (CAT) and I will try to read everything! 
***
Mad in America hosts blogs by a diverse group of writers. These posts are designed to serve as a public forum for a discussion—broadly speaking—of psychiatry and its treatments. The opinions expressed are the writers' own.
***
Mad in America has made some changes to the commenting process. You no longer need to login or create an account on our site to comment. The only information needed is your name, email and comment text. Comments made with an account prior to this change will remain visible on the site.