While eating disorders are characterized by dangerous eating habits and body image disturbances, there is no universal definition of what 'recovery' from an eating disorder entails. In a new article for Psychiatric Services, psychology researchers Therese Kenny and Stephen Lewis from the University of Guelph in Canada argue that any conception of recovery should integrate people's lived experiences with eating disorders.
"Stemming from a growing evidence base that accounts for lived experience perspectives on eating disorder recovery, a more holistic assessment of recovery is needed in clinical settings," the authors write. "Moreover, it will be incumbent upon researchers to identify ways to implement and evaluate this approach in future empirical work. This endeavor is essential to propelling the field forward and to integrating clinical perspectives with an understanding of recovery informed by lived experience."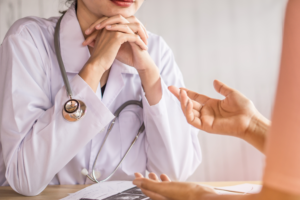 Generally, a clinical perspective of recovery entails improvements in weight (a BMI of above 18.5 kg/meter2, for instance), behavior (no binge eating, purging, or fasting in the last three months), and thoughts (clearing thresholds on a standardized measure of eating disorder psychopathology). Clinicians and researchers in the field have developed these criteria. However, these standards have failed to consider the perspectives of those with lived experience of eating disorders.
Those with lived experience have described recovery as a nonlinear process that exists in the broader culture, with decreases in behavioral and cognitive symptoms, improved well-being, coping, and connection. They also describe it as a process of self-rediscovery, transformation, and growth. These conceptualizations are mostly missing from traditional conceptualizations of recovery.
The authors posit that while many clinicians highlight the importance of weight loss, weight may be relevant for some and not for others. BMI, in particular, is a marker fraught with challenges, and as such, the authors propose moving away from weight change as a primary indicator of recovery. Individuals with lived experience stress the importance of behavior change, though not quite in the way clinicians tend to interpret it.
While traditional recovery frameworks highlight abstinence from disordered behaviors, those with lived experience say that this does not line up with the non-linear path of recovery. This linear projection sets people up for failure and could impose negative psychological consequences for people who may well be on the road to recovery. The authors suggest focusing on relative improvement of symptoms over time, including both the individual's presentation and perception of their symptoms and the impact their symptoms have on day-to-day functioning.
Finally, people with lived experience suggest that recovery does not just entail reductions in symptoms but also improvements in well-being and other psychosocial factors important in recovery. This, combined with the non-linear nature of recovery, means that traditional well-being assessments may be insufficient to chart recovery.
Instead, the authors suggest that these assessments need to be considered in tandem with an individual's broader well-being, with the understanding that recovery is inherently subjective. This would be more in line with a recovery orientation, which stresses that while some individuals will experience the return of symptoms, this in itself does not preclude one from living a fulfilling, meaningful life.
The authors conclude that it is well past time to adapt our traditional recovery framework from eating disorders. They suggest a focus on medical markers other than weight change, avoiding arbitrary weight cutoffs, and broadly adapting the criteria of recovery to focus more on behaviors and psychosocial factors such as social functioning, changes in disordered eating behaviors, and a focus on overall well-being. They call on future researchers to implement this framework to have a more holistic understanding of eating disorders.
***
Kenny, T. E., & Lewis, S. P. (2021). Reconceptualizing Recovery: Integrating Lived Experience Perspectives Into Traditional Eating Disorder Recovery Frameworks. Psychiatric Services in Advance. DOI: 10.1176/appi.ps.202000447 (Link)