I have been saying for a long time that our survivor movement should ACT whenever something takes place involving psychiatry that the public knows is really wrong. Britney Spears' railroaded conservatorship is one such event.
There is incredible media coverage of her recent demand to be freed from it, and a lot of public outrage about her case. Most people who have been paying attention to this think, correctly, that Britney has experienced a great injustice. It is up to us to get the public to see where that injustice is coming from. At bottom, this is really about the power of psychiatry, though little in the media coverage says so.
As a practicing patients' rights attorney here in California for 15 years, I can offer a legal perspective. But I think the fact that I was experimented on with shock treatment from the age of six, and then sent to a state hospital for the rest of my childhood, gives me a perspective that is even more valid.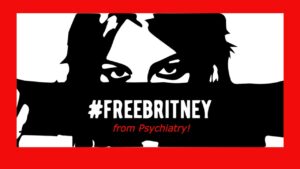 The finding that a proposed conservatee (in this case, Britney) can't take care of their own affairs, and should therefore have someone else make decisions for them, comes from court testimony from some psychiatrist, who typically has a brief conversation with the proposed conservatee, and then declares that they have a "grave disability" or whatever garbage phrase is used wherever the proceeding is taking place.
There is almost never any "expert" witness for the proposed conservatee, and their court-appointed lawyers typically do almost nothing to advocate for them. Once I happened to be able to sit in court where conservatorships were being processed one after another, rubber-stamped by the judge. I couldn't believe what I was seeing, and I've seen a lot. With all eyes on Britney, I think it is very important that we do as much as we can at this point of great opportunity to unmask the role of psychiatrists in hearings like this, where basically what the shrink says, goes, and the freedom and human rights of the proposed conservatees are stripped away with little ability for them to defend themselves.
Many of you reading this on Mad in America know this very well. But the average person doesn't. Now is our chance to inform them. There is a lot of misinformation to correct.
Right now, belief in the helpful role of psychiatry is a kind of cult, not just among NAMI types, but very well-meaning people who advocate for "more money for mental health." They don't really understand what they are asking for, or how useless, at best, psychiatry is. We should point out to them how ridiculous it is to claim that humiliating Britney by supervising her dressing herself when she is able to earn hundreds of thousands of dollars in one performance on stage, or forcing her to work when she is sick, could possibly be helping her. As I think most MIA readers know, there are plenty of abusive practices like this that psychiatrists claim are "helpful" to those under their power. This sort of propaganda is what cults feed their followers.
And there is the weird development I've seen recently with The New York Times. On the one hand, they have produced, and are pushing hard, the powerful and aptly-titled video, "Framing Britney Spears," whose contents are just as militant as the title and illustrate the harm that can come from being labeled crazy and entering the mental health system. (You can watch the whole thing for free here.) On the other hand, they have published twice, in the last few weeks, a terrible, sloppily-written article basically saying that the increase in depression and suicide among American children means we must spend…(wait for it) "more money for mental health." We need to clarify what this nonsense is in the media and the public mind.
There is no institution in America more "establishment liberal" than The New York Times, and few that are so influential. I think those of you that will work on this should do your best to reach the media in your area with our message, using Britney's case to help correct the record about psychiatry whenever we have a chance.
At age 84, my health is very shaky now, so I can't do all of what I think should be done, such as going to Los Angeles and around the country encouraging people to get involved. I do think the #FreeBritney activists would be very accepting of our point of view, since young and rebellious people tend to have lots of run-ins with psychiatrists. So I'm trying to find folks around L.A. who might be willing to connect with those people— YOU, maybe? —but it's hard when you can't travel.
You must have noticed how relatively easy it was, eventually, for Britney to hire her own lawyer after all, despite being ruled too incompetent to do so at the beginning of the conservatorship. It is clear to me that this happened because the judge, Brenda Penny, did not want to defy public opinion. At this point, I am sure that if Judge Penny values her career, she will want to get rid of this case as soon as possible. (If she doesn't, maybe she needs a conservatorship herself.) It helps Britney's case a lot that she has come up with a new attorney who is not only aggressive and high-powered, but also very ethical, or so I have heard.
The previous court-appointed lawyer, Samuel Ingham III, apparently did little or nothing to help his client, although media reports say he has been paid $16,000 a month for his "services" over the past 13 years. He even counseled her not to rock the boat, according to Spears' testimony, and failed to inform her that she had a right to request an end to the conservatorship. If I or any other lawyer had violated our fiduciary duty to a client in this way, the State Bar would take away our licenses. Clearly, competence isn't required for courts to decide which lawyers to hire.
It will be very interesting if Britney holds to her expressed desire not to have to talk to any more psychiatrists, whom she's testified she's been forced to see for therapy, drugs, and various assessments. I am sure there will be a lot of pressure on her to cave in on this issue. But there is nothing prohibiting Britney's lawyer from getting another "expert" witness. This would be unusual, and almost never happens, but it can be done.
In the one conservatorship case where I was the defense lawyer, we were lucky, because we drew a very honest and conscientious judge. When I pointed out to her that it was not fair that my client had no expert witness of her own, the judge authorized payment for one. I got Loren Mosher, a psychiatrist who was a great friend of our movement and a very principled and decent man, to come up and talk to my client. What finally happened is that the two doctors canceled each other out, so the judge had to rely just on my client's excellent testimony, and she ended my client's conservatorship. This judge was not a doctor, but an intelligent and honest person. The point here is that since the two psychiatrists didn't agree, the judge had no problem deciding on her own that my young client was not "gravely disabled."
The determination of whether someone can take care of themselves is not mysterious. Lay jurors in similar cases here in California make this decision frequently. There is no reason that it can't be done in most conservatorship proceedings, except for the misplaced confidence in and worshipful attitude our society has toward psychiatrists. Psychiatrists should not have this power.
I have thought of a few projects we can do (and that I can do with my limited resources). One is very simple. I am going to produce and distribute a button people can wear that says something like FREE BRITNEY FROM THE PSYCHIATRISTS. I had my doubts whether something like this would be effective, but as I thought about it and presented the idea to some politically sophisticated friends of mine, we all agreed that the unusual message would draw attention, both on the street and in the media, who will be looking to cover the latest Britney developments. Although Britney herself has strongly complained about how badly she has been treated by the shrinks, the media has hardly mentioned the role of psychiatry, even though it is the (usually uncontradicted) testimony of a psychiatrist that leads judges to take away the human dignity and legal rights of the proposed conservatee in the first place.
A button pointing out the destructive role psychiatrists have played in Britney's situation is going to catch people's attention. People wearing the button will become a sort of one-person demonstration, and I have no doubt that many people who see this will want to talk about it. So when I send out the buttons, I plan to include a fact sheet with suggestions for what our button-wearers can say. I hope that some of you who read this will want to work on it. It IS going to happen because I am going to make sure it does.
Other actions our people can take are also pretty simple. Find the #FreeBritney folks in your area. Participate in their demonstrations. Carry signs that mention psychiatry's role in this outrage. If you are able, try to get articles about this issue in your local media. There is so much interest in Britney's situation that I think smaller newspapers etc. will be glad to publish your op-ed.
Listen up, people! It's time we start ending this destructive cult of psychiatry. Britney's fight is our fight. If we can mobilize ourselves now, and use this opportunity, we can make great progress. The public needs to know what is really going on.
***
Mad in America hosts blogs by a diverse group of writers. These posts are designed to serve as a public forum for a discussion—broadly speaking—of psychiatry and its treatments. The opinions expressed are the writers' own.
***
Mad in America has made some changes to the commenting process. You no longer need to login or create an account on our site to comment. The only information needed is your name, email and comment text. Comments made with an account prior to this change will remain visible on the site.