In 2012, I experienced a suicidal crisis following a traumatic event, and I was placed under psychiatric crisis services, first in the community, and then in psychiatric hospital. These services did not work for me, and I felt that many of us needed a different approach. A year later, I set up a Suicide Crisis Centre to provide an alternative to the traditional services.
I have often said that we set up "the opposite of what I experienced under psychiatric services." That is not intended to be disrespectful to psychiatric clinicians. But it is a fact that many of us find aspects of psychiatric services profoundly challenging, particularly when we are in mental health crisis.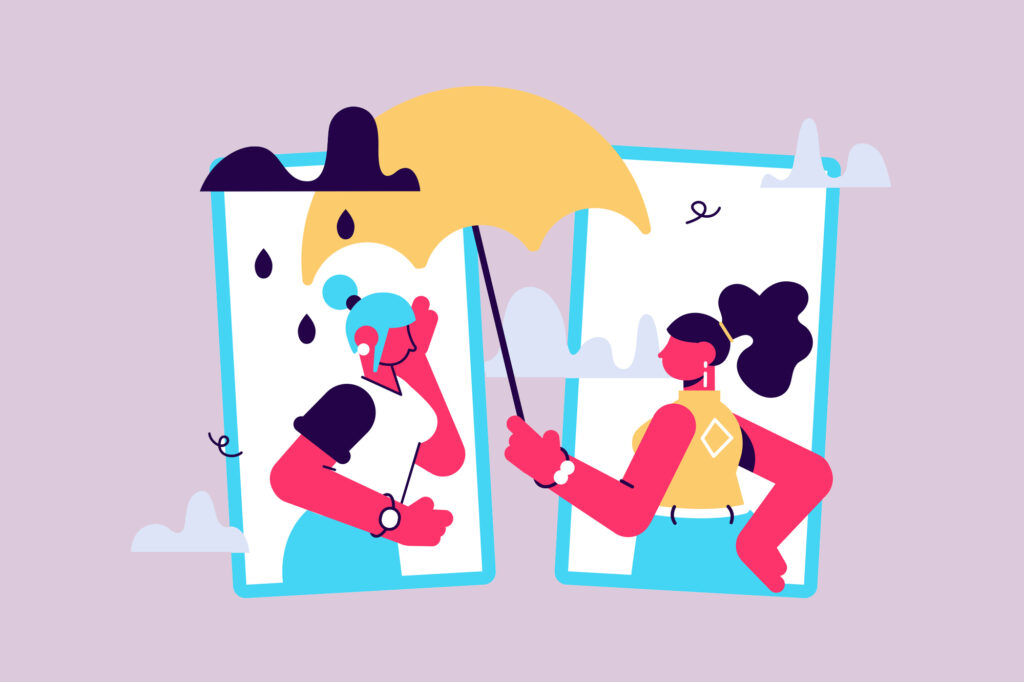 When I was under psychiatric services, I found the clinical distance of staff meant that I struggled to connect with them. After a traumatic experience, it can feel hard to trust and connect with people, so a more proactive approach would have been needed to reach me at that time.
This clinical distance was emphasised one night when I was assessed as being at high risk of suicide. A psychiatric nurse within the mental health crisis team said to me: "I'm not afraid to say that I care." Her choice of words seemed significant. It seemed to imply that her colleagues did have a fear of openly caring for patients.
Another aspect of psychiatric services that many of us find challenging is the loss of control that we experience. That does not just apply when we are detained in a psychiatric hospital. Here in the UK, many people are offered crisis care in the community as an alternative to hospital admission. But even then, the psychiatric clinicians usually decide how often they see us. They decide on the kind of treatment we will receive, and they decide when we are ready to be discharged from their service.
This loss of control can feel extremely disempowering, and it can be particularly difficult for those of us who have experienced trauma. If you have felt a loss of control during the traumatic event, this is likely to be something you never want to experience again.
Their methods focused a lot on "distraction techniques." Distraction techniques involve focusing your attention on something which will divert your thoughts from suicide. These can undoubtedly be very helpful, but they are not always appropriate for everyone, in every situation. I recall phoning the psychiatric crisis team, when I had strong intent to end my life, and immediately they asked me: "What are you going to do to distract yourself?" I had reached a point where "distraction techniques" were not helping me, but I received a standard response rather than a response to my particular needs at that time.
What I found most concerning under psychiatric services in the UK was that I was told explicitly by clinicians "It is your choice" or "it is your decision" to end my life. This seems to be about sending a strong message to patients not to rely on services to "save" them. The focus was on promoting self-reliance as much as possible and discouraging a "dependence" on services. There is a huge emphasis placed on psychiatric patients in the community "taking personal responsibility" when they experience a suicidal crisis.
But I felt this was based on a misunderstanding of suicidal crisis. From my own personal experience—and from my subsequent experience of running a crisis service—I know that someone in suicidal crisis is almost always thinking in a way that is entirely different from usual. Our thinking is profoundly altered, either by a mental health condition such as depression, or by the impact of trauma, or by high levels of emotional distress and suffering.
Because of my experience under psychiatric services, I started to imagine how things could be done differently. I remember thinking "What if there was a Suicide Crisis Centre, where people could visit every day when they were in a suicidal crisis, and if they were at imminent risk that they could be supported for a period of several hours, and overnight if necessary?" I started working on the concept and a year later we opened our Suicide Crisis Centre.
Our first few clients showed us that we would need more than just a Suicide Crisis Centre where people could receive face-to-face support. We would also need to go out to visit people in their homes, too, because not everyone would be able to reach us when they are in crisis. They may be too traumatised or too distressed to leave their home. We also set up our emergency phone lines, which clients can call when they feel at imminent risk of suicide. This combination of Suicide Crisis Centre, home visits, and emergency phone lines places a safety net around our clients. We are open 24 hours a day, 365 days a year.
Because I had found that the clinical distance of psychiatric staff left me feeling equally detached, I felt our team needed to take a different approach. I understand some of the reasons why this clinical distance exists. However, when I was approaching the point of suicide, I disconnected from everyone around me. This disconnection was part of my preparation for ending my life: it is something that may happen consciously or unconsciously. What reached me at that point was kindness, and a caring approach. I have said many times that kindness is immensely powerful, and that it has the power to break through the barriers that someone may place around themselves, as they detach from other people and descend deeper into suicidal crisis.
So instead of clinical distance, our approach is to openly care about our clients. Psychiatric clinicians often react to this by saying: "Doesn't that create a blurring of boundaries? Don't clients misunderstand the relationship and think you are their friends, if they know you care about them?" My response is: "Caring for clients is not incompatible with a professional relationship. It's vital that clients know we care about them and their survival." It is very clear to our clients that we are using professional techniques during our time with them, and that we are not just having a chat with them in the way that a friend might do. We are drawing on our professional training, including our counselling training, when we are with them.
It is so important to work proactively to build a strong connection with clients in suicidal crisis. We see most of our clients for an hour a day, but the connection we have with them "holds" them for the 23 hours we are not with them. They feel connected to us, even when we are not actually by their side. And they know they can call us at any time, if they are struggling. One of our clients used to say it was as if he carried us with him in his pocket—he felt we were always with him.
Our approach also involves placing our clients in control as much as possible. They can decide how often we see them, the kind of care and support they receive—and they decide when they feel ready to leave our service. However, there are times when we may need to negotiate this with them, particularly when we are very concerned about their risk of suicide, and we feel that we need to see them more frequently than they are specifying.
Of course, we work very tenaciously to ensure our clients survive, and so if someone is at imminent risk of suicide, we actively intervene to protect their life. This is something we make clear to our clients from the start—that if they are at imminent risk of suicide, we may involve emergency or other services. But this is not surprising to our clients, because they see it in the context of caring very much about them and caring about their survival.
Many people find this feeling of having more control over their care extremely helpful—including people who may never have disclosed painful and personal feelings to anyone before. For example, men may find it particularly difficult to disclose these painful feelings—they may have less experience of opening up to people. Seeking help may feel alien to them. And in seeking help, they may feel exposed and vulnerable, perhaps for the first time in their life—and this can be a very uncomfortable feeling. Feeling "in control" as much as possible can help counteract this feeling of vulnerability, and the feedback we receive from clients confirms this.
We work very tenaciously and proactively to help our clients stay alive—but we do this in a caring, kind, and gentle way. This tenacity was not what I experienced under psychiatric services when they told me that it was "my choice" or "my decision."
We have a highly trained team. Almost all of our team are qualified, BACP-accredited counsellors. They also have further suicide intervention skills training, and additional input from psychiatric professionals to ensure that their risk assessing is as rigorous as that of psychiatric services. But their personal qualities are just as important as the professional qualifications they have: they are kind, caring, empathic, sensitive, and they are passionate about helping our clients to survive.
From the first day we started to provide crisis services in 2013, my aim was: "We will do everything we can for each individual to help them to survive." We work very individually with clients, and tailor our support and care specifically for their needs. Under psychiatric services, many of us struggle with the more formulaic aspects, for example being told to use "distraction techniques."
We use a person-centred approach. This involves working with individuals and responding to their unique needs, rather than taking a generalised approach to treating clients based on their diagnosis. And, of course, in counselling training, a person-centred approach focuses on empathic understanding and unconditional positive regard for clients, which is central to the way we work.
One of the things I love most about our crisis service is that the model was designed by the clients who were using our services, rather than by service managers. Our first client was too traumatised and too frightened to leave his home, so we went out to see him. From that day, we realised that we would need to provide home visits to our clients, if we wanted to reach everyone who needed us. He showed us what we needed to provide, and we provided it. Our night-time emergency line was established because of another client who accessed our services in the first few weeks. We were really concerned about his risk of suicide and I remember asking him who he would call if he was at imminent risk during the night. He paused and said that there was no one who he would call. So we made a decision to designate a mobile phone as the emergency contact line for our clients from that night onwards.
Our ability to provide home visits proved invaluable during the lockdowns in the pandemic. We travelled across the region, visiting clients in crisis in their homes.
In the eight years that we have been providing services, there has never been a suicide of a client under our care. We think there is significant learning for traditional services in this. Providing such a different approach from psychiatric services has led to all our clients surviving.
When I first spoke of my plans to set up a Suicide Crisis Centre, I was told that I was "not an appropriate person" to undertake such an endeavour, because I was a recent psychiatric patient. There was a sense that traditional psychiatric services perceived this new Suicide Crisis Centre as threatening the "natural order" of things. It was as if my ideas risked destabilising the traditional power balance of psychiatrists and their managers being in charge, and patients receiving their services. We had to overcome many barriers to setting up our crisis service.
However, the Suicide Crisis Centre is now described as an "example of best practice." The UK government has written to us to comment on our "excellent work," and we recently received a letter from the Ministry of Health in New Zealand commending our work, and informing us that it is "supporting other work across the world." Psychiatric clinicians now invite us to give talks to their teams about the way we work differently from traditional services, seeking to learn from us. Psychiatric managers still tend to retain their distance from us, however. There is a sense that they are still not comfortable with the concept of a patient setting up and running a crisis service, and that this is their territory. Changing the balance of power is clearly an ongoing process.
***
Mad in America hosts blogs by a diverse group of writers. These posts are designed to serve as a public forum for a discussion—broadly speaking—of psychiatry and its treatments. The opinions expressed are the writers' own.
***
Mad in America has made some changes to the commenting process. You no longer need to login or create an account on our site to comment. The only information needed is your name, email and comment text. Comments made with an account prior to this change will remain visible on the site.