A new study published in BMC Health Services Research describes the collaborative process undertaken by an interdisciplinary team of stakeholders to develop the Reducing Coercion in Norway (ReCoN) intervention, a primary care-based mental health care model aimed at reducing involuntary psychiatric admissions amongst adults.
The development of the ReCON intervention comes in response to growing concerns regarding rising rates of involuntary hospitalizations across the globe, with annual percentage increases as high as 4% in the United Kingdom and 5% in the Netherlands. Consumer-led organizations, national governments, and international organizations, including the United Nations, have called for the ban of forced psychiatric hospitalization, labelling the practice a human rights violation that takes autonomy away from persons with psychiatric disabilities. Research has also shown that when individuals feel coerced during a psychiatric hospitalization, they are more likely to experience long-term negative outcomes, including increased risk for suicide.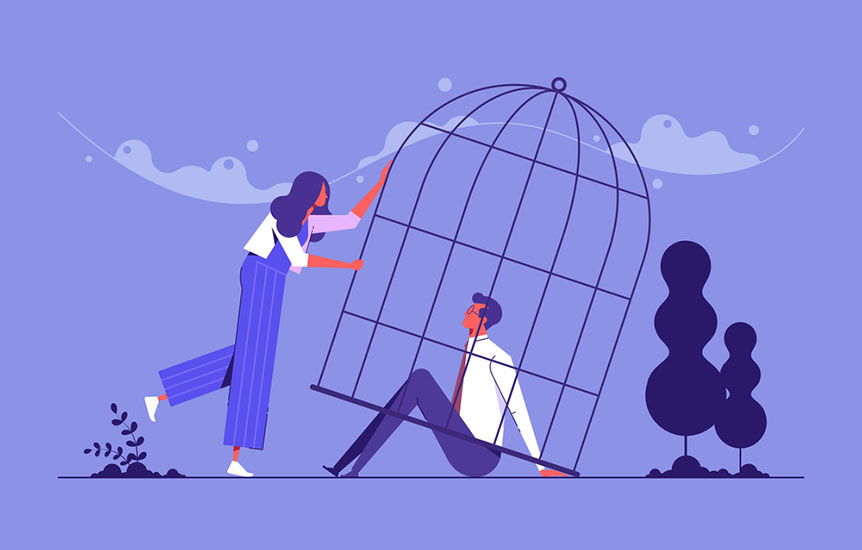 Alternative interventions based on principles of recovery and shared-decision making have been studied globally in specialty mental health treatment settings and have been found to be effective in preventing and reducing coercion. However, these interventions are lacking within primary care settings, even though it is the only point of contact with healthcare for many individuals with a serious mental illness (SMI).
"For many individuals with an SMI, primary health care provides the majority of services and might thus be in a key position to facilitate less restrictive services and prevent involuntary admissions," the researchers write.
Researchers at the Norwegian Resource Center for Community Health, led by Irene Wormdahl, set out to develop a primary care-based intervention based on explicit anti-coercion practices as a means of reducing rates of involuntary psychiatric hospitalizations. The research team organized five day-long Dialogue Conferences to facilitate the intervention development process. Dialogue conferences are a participatory action research strategy that aim to promote democratic and collaborative conversations between diverse stakeholders to brainstorm solutions to shared problems.
For the present study, conferences were held between February and March 2020. Each conference included 50 distinct participants, representing multiple relevant stakeholder groups, recruited from five different Norwegian municipalities. Stakeholders included staff and managers of primary and secondary mental health services, primary care service providers, police, individuals with lived experience of serious mental illness or involuntary admission, and family caregivers.
The dialogue conferences each included three small group work sessions and a brief presentation from researchers on intervention components to provide participants with background information. During the first group session, participants were divided by service (e.g., primary care, mental health care) and/or identity category (e.g., individual with lived experience, healthcare professional) to ensure all participants had a comfortable space to openly brainstorm intervention ideas. In subsequent group sessions, stakeholders came together across groups to share and exchange perspectives. Lastly, all attendees participated in a final "star round" during which participants each chose their top three intervention priorities.
Following the conferences, researchers used inductive thematic analysis to categorize the brainstormed intervention components and to identify key strategy areas to include in ReCoN. Strategies were then ranked according to priority. Components chosen by stakeholders from multiple municipalities were maintained, whereas those that were only prioritized by representatives from one municipality, or that were marked as low priority by all participants, were removed. After this primary stage of analysis, researchers created an initial intervention proposal and held eight two-hour long feedback sessions during which stakeholders were presented with the draft intervention. The ReCoN model was iteratively revised based on oral feedback received after each session.
This co-creation process ultimately yielded an intervention with six general principles and strategy areas related to: 1) management, 2) involvement of persons with lived experience, 3) staff competency development, 4) collaboration across primary and specialty care levels, 5) collaboration within primary care, and 6) tailoring services to meet individual needs.
Stakeholders believed that for the intervention to be successful, commitment was needed at the management level. For example, managers should ensure systematic data collection and monitoring related to coercion (e.g., tracking and routinely reviewing data on involuntary admissions). The second strategy area was involvement of persons with lived experience and family caregivers. Participants suggested mandating "post-incident reviews" within organizations, which would require primary care staff to meet with families to review the impact and outcome of any involuntary hospitalization and to engage in joint-crisis planning to prevent future admissions. Employment of peer workers as support staff within primary care for individuals identified as being at risk for an involuntary hospitalization was suggested as another potential strategy.
Intervention components related to "competence development" included the enhancement of training modalities for primary care service providers regarding trauma-informed and recovery-oriented frameworks and risks of coercion. Participants also emphasized the need for training to be flexible and specific to the needs of each site.
Enhanced communication between types of service providers was also deemed a key intervention priority; participants asserted that if primary and specialty care providers had more direct lines of communication, they might be more aware of the options available within an individual's network and be better equipped to imagine alternatives to involuntary admission.
"Close collaboration between services when assessing the need for involuntary admissions might identify less restrictive alternatives or contribute to finding good solutions if a person is referred but not admitted," the researchers write.
The last essential strategy area defined by stakeholders was tailoring services to meet the needs of each individual service user. Dialogue participants articulated that implementing this strategy should begin with a provider asking their patient the simple question, "What is important to you?" and then customizing service provision to match an individual's values and needs (e.g., shelter, food, medication support).
In summary, the co-created ReCoN intervention aims to incorporate multiple new strategies into primary care settings to shift towards a more comprehensive, integrative model of care in which staff and individuals with lived experience of mental illness collaborate to make treatment decisions and tailor services to match individuals' needs.
The authors suggest that the implementation of the ReCoN intervention has the potential to have a powerful downstream effect.
"Putting prevention of involuntary admissions on the agenda in primary health care settings has the potential to readdress structurally embedded patterns and promote collaborative efforts to decrease the use of involuntary admissions across health care levels," they write. "For persons with SMI, implementing the ReCoN intervention can contribute to fewer experiences of involuntary admissions and that they receive comprehensive services that are recovery-oriented and individually tailored."
The effectiveness of ReCoN is currently being tested as part of a large-scale clustered randomized controlled trial in Norway.
****
Wormdahl, I., Hatling, T., Husum, T. L., Kjus, S. H. H., Rugkåsa, J., Brodersen, D., … & Rise, M. B. (2022). The ReCoN intervention: a co-created comprehensive intervention for primary mental health care aiming to prevent involuntary admissions. BMC Health Services Research, 22(1), 1-17. (Full text)