When someone is experiencing a mental health crisis, people are generally told to do one of a few things: Call the police, call a crisis line, tell a trusted adult, or go to the nearest emergency room. Suicide prevention posters and doctors' after-hours voice machines routinely advertise those options.
But are they the ones we should be promoting? Are they actually helping people? Many would argue yes, but many would probably argue no. A lot of people are scared. They're scared the police are going to show up at their door, they're scared they will be involuntarily committed to a hospital, they're scared they might be taken to jail. I wish I could say those fears aren't based in reality, but that wouldn't be the truth.
This happens every day.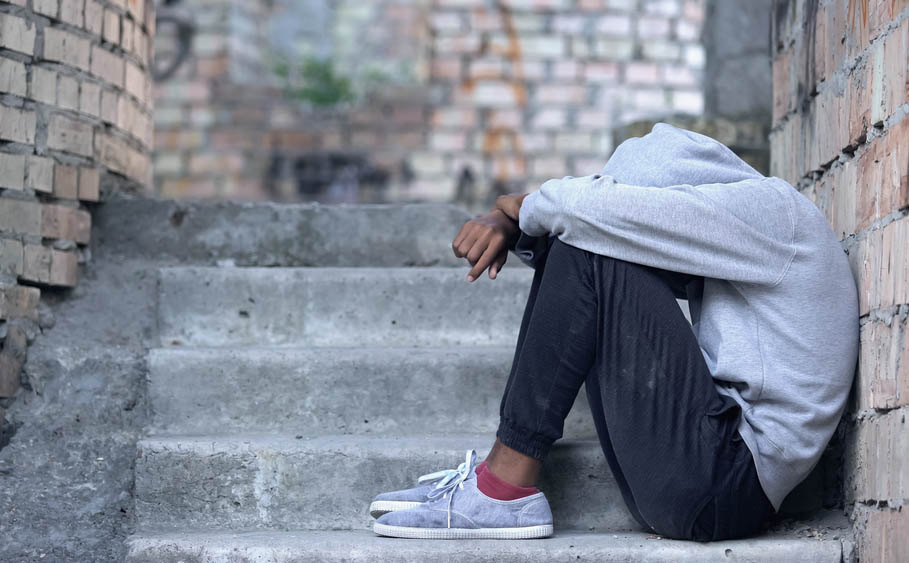 These fears are only heightened even more so for youth. Our immediate response to mental health crises is already complicated and layered for adults. But what about the people who aren't even allowed to make decisions about their own care? What about the people under 18 who are contemplating suicide?
I don't know all the laws and regulations, but I know things tend to become a lot stickier when children or teenagers are involved. The culture of fear around suicide is already so high in adults, and it's only amplified for youth.
Liability, risk, ethics, and morals are put into question when it comes to youth and suicide. Add in mandated reporting, and the lack of consistency in definitions, and the stakes are raised even more.
When do you call a child's parent? What if that makes it worse? How do we balance safety and trust? If we want to move away from institutionalization in adults, why is it still the first instinct for teens?
My parents first found out about my depression and suicidal thoughts when they got a call from my middle school. I had texted a friend that morning about my suicide plan and she, rightly so, told the guidance counselor. I remember sitting in that office begging her not to call my parents. I understand she had to. And that's an instance where I agree, parents should be told. The problem is, my parents responded in a way that left me forever even more traumatized.
I didn't know it then, but a lot of my depression and suicidal thoughts came from the childhood experiences I had with my parents. From then on, I didn't trust them. I didn't feel safe with them. I hid everything from them. When they would find things out, they panicked. So I lived with a constant fear of saying something to the wrong person, my parents finding out, and being sent to a hospital.
I know that's not the case for everyone. I don't know where the line is when you tell a parent. But if the parent is part of the problem, it leaves the child or teen in an incredibly difficult place. Because again, when it comes to minors, any time there is any hint of concern for safety, telling the parents is the first response. I don't know what the answer is, but I know a good first step is education about the spectrum of suicidal thoughts and helping people sit with their fear and not panic when suicide is mentioned.
When it comes to crisis response, part of the issue is the wide array of how people define someone being a "danger to self or others." There have been times even mentioning the word suicide led to a knock on my door with a police officer there to do a wellness check because someone was concerned for my safety.
Other people who were more familiar with suicidal thoughts were able to listen and support me when I had general, more passive thoughts of suicide. But if I mentioned a plan, the school was called, and my parents were informed. All you have to do is go on TikTok and you'll find a whole host of teenagers who will say they know better than to tell someone they have a plan, because in their experience, it's always landed them in the hospital.
Thoughts alone don't make a person a danger to themselves, though. I've lived with chronic suicidal thoughts for over a decade. If I went to the hospital every time I had a suicidal thought, I would never leave.
A plan doesn't necessarily warrant hospitalization, either. I've had a generic suicide plan for years. I keep it as a "backup" or "just in case" because growing up in trauma, that's what I used as an escape plan—and that helped me survive. I keep it now because my body is still so often stuck in trauma, I feel like I still need to have an escape ready.
But I would hazard to go even further and say even if someone does have access to the means they intend to use to attempt suicide, that still doesn't necessitate a call to the police. There have been plenty of times I've had thoughts, intent, a plan, and means and the answer was not hospitalization. Having means does not mean that you will use them. I owe so much to the people who took the extra step to problem solve this with me instead of reporting me.
They asked questions like:
Can I move the means out of reach?
Can someone pick them up?
Can I get rid of them?
Can I go stay somewhere else?
The times I've had to ask people to take things from me so I stay safe and alive are some of the hardest conversations and interactions I've had. But I'm so grateful I have people willing to push past their own fear and help me find a way to stay safe in a way that still feels safe to me.
There are options. And we owe it to people to explore them. I know when safety is concerned it feels like it's better to risk overreacting than the alternative—and I hear that, truly—but you at least owe it to the person to have a conversation first.
We have to push past fear and panic. And I know that's easier said than done, especially when we're talking about children and teenagers. But if people only respond in ways that make themselves feel safe, instead of responding in a way that makes the person struggling feel safe, we aren't helping anyone.
On top of that, we're sending a message to youth that we're afraid of them and their struggles. It's telling young people their feelings are bad and wrong and we need to get rid of them as soon as possible in whatever way necessary.
I learned at a young age to correlate my suicidal thoughts and feelings with panic and punishment from adults. To this day, I have a deep distrust in mental health professionals (having to do therapy to process my past experiences in therapy tends to slow down the healing I was there for in the first place). If I get a call from my parents out of the blue, my body full-on panics, and my mind races to think if there's anything I've said that someone might have found and sent them that would spark their fear.
I know people are scared. And I know I can't fully understand because I am not a parent. But I have been the child. And I have had the parents called. And I have seen how much worse that made things. I have been taken to the hospital. I have had police show up at my door.
None of those things ever helped. They only ever made it so much worse.
Especially because those are the experiences that shape how you interact with those systems in the future. If I had had positive experiences with the mental health system as a minor, I probably wouldn't have had to wait until hitting rock bottom before reaching out for professional help again as an adult. I wouldn't have used friends as therapists. I wouldn't have lied to every doctor and health professional I came in contact with.
I was in therapy as a minor when I planned two suicide attempts. Did I feel safe to talk about that in a room with someone who only belittled my inability to verbalize my thoughts? Did I trust them, knowing they told my parents everything? Why in the world would I have been honest? Of course I didn't say anything. Looking back now, I wish nothing more than that I would have had better experiences in therapy as an early teen. I wish I would've been allowed to pick the therapist. I wish it didn't have to be forced. I wish I would've had more of a say in the decisions people made about me, without me.
I know my story is not representative of everyone, though. Like everything else, this is not one size fits all. We need options. We need to give youth a space where they feel safe. We need to have options for them outside of calling the police and throwing them in the hospital. I don't know what that looks like, especially with the laws around protecting those under 18, but I know we need something. And I know we need to involve young people in decisions about their care.
When someone struggling with suicide reaches out and is met out of the blue with police at their door, handcuffing them and taking them to a hospital where their possessions are stripped from them and their dignity is thrown away—why on Earth would they ever trust this system again? Why would they encourage anyone else to use it?
When 988 first rolled out, there were loads of posts on social media warning people about the hotline, discouraging them from reaching out without knowing the risks—which include law enforcement showing up without consent, involuntary hospitalization, etc.
We need adults to understand the reality of suicidal thoughts and how they occur on a spectrum. We need to meet people where they are. Who are youth talking to? Their friends, church community, teachers, parents, coaches? Let's make sure those people know how to handle a mental health emergency.
Despite the many horrific experiences I had as a teenager because of a lack of understanding around suicide, I had a lot of people in my life who got it right. I don't want to discount that. I wouldn't be alive had I not had teachers and friends and youth group mentors who allowed me a safe space to express my pain. Who didn't jump to calling 911 when I mentioned suicide, who didn't immediately tell my parents when I wrote about struggling with suicidal thoughts. People who didn't panic when I told them about how much I wanted to die. I don't know how they knew exactly what to do, but I am forever grateful they did.
I also want to clarify that I don't hold any hard feelings toward the people in my life who did panic, especially my peers. We were told repeatedly growing up to tell an adult if someone was talking about something like this—they were only doing what they had been taught to do. Do I wish they would have talked to me first so it wasn't completely out of the blue? Of course, but I do understand the fear and I know they were only doing it out of love and concern for me.
That being said, this needs to change. We need more education, we can need actual resources, we need responses that stretch outside a hospital or cop car. The youth of this generation has experienced such trauma already, they need to have a place to safely process that. People need to be able to talk about what they're going through and receive the care they need without constantly fearing someone is going to put them in the hospital against their will. We need to break this culture of fear that has developed around suicide, especially for children and teenagers.
If we're talking about mental health more and encouraging people to reach out for help, let's make sure the mental health care we're providing is actually care.
***
Mad in America hosts blogs by a diverse group of writers. These posts are designed to serve as a public forum for a discussion—broadly speaking—of psychiatry and its treatments. The opinions expressed are the writers' own.
***
Mad in America has made some changes to the commenting process. You no longer need to login or create an account on our site to comment. The only information needed is your name, email and comment text. Comments made with an account prior to this change will remain visible on the site.