Mental health counselors are uniquely situated to combat the negative mental health impacts of anti-fat bias in their clients, but first, they must address their own internalized fatphobia.
Stella B. Kerl-McClain, Cort M. Dorn-Medeiros, and Kelsey McMurray of Lewis and Clark College offer six steps for counselors and counselors-in-training (CITs) to address fatphobia in the clinical setting better.
"Anti-fat oppression has an acute impact on mental health and overall well-being. Such effects can include but are not limited to increased depression and anxiety, disordered eating behaviors, internalized stigma, and subsequent body shame, and increased mental and physical stress from diet and weight cycling," the authors write.
"Professional counselors and CITs are particularly well-positioned as agents of change within mental health, medical, and family systems to advocate for and with their fat and larger-bodied clients. Unfortunately, counselors and CITs are not immune to the incessant social and cultural messaging regarding fat stigma and anti-fat bias. However, through education, self-compassion, reflection, and challenge to internalized anti-fat messaging, counselors can begin the process of unpacking their own anti-fat bias to provide better care for all clients."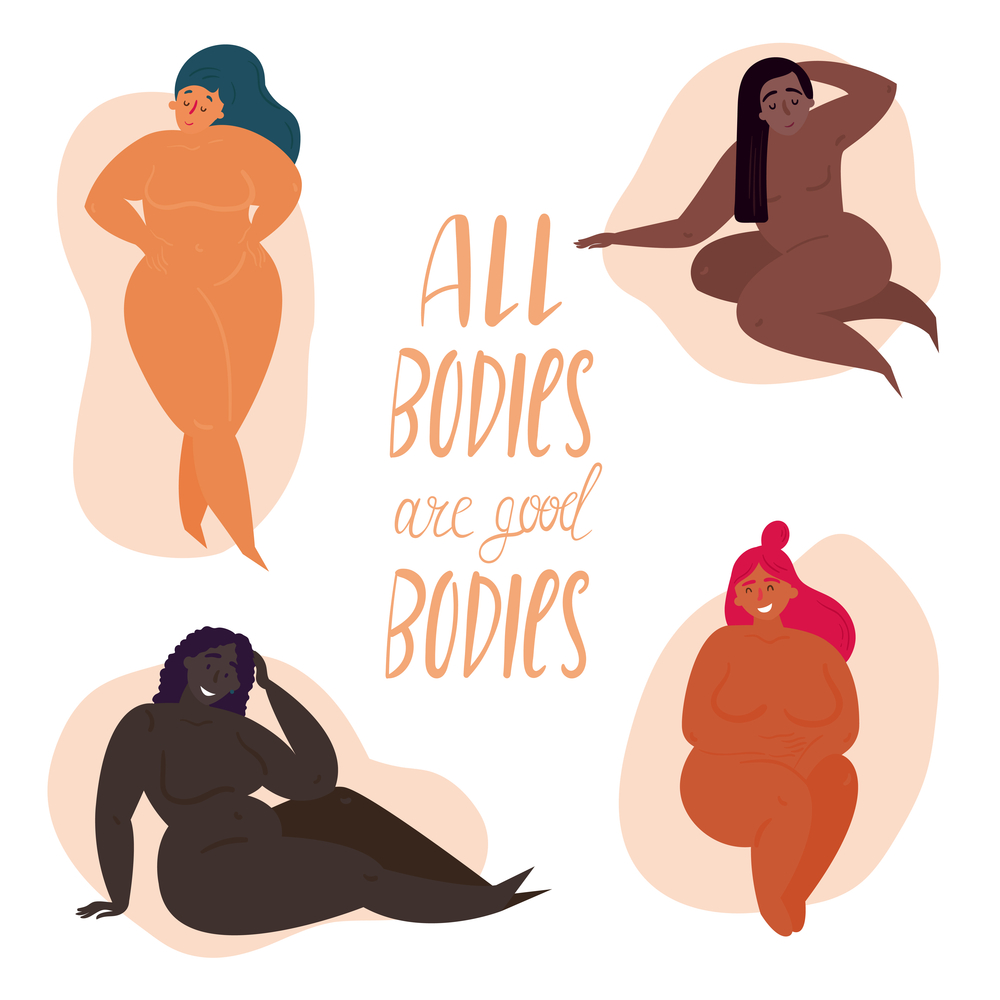 In their newly published article, "Addressing Anti-Fat Bias: A Crash Course for Counselors and Counselors-in-Training," the authors begin their argument by outlining the history and foundation of fatphobia and fat stigma both in the United States and abroad, taking special note to not medicalize fatness by refraining from using words like "obese," "obesity," and "overweight."
In the 1950s, the World Health Organization began emphasizing holistic bodily health, free of disease and infirmity but also complete with physical, mental, and social well-being. However, according to the authors, this emphasis on health was weaponized against fat people.
"Health can also serve as a code word for a positive range of qualities that any given society wishes to see in its citizens."
In the 1980s came the "obesity epidemic." With this "epidemic," fatness became integrated into medical narratives of deviance and disease, hinging on moral outrage and panic—not dissimilar to the medicalization of mental illness. Due to the medicalization of fatness and fat stigma, thinness is desired in citizens globally, both aesthetically and medically.
The authors note that fat stigma is the "social discrediting of people perceived as fat within a culture that attaches negative social meanings to fatness." In other words, fat people are considered lazy, unintelligent, and personally responsible for their size despite a breadth of evidence that links fatness to systems of oppression like racism, classism, and homophobia. Fat stigma fuels anti-fat bias, the negative evaluation of a person based on their perceived amount of body fat, and fatphobia.
Because anti-fat bias and fatphobia stem from medicine, medical outcomes are typically worse for fat people than their thin counterparts—not because they are less healthy but because fat stigma directly impacts the healthcare process. Fat people typically postpone care due to assumed or previously experienced size discrimination and humiliation. In particular, the authors note that:
"Fat women, in particular, may experience ongoing medical mistreatment and negligence due to their body size." 
With the medicalization of fatness also came the fat acceptance movement in the 60s and 70s. The National Association to Advance Fat Acceptance, The Body Positive, and the Association for Size Diversity and Health have developed models and approaches for clinicians and practitioners to better address their learned prejudice against fat people and unpack their anti-fat bias.
The authors highlight the HAES approach, which includes a curriculum focusing on body acceptance, intuitive eating, and active embodiment.
However, the lived experiences of fat stigmatization, anti-fat bias, and fat shaming are still daunting and damaging to one's joy, mental health, and well-being. And, when fat people seek counseling and therapy, they may unknowingly enter into a therapeutic relationship with someone who is fatphobic—this is dangerous for many reasons, but perhaps the most insidious is that fat people are inadvertently assigned more severe and significant pathology than thin people.
Thus, counselors must educate themselves on how to support their fat clients and actively fight against anti-fat bias in the clinical setting. The authors offer six specific recommendations.
Educate yourself: "Do your own work to educate yourself about anti-fat bias, fatphobia, sizeism, and the intersections of racism, classism, and sexism."
Practice self-compassion: "It is normal to feel conflicted about your own body. Hold a compassionate space for your process in challenging your own biases and assumptions around body size."
Reflect and debrief: "Take inventory of your biases about fat, weight, and body size." There are even formal assessments and measurements to take that explore anti-fat bias that can be used both personally and with clients.
Challenge your assumptions: "…refrain from the speculation that fat clients are either working on losing weight, want to lose weight, or are sedentary and do not engage in exercise or intentional movement."
Broach and be an advocate: "Professional counselors and CITs should advocate with and for clients within mental health, medical, and family systems regarding weight, body size, and fatness."
Keep learning: "Seek out additional training." 
Epistemic injustice is rife within all healthcare, not just mental healthcare. Fat people are especially vulnerable due to the many intersections of fatness with systems of oppression and anti-Black racism. Not only are fat people especially vulnerable to epistemic injustice but also to the development of eating disorders—which are also frequently mismanaged, misunderstood, and mistreated in mainstream mental healthcare. Fat people deserve better; this is how we can begin doing the bare minimum.
****
Kerl-McClain, S. B., Dorn-Medeiros, C. M., & McMurray, K. (2022). Addressing Anti-Fat Bias: A Crash Course for Counselors and Counselors-in-Training. Journal of Counselor Preparation and Supervision, 15(4), 3. (Link)