Editor's Note: Over the next several months, Mad in America is publishing a serialized version of Peter Gøtzsche's book, Critical Psychiatry Textbook. In this blog, he discusses the way textbooks refer to the imbalance of various neurotransmitters as causing psychiatric disorders, and whether there is any evidence to support this notion. Each Monday, a new section of the book is published, and all chapters are archived here.
When I lecture for psychiatric patients, half or more say they have been told by their doctors that they are ill because they have a chemical imbalance in their brain.
My colleagues who work with the patients therapeutically have the same experience. But when confronted with this, leading psychiatrists are quick to deny that any psychiatrist ever said this to anyone, or they say they abandoned the idea decades ago. This is not correct.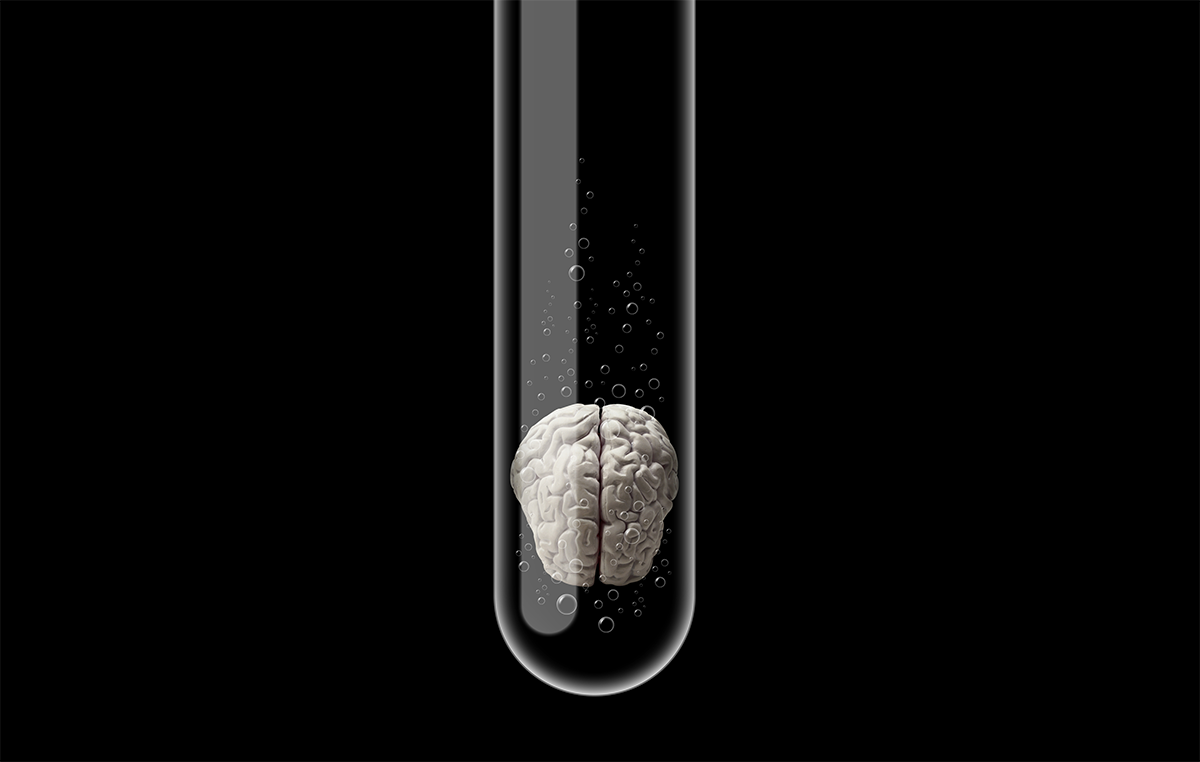 Even today, hospital-based psychiatry in one of the five regions in Denmark mentions it on its home-page:81
"Schizophrenia is a disorder in the brain … People with schizophrenia have disorders in certain areas of the brain where the neurotransmitter dopamine is active. Other disturbances in the brain are also seen."
"Antidepressant medication acts on some of the chemical processes that are out of balance in the brain in depression. The medication normalises, among other things, the level of the stress hormone cortisol and the brain's neurotransmitters serotonin and norepinephrine."
"Affective disorders are mental illnesses related to a chemical imbalance in the brain. It leads to mental health problems like depression, mania or a combination of both."
"Scans have shown that people with ADHD have changes in several places in the brain … in the area that is responsible for planning, impulse control and attention. The cells of the brain use different neurotransmitters to communicate with each other. If you have ADHD, you will see disturbances in these substances … the levels of the neurotransmitters dopamine and norepinephrine are low. Medical treatment of ADHD increases the amount of the two neurotransmitters in the brain. It improves brain function."
"The medicine acts on some of the chemical processes in the brain related to anxiety disorder … antidepressant medication normalises the amount of the brain's neurotransmitter serotonin."
The text about ADHD was particularly misleading. It indicated that we know exactly where in the brain the problems are and that they can be fixed like a key fits into a lock.
The drug industry also propagates the false narrative. A 2007 survey of US university students found that 92% had seen or heard that depression is caused by a chemical imbalance in the brain, and 89% of these had seen it on TV.82 TV channels in USA are full of ads for prescription drugs, and this indoctrination is very effective.
Schizophrenia and related disorders
The information in the textbooks was often very detailed: The abnormalities in psychosis include changes in neurotransmission and hormonal signals;18:27 they include neuron migration and synapse formation, which in turn lead to structural and functional changes in the brain, including enlarged ventral ventricles, as an expression of atrophy;18:94 PET scans found dysfunction in the prefrontal cortex and in the hippocampus;18:94 PET and SPECT scans have shown increased dopamine synthesis and liberation in many psychotic patients, primarily located to the associative striatum (the head of the caudate nucleus);16:562 and symptom complexes are well correlated to dysfunction of certain cerebral areas on PET scans.18:90
We are also told that there is pathology of the synapses,19:228 and that the findings are robust that there is increased synthesis and liberation of dopamine in the associative striatum.16:215
However, one book noted that not all patients have changes in the dopamine system.16:221 This speaks against the hypothesis that people become psychotic because they have too much dopamine in their brains, and the truth is that it has never been documented that any of the large psychiatric diseases is caused by a biochemical defect in the brain. Furthermore, there is no biological test that can tell us whether someone has a particular mental disorder.
The dopamine hypothesis has been accepted as the basis for using psychosis drugs,18:17 but it is the other way around. Psychosis drugs decrease dopamine and therefore the psychiatrists have claimed, heavily pushed by the drug industry, that the disease is caused by too much dopamine. They have published a huge array of poor studies that purportedly showed this. But the fact is that the studies that have claimed that a common mental disorder like psychosis or depression starts with a chemical imbalance in the brain are all unreliable.7:247
In 2003, the huge deception became too much for six psychiatric survivors. They were so angry about the stories they had been told by their psychiatrists that they sent a letter to the American Psychiatric Association and other organisations stating that they would begin a hunger strike unless scientifically valid evidence was provided that the stories the public had been told about mental disorders were true.5:331
They asked for evidence that major mental illnesses are biologically-based brain diseases and that any psychiatric drug can correct a chemical imbalance. They also required the organisations to publicly admit if they were unable to provide such evidence.
The medical director of the American Psychiatric Association (APA) tried to get off the hook by saying that, "The answers to your questions are widely available in the scientific literature." In his book, The Art of Always Being Right, philosopher Arthur Schopenhauer calls this deplorable trick "Postulate what has to be proven."83
The hunger strike ended when people started getting health problems, but the APA bluffed. It stated in a press release that it would not "be distracted by those who would deny that serious mental disorders are real medical conditions that can be diagnosed accurately and treated effectively."
Schopenhauer says about this trick: "If you are being worsted, you can make a diversion—that is, you can suddenly begin to talk of something else, as though it had a bearing on the matter in dispute and afforded an argument against your opponent … it is a piece of impudence if it has nothing to do with the case, and is only brought in by way of attacking your opponent."
This is one of many examples that psychiatry is more of a religion than a science. Religious leaders couldn't have invented a better bluff, if people had required proof that God exists: "We priests and cardinals will not be distracted by those who would deny that God exists and knows about people's problems and can treat them effectively."
It is important to realise that a difference in dopamine levels between patients with a schizophrenia diagnosis and healthy people—even if it existed—cannot tell us anything about what started the psychosis.
If a house burns down and we find ashes, it doesn't mean that it was the ashes that set the house on fire. Similarly, if a lion attacks us, we get terribly frightened and produce stress hormones, but this doesn't prove that it was the stress hormones that made us scared. It was the lion.
People with psychoses have often suffered traumatic experiences in the past, so we should see these traumas as contributing causal factors and not reduce suffering to some biochemical imbalance that, if it exists at all, is more likely to be the result of the psychosis than its cause.
One textbook16:238 listed a study showing that nine people at ultra-high risk of psychosis who later developed psychosis had greater dopamine synthesis capacity in the striatum, with a huge effect size of 1.18, than did 29 healthy volunteers.84 There was a positive correlation between dopamine synthesis capacity and symptom severity, but such studies cannot tell us what starts a psychosis. These people were already ill (they had already seen the lion) when they were recruited for the study even though they did not yet formally fulfill the criteria for what constitutes a psychosis.
Affective disorders
According to the textbooks, depressive conditions are associated with an influence on the hypothalamic-pituitary-adrenal cortex axis (HPA axis);19:210 likely disturbances in the central nervous system and neurotransmitters;17:357 and elevated cortisol.17:357,18:122
However, I also found alternative views. Three psychologists called it a hypothesis that depression should be due to a chemical imbalance—insufficient monoaminergic transmission—and that improvement was due to re-establishment of normal synaptic levels of serotonin and norepinephrine.20:430 They noted, with references, that this does not agree with the observation that the effect comes after weeks of treatment, and that there are other reasons to consider the hypothesis insufficient.
The hypothesis that depressed patients lack serotonin has been convincingly rejected.2,85,86 Some drugs that decrease serotonin (e.g. tianeptine) or do not increase serotonin (e.g. mirtazapine) also seem to work for depression,2,5,87 and mice genetically depleted of brain serotonin are not depressed but behave like other mice.88 Further, it would be difficult to explain why these drugs seem to work in social phobia, which is not considered a lack-of-serotonin disease.86
When I said in my lectures for psychiatrists and other doctors that many patients had been told they had a chemical imbalance, I was met with angry responses demanding that I documented my so-called allegations. My colleagues obviously didn't like to admit that they misinformed their patients. I referred to what patients, health professionals, and others had told me, and to websites where patients share their experiences, but this was taken to mean that I didn't know what I was talking about, as if it didn't have any value to listen to patients' testimonies.
When I argued that the documentation on the internet is very convincing because patients rather consistently have had the same experiences, I was told that these were just anecdotes which, moreover, had not been published in a peer reviewed journal. As if that would make any difference.
This organised denial is disturbing. In a Danish study of 493 depressed or bipolar patients from 2005, 80% agreed with the sentence: "Antidepressants correct the changes that occurred in my brain due to stress or problems."89
The myth about a chemical imbalance in the brain being the cause of depression and other psychiatric disorders won't go away. In 2018, my deputy director at the Institute for Scientific Freedom, Maryanne Demasi, and I collected information about depression from 39 popular websites in 10 countries (Australia, Canada, Denmark, Ireland, New Zealand, Norway, South Africa, Sweden, UK, and USA). We found that 29 websites (74%) attributed depression to a chemical imbalance or claimed that depression pills could fix or correct such an imbalance.90
The psychiatrists use this myth to convince their patients that they should continue taking drugs they would rather avoid because of their harmful effects. In 2013, the chairman of the Danish Psychiatric Association, Thomas Middelboe, described the term chemical imbalance as a metaphor psychiatry had grasped to explain diseases whose causes are unknown.91
As illustrated above, cognitive dissonance also plays a role. In 2014, I debated with Poul Videbech—an editor of the textbook without references18—at a public meeting arranged by medical students. After I had documented that far too many people are in treatment with depression pills and had suggested that we tapered off the drugs, Videbech said, in front of 600 people including patients and their relatives: "Who would take insulin from a diabetic?"7:249
A year later, when I published my first book about psychiatry7 and was interviewed in a newspaper,92 Videbech said on the same page that he had known for 20 years that the theory of the chemical imbalance was too simple, and that it was outrageous that I had said that he and his colleagues still believed in it.
Well, the myth about the chemical imbalance is only a thing of the past when challenged. Psychiatry professor Birte Glenthøj was also interviewed and confirmed that the myth was alive and well: "We know from research that patients suffering from schizophrenia have, on average, increased formation and release of dopamine, and that this is linked to the development of the psychotic symptoms. Increased dopamine activity is also seen before patients are first given antipsychotic medication, so it has nothing to do with the medication."
In 2017, Videbech postulated again that when people are depressed, there is an imbalance in the brain.93 Furthermore, he and another psychiatry professor, Lars Kessing, had written in their two contributions to the Handbook for Patients, which has official status in Denmark and is available on the Internet, that depression is caused by a chemical imbalance.94,95
I complained to the editor but got nowhere. Kessing and Videbech changed a few minor things and introduced new claims that made their articles even worse. I complained again, and again to no avail, and the misinformation about the chemical imbalance continued. In his update, Kessing added, "It is known that antidepressant drugs stimulate the brain to make new nerve cells in certain areas." Videbech wrote the same, but there were no references. If this is correct, it means that depression pills are harmful to brain cells, as the brain forms new cells in response to a brain injury. This is well documented, for example for electroshock therapy and psychosis pills.11
Some leading psychiatrists, including Kessing,89 consider their patients ignorant, but I must say that the level of ignorance among themselves about their own specialty is astounding. When a hypothesis has been rejected, again and again, no matter how much people have manipulated the research design and the data, it is time to bury it for good.
This won't happen. The chemical imbalance myth is not a question about science but about money, prestige, and guild interests. Can you imagine a cardiologist saying, "You have a chemical imbalance in your heart, so you need to take this drug for the rest of your life," when she doesn't have a clue what she is talking about?
The textbooks did not use the term chemical imbalance directly, but many statements were made about drugs correcting what was claimed to be over- or underproduction of chemical messengers in the brain.
The myth about the chemical imbalance might be the most harmful of the many myths in psychiatry. It tends to keep the patients locked in the role of passive receivers of harmful drugs for years or maybe for life. It is obviously more difficult for patients to opt out of drug therapy if they believe they get a drug that corrects something that is wrong with them. The patients often say that they are afraid of falling ill again if they stop taking their drug because of this myth.
In 2014, the APA wrote on its website, "Antidepressants may be prescribed to correct imbalances in the levels of chemicals in the brain. These medications are not sedatives, 'uppers' or tranquilizers. Neither are they habit-forming. Generally antidepressant medications have no stimulating effect on those not experiencing depression."7:276
This is an amazing act of lying to the public. All of this is wrong, and healthy people can develop both numb­ness and mania and can become suicidal on depression pills.2:179 Until January 2021, the website of the APA still claimed that psychiatric medications can help correct imbalances in brain chemistry.96
A 2022 article demonstrated the extent to which the psychiatrists still propagate the myth about chemical imbalances.97 All six influential US and UK textbooks published from 1990 to 2010 that the authors examined supported the theory, at least in some sections, and devoted substantial coverage to it, and most of 30 highly cited reviews of the aetiology of depression supported it, as did most of 30 research papers on the serotonin system.
ADHD
The textbooks noted that the psychopathological development in ADHD is assumed to involve epigenetic changes and early acquired biochemical and hormonal dysregulation;19:52 that a dys-regulation of dopamine and noradrenaline in the brain is likely very important for the change in brain function;19:113 and that disturbances of certain areas of the cortex and basal ganglia are in areas mainly controlled by dopamine.18:229 None of this can be substantiated.
Anxiety disorders
A textbook mentioned that serotonin is important for the pathogenesis of OCD.19:162 There were no references, but this has never been shown to be correct.
Inflammation, one of the latest fads in psychiatry
Inflammation is one of the latest fads in psychiatry.7:289 A textbook noted the role of inflammation for the development of depression but did not explain what the significance of this was.17:911
Two of the editors of one of the textbooks16 co-authored a 2014 systematic review of 14 trials of celecoxib, a so-called non-steroidal anti-inflammatory drug (NSAID), that showed an effect on depression, with an effect size of 0.34.98
However, many of the patients had arthritis.98 It is not surprising that painkillers might seem to reduce the depression. Even if we ignore this, and tentatively assume that NSAIDs have an effect on depression, the effect size of 0.34 is so small that it is not clinically relevant (see Chapter 8).
There is another, little known reason why the meta-analysis cannot document that inflammation plays a role in depression. It is that, despite their name, non-steroidal, anti-inflammatory drugs do not have anti-inflammatory effects.
When the newly synthesised cortisone was first given to 14 patients with rheumatoid arthritis in 1948 at the Mayo Clinic in Rochester, Minnesota, the effect was miraculous.99 The results were so striking that some people believed a cure for rheumatoid arthritis had been discovered, but the serious harms of corticosteroids quickly dampened the enthusiasm.
By calling the new painkillers non-steroidal, anti-inflammatory drugs, the companies created the illusion that their effect was similar to that of steroids but without their serious harms. This marketing trick was highly effective and NSAIDs are used so much that they are one of the most important reasons why our prescription drugs are the third leading cause of death, after heart disease and cancer.46:8
I have asked many rheumatologists about the documentation that the drugs are anti-inflammatory but I received no useful answers. I therefore studied the issue myself.
With orthopaedic surgeons, I did a placebo-controlled trial in 173 patients with acute ankle distortions where we measured the oedema by volumetry, using the healthy foot as control for the displaced amount of water.100 Using a factorial design, we randomised the patients twice: To a group that was instructed to immobilise the foot and was given crutches and to a group that was instructed to walk as normally as possible despite the pain; and to naproxen and placebo.
Mobilisation quickly reduced the oedema. After 2-4 days, the volume difference was 42 mL when the patients were mobilised compared to using crutches (P = 0.01). In contrast, there was no significant effect of naproxen (P = 0.42; difference 11 mL compared with placebo). Thus, mobilisation was anti-inflammatory, which naproxen wasn't, and it also led to much faster recovery.
The minor non-significant effect of naproxen could be real and simply a consequence of the drug's effect on pain, which would increase mobilisation. The company selling naproxen, Astra-Syntex, had provided the blinded trial medication but did not like our results, which were bad for marketing. Its statistician ensured that the most important results did not get published and that the trial report was unintelligible gobbledygook for the average doctor. But I spared a copy of the statistical report, which is why I am able to tell the true story.
I also did a meta-analysis of the placebo-controlled trials of NSAIDs. The drugs did not reduce the swelling of finger joints measured by jeweller rings in patients with rheumatoid arthritis.101
We should not treat depression with NSAIDs, some of the deadliest drugs we have.6:155
***
To see the list of all references cited, click here.
***
Mad in America hosts blogs by a diverse group of writers. These posts are designed to serve as a public forum for a discussion—broadly speaking—of psychiatry and its treatments. The opinions expressed are the writers' own.
***
Mad in America has made some changes to the commenting process. You no longer need to login or create an account on our site to comment. The only information needed is your name, email and comment text. Comments made with an account prior to this change will remain visible on the site.