In a new Lancet paper, researchers Joseph Friedman, Helena Hansen, and Joseph Gone called attention to how the mortality rates of Native Americans have been overlooked and excluded. The term "data genocide" describes the erasure of American Indian and Alaskan Native descendants from public health metrics, contributing to inaccurate findings and poorly informed policy and funding decisions.
In particular, Friedman and colleagues explored the exclusion of Native Americans' data from deaths of despair-related causes. They described this exclusion as a "double moral injury," adding:
"Not only do Native American communities have the highest rates of midlife mortality from the causes of deaths of despair, but these realities are also almost entirely missing from a set of powerful mainstream narratives about health inequalities told through the deaths of despair theory.
This erasure of contemporary Native American presence and visibility plays a role in allowing health inequalities to go unchecked by depriving extreme disparities among Native American communities of the intense media and public attention that they deserve. Such attention—when properly contextualized through consistent reference to circumstances of Indigenous disadvantage—could play a role in galvanizing desperately needed additional health resources."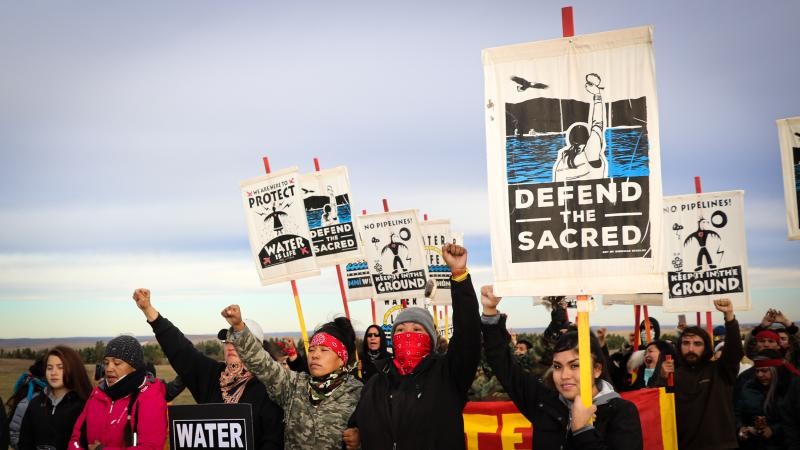 "Deaths of despair" was a term coined in an influential 2015 study that identified the stark increase in White Americans' death rates during midlife (ages 45-54). Unlike their Hispanic and Asian American Pacific Islander (AAPI) counterparts, it appeared as though White Americans were increasingly dying from suicide, drug overdose, and alcoholic liver disease.
However, Native Americans were excluded in the original and subsequent deaths of despair studies. Deaths of despair were theorized to be a trend exclusive to the White US population. From this, several explanations arose to understand factors in the US that uniquely impacted White communities. For instance, deaths of despair were connected to the opioid epidemic and White Americans' lower educational attainment and threatened social status.
Friedman and team highlight, however, that when compared to White Americans, Native Americans' increase in midlife mortality rates was three times higher.
"If Native American people had been included in these analyses," they write, "increases in midlife mortality would not have been determined to be uniquely high among White people."
Including Native Americans' data reveals that every year population data have been available, their mortality rates from suicide, overdose, and alcoholic liver disease have been higher. Since the 2015 analysis, the death rate of midlife Native Americans has further increased. In addition, the COVID-19 pandemic exacerbated social inequities leading to an even sharper increase in mortality rates. By 2020, Native Americans' death rates had risen to over double White Americans' rates.
Deaths of despair have not only increased more starkly for Native Americans, but they have been higher than the death rates of White people in the US for each year analyzed. The social inequity contributing to Native Americans' deaths appears to have been worsening, while at the same time, these trends have been concealed.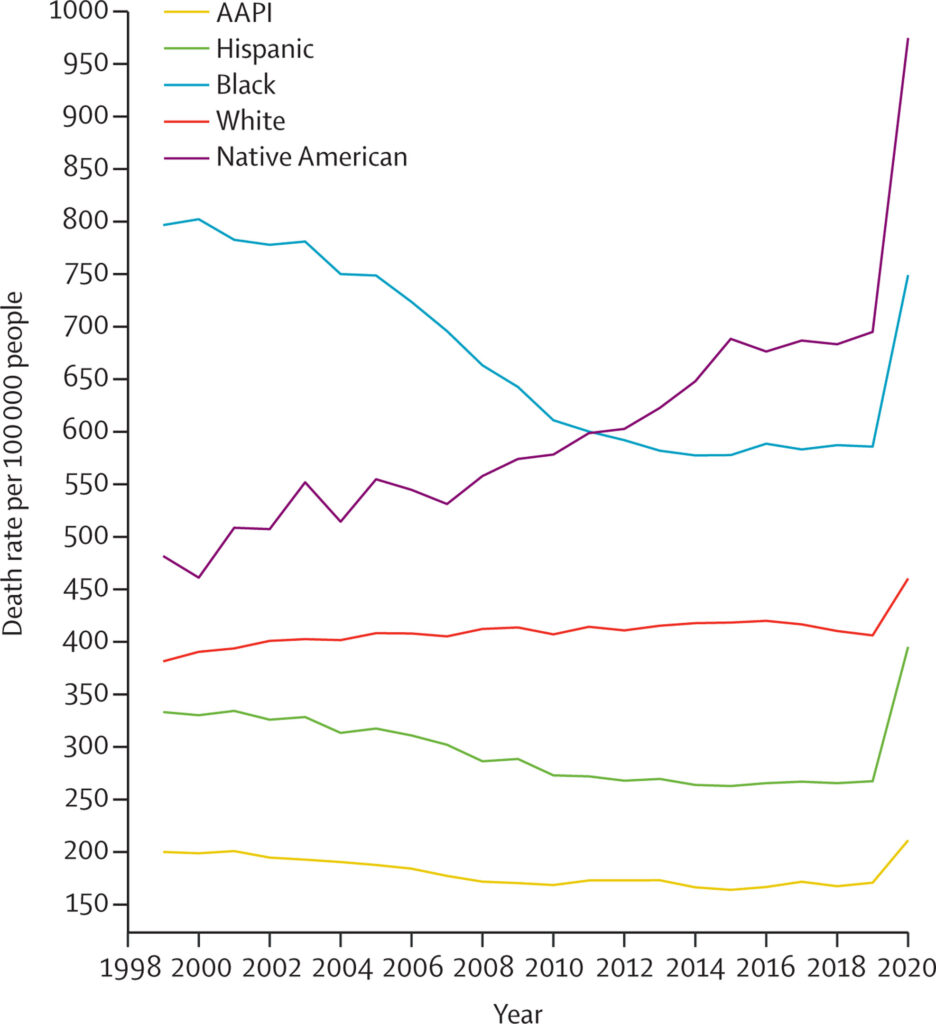 In addition to data about Native Americans, the researchers bring attention to the increase in Black mortality rates, which occurred at a higher rate than White mortality rates during the same period.
Deaths of despair have been misunderstood as only a White American problem.
"The narrative of overdose, suicide, and alcoholic liver disease as White American problems—tied to economic disinvestment from working-class White areas and related loss of social status—has reached widespread prominence as an explanatory framework in academic and popular press literature," Friedman and team write.
"Yet this core idea of the uniqueness of White people being at greater risk to these causes of death was only made possible by the erasure of data describing Native American mortality."
Given the prominence of these data, how is it that Native Americans have been consistently excluded from deaths of despair analyses? Friedman and colleagues highlight the importance of exploring this discrepancy:
"Narratives that center poor outcomes among White communities must be assessed critically, as they have historically overlooked and ignored higher rates of economic, social, and health inequities among minoritized populations in the USA."
They highlight that "Indigenous data genocide" is commonplace, tied to the pervasive exclusion of Native American communities. As public policy decisions are increasingly decided using data, the exclusion of data "extends a long and shameful history of government-sanctioned erasure and data genocide of Indigenous People in the US."
When data genocide occurs, social inequities remain hidden. Outcomes of this exclusion include ongoing underfunding and inaccessibility of the services that may remedy inequity.
Friedman, Hansen, and Gone proposed several guidelines to prevent the exclusion of data moving forward.
First, during data collection, Native Americans should be categorized and enumerated rather than labeled as other or excluded owing to small sample sizes. In so doing, Friedman and team caution against stigmatizing interpretations and recommend careful analyses, and Native American leadership, to reduce the risk of propagating misleading findings.
Second, Native American concerns should be centered in research collection and sharing processes to mitigate the risk of continuing exploitative research practices. They recommend privileging Native-led research endeavors and consultation processes and offer specific recommendations:
"Most relevant for national surveillance efforts, Native American leadership could be accomplished via Tribal consultation to establish a national Tribal data access and protections policy, investing in and partnering with Tribal epidemiological centers for rapid data response and dissemination; partnering with a small number of larger Tribal communities for sentinel public health data collection and dissemination (with concrete local benefits for Tribes), and partnering with urban Native American health programs for Native-led data gathering, linkage, and analysis."
Finally, Friedman and the team underscore the importance of recognizing that health inequities are multifaceted and structural. Therefore, they are not so easily explained by any one factor or one solution.
One consequence of centering White Americans' experiences is chronic underfunding and inattention to the diverse and complicated contexts that surround deaths of despair, especially in minoritized populations.
"To address unparalleled mortality from an overdose, suicide, and alcoholic liver disease, we suggest properly funding the chronically underfunded Indian Health Service; devoting resources to tribally controlled, evidence-based, and culturally grounded substance use treatment programs; and investing deeply in housing, employment, health care, and other community resources that address the upstream drivers of premature mortality."
The researchers conclude:
"Large investments are needed in Native American communities to address centuries of dispossession and impoverishment—maintained today through systematic exclusion and public erasure—toward community-driven, self-determined initiatives that will preserve Indigenous futurity."
****
Friedman, J., Hansen, H., & Gone, J. P. (2023). Deaths of despair and Indigenous data genocide. The Lancet (Online First). https://doi.org/10.1016/S0140-6736(22)02404-7 (Link)