A groundbreaking article published in The Lancet Public Health has shed light on the unpaid labor that women perform and its detrimental impact on women's mental health. The study reveals that as women dedicate more time to unpaid work than men, they face a heightened risk of mental distress.
The research highlights that employed women consistently perform more unpaid labor than employed men across different locations and time periods. The study suggests that the persistent inequities in the division of unpaid work expose women to greater risks for poorer mental health compared to men. The authors emphasize the need to address these disparities and focus on the mental health challenges women face due to the unequal distribution of unpaid labor.
Jennifer Ervin led the research from the University of Melbourne in Australia. Ervin and her coauthors write:
"Globally, billions of hours are spent on unpaid labor every year, a burden that is disproportionately carried by women. However, the potential health effects of unpaid labor have largely been unexplored. This review examines the gendered association between unpaid labor and mental health among employed adults… Our review indicates substantial gender differences in exposure to unpaid labor and confirms persistent inequities in the division of unpaid work."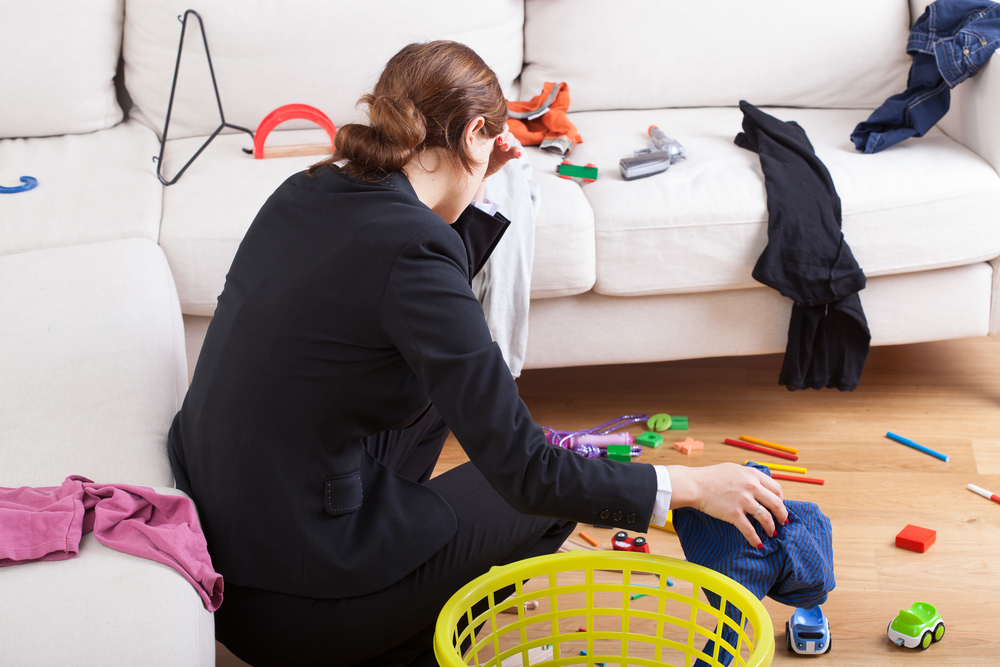 The goal of the current research was to examine how the effects of unpaid labor may differ between employed men and women. To accomplish this goal, the authors reviewed previous research on unpaid labor. To be included in the review, each study had to quantify the amount of unpaid labor and present data on the link between unpaid labor and mental health. For the current research, unpaid labor was defined as housework, domestic work, childcare, and other care (volunteer work was excluded).
Studies were excluded if there was no English translation available. As the focus of the current work was the effect of unpaid labor on employed adults, data from included studies on unemployed participants were excluded. Ultimately, the authors included 19 studies comprising 70,310 participants. As 5 of the originally included studies had a serious risk of bias, 14 studies comprising 66,875 participants were included in the final narrative analysis.
All the studies included in the review found that employed women did more unpaid labor than employed men. This was true for every location and time period represented in the current work. Studies that did not have a serious risk of bias found that every 10 hours of unpaid labor per week was associated with a .2-.4 point increase in depression scores. One study with a serious risk of bias reported that every 10 hours of weekly unpaid labor was associated with a 22% increase in the odds of experiencing emotional distress.
The current work finds that unpaid labor significantly negatively affects the mental health of employed women. However, the same pattern was not true for employed men. Although the authors report that the data on men and unpaid labor was sparse, the data that was present shows little to no negative mental health effects for men as a result of unpaid labor. The authors suggest two possibilities for this finding. First, men may have more effective coping mechanisms overall. However, a meta-analysis found that women's coping strategies are typically more effective. Second, and the more likely explanation, according to the authors, men's unpaid labor was more likely to include less time-sensitive work (such as yard work and maintenance tasks). In contrast, women typically took on unpaid labor tasks with a larger mental load, making their unpaid labor hours "denser or more impactful" than men's.
The authors acknowledge several limitations to the current work. First, the design of most of the included studies made it impossible to make definitive statements about the causation between unpaid labor and mental health. Second, the current study was restricted to employed participants. According to the authors, this likely biased the findings towards the null hypothesis (no association between unpaid labor and poor mental health). Third, most of the included studies relied on self-report measures of unpaid labor and mental health. Self-report measures are subject to lies, misremembering, etc. Fourth, the generalizability of the current work is limited as most of the studies came from wealthy countries. The authors conclude:
"Unpaid labor is associated with poorer mental health in women, but the effects are less apparent for men. Given that women spend a greater number of hours on unpaid labor worldwide, the findings of this review suggest that continued inequities in the division of unpaid labor expose women to greater risk for poorer mental health than men."
Previous research has found that overwork and exploitation are linked to psychological distress. Research has also found that when women are paid less for their work than men, their mental health deteriorates. For example, women that are paid less than their male counterparts are 2.5 times more likely to have a major depressive disorder (compared to 1.2 times more likely when pay is equal) and four times more likely to have generalized anxiety disorder (compared to 1.5 times more likely when pay is equal).
As an example of the marginal position women commonly occupy (within the psy-disciplines and beyond), consider the implications of two pieces of research from 2021. One study found that gender discrimination impacts the severity of PTSD. Another piece of research (that included no women with PTSD) suggests, without evidence, that women with PTSD symptoms may be on their period.
In an effort to profit from the stress caused by unpaid labor, gender discrimination, and unequal wages, the pharmaceutical industry targets 82% of its ads for dubiously helpful and potentially dangerous antidepressants towards women, which are difficult to discontinue.
****
Ervin, J., Taouk, Y., Alfonzo, L. F., Hewitt, B., & King, T. (2022). Gender differences in the association between unpaid Labour and Mental Health in employed adults: A systematic review. The Lancet Public Health, 7(9). https://doi.org/10.1016/s2468-2667(22)00160-8 (Link)