At a time when an increasing number of children are being diagnosed with psychiatric disorders, many researchers are advocating for a deeper examination into the broader moral implications of these diagnoses on young minds.
Sophie Isobel, from the University of Sydney, has recently suggested that while these diagnoses can provide a sense of understanding or temporary relief, they might also impart lasting impressions on a child's self-perception, potentially affecting their self-worth and sense of identity.
Published in the journal Children & Society, Isobel's article warns of the sustained and significant impacts on children's lives, especially concerning what they believe to be true, and how they understand themselves.
"Most adults have some choice in how much they incorporate their psychiatric diagnosis into their understanding of themselves, but diagnostic effects may be particularly problematic during childhood when the self is still developing," Isobel writes.
"Children develop their sense of self experientially and relationally across the developmental years. Self-concept (how people view themselves) and social identity (how they represent themselves in the world) are intrinsically interconnected. Psychiatric diagnosis can pose a threat to both of these processes, minimizing children's potential to separate socially constructed descriptions of their experiences from their core construction of self and their interactions with the world."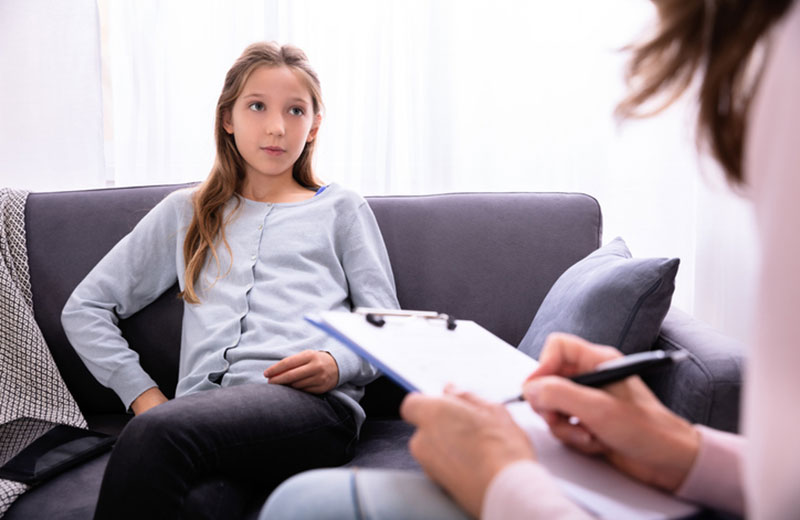 A surge in the number of children diagnosed with psychiatric disorders has ignited a debate about the broader moral implications of such classifications.
While medical professionals have historically accepted these psychiatric diagnoses, the nuances of identifying mental illnesses in children often differ from the clear-cut physical diagnoses found in other medical specialties. Isobel critically assesses these diagnoses, focusing on their potential long-term effects on children's self-perceptions and their personal truths. Additionally, she emphasizes the need to consider the moral outcomes of assigning children diagnostic categories steeped in uncertainty.
Isobel's paper uses Critical Theory to explore how societal and political structures shape our perceptions of reality, particularly in relation to child mental health. The theory encourages us to question established norms, practices, and power dynamics, revealing hidden imbalances and abuses of power. It provides a platform for challenging accepted norms without altogether rejecting or accepting diagnoses.
Childhood, Vulnerability, and the Escalating Concern of Mental Health
Central to Isobel's argument is the concept of 'epistemic injustice,' wherein children, merely by their age, are perceived to have a diminished ability to comprehend or articulate their experiences. Consequently, they face societal prejudices that limit their ability to convey or process their own distress.
Society's emphasis on protecting children is frequently intertwined with concerns about potential risks. While adults juggle anxieties about an unpredictable future, children, largely powerless, rely on adults to make safety decisions for them.
While children largely depend on adults, they also possess internationally recognized rights, which include entitlements to freedom, safety, and care. However, these rights sometimes conflict with the dominant protective discourse, especially concerning children's mental health.
This emphasis on children's mental health isn't misplaced. Recent statistics are eye-opening: Epidemiological studies estimate that a staggering 10% to 20% of all children worldwide have diagnosable mental health disorders. Alarmingly, despite stable adult diagnosis rates over the past five decades, child diagnosis rates have surged, accompanied by a notable uptick in prescriptions for psychoactive medications, including antidepressants and stimulants.
Diagnosis in Psychiatry: A Nuanced, Contested Terrain
The process of diagnosing mental disorders involves a combination of cultural norms, societal expectations, and professional expertise. In psychiatry, this process primarily relies on checklists of symptoms to identify disorders. However, a significant issue arises due to the subjective nature of these checklists. Although designed to reduce biases and ensure consistency, the disorders identified through these checklists lack scientific verification. There are no biological markers or tests available to confirm their presence.
One of the most debated topics in child psychiatry is Attention Deficit Hyperactivity Disorder (ADHD). It is one of the most commonly diagnosed childhood mental health disorders in the Western world, but recent data suggests a possible overdiagnosis and over-treatment of ADHD.treatment of ADHD. Notably, children born closer to school entry cut-off dates, thus being younger in their academic year, have a higher likelihood of an ADHD diagnosis. This relationship between developmental maturity and societal expectations clearly illustrates how societal constructs might inadvertently influence disorder diagnosis. Both the educational and healthcare sectors often tie institutional funding to these diagnoses, adding layers of complexity.
When a diagnosis is made, treatments are often recommended, including medication. The use of drugs for children with psychiatric conditions is a topic of debate. While many children report benefits such as improved emotional stability and academic performance, they also express concerns about physical side effects, feeling forced to take medication, losing their independence, and changes in their perception of what is normal.
Family, Power, and Perception in Child Mental Health Diagnoses
Diagnosing mental disorders in children is a complex process that involves various factors such as family beliefs, societal expectations, and healthcare dynamics. Isobel stresses the significance of taking the child's perspective into account. Even though the United Nations advocates children's right to express themselves, their views are often filtered through adult perspectives. Their understanding of terms like "mental illness" and their identity after receiving a diagnosis highlights the complex nature of mental health.
Isobel cites previous research, highlighting how children often wrestle with their self-identity following a mental illness diagnosis. For instance, some children perceive the diagnosis positively, feeling it helps others to "be nicer to them." Conversely, many internalize feelings of being "inferior, inadequate, damaged, incomplete, and undeserving of happiness."
The Moral Dilemmas of Childhood Psychiatric Diagnoses
Child psychiatric diagnoses often tread a precarious line between societal norms and individual behaviors. Beyond just their clinical implications, these diagnostic labels inherently carry moral undertones, delineating what society deems "right" or "wrong."
Many of the diagnostic criteria in prominent medical publications like the DSM-5 not only reflect behavioral patterns but also subtly comment on the morality of these behaviors. Terms like "Oppositional Defiant Disorder" and "Disinhibited Social Engagement Disorder" link individual pathologies with broader societal contexts, reinforcing the complex interplay of social norms and individual health.
Historically, several behaviors deemed 'deviant' or 'immoral' have been relegated to the purview of psychiatry until society evolves a broader acceptance or understanding of them. The study raises the example of suicide, which has long been treated as a purely medical issue despite clear societal influences like family conflict, bullying, and social marginalization.
While some of these labels serve as tools for understanding and intervention, their implications on the individual's perception of self, especially in malleable stages like childhood, can't be ignored.
In closing, Isobel urges a critical reflection on the ways society addresses child distress. She calls for a renewed commitment to ensuring that children, despite their vulnerable stage of development, are educated about the constructed nature of psychiatric diagnoses. This, of course, requires greater "conceptual competence" from providers and educators.
****
Isobel, S. (2023). Considering the moral implications of psychiatric diagnosis for children. Children & Society, 00, 1–10. https://doi.org/10.1111/chso.12694 (Link)