The road was dark and I only half knew where I was going. East. I couldn't see through the rearview mirror, because the backseat was piled high with boxes. It didn't matter. There were no other cars on the highway. It was just me, in the middle of the night, driving and crying.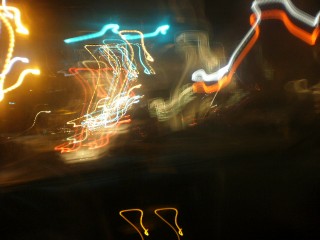 "This is for all the lonely people…"
Hearing that song, a relic on the late-nineties airwaves, was the first time I experienced the sense that the radio had something to say to me. The sadness I had been feeling, over moving again and not knowing what I was doing, changed. Listening, I cried with gratitude for the brief belief that something in the world did not want me to give up.
If you are put into the psychiatric system at age 13, by the time you are old enough to operate a vehicle, you are likely to be confused and heartbroken. In between the ages of 16 and 18, I moved about eight times. I was trying to find my place, leaving home, and then returning. It is entirely possible that I lost my mind at least five times on Interstate 40, always with some song that told me that the world was full of stories like mine – stories full of loss, confusion, beauty and angry dreaming, highways, howling and the low lonesome.  I clung to the lyrics and the space between chords like a rope that linked me to a world in which I was not alone.
I nursed myself through a troubled adolescence with music. I was a sullen 12 year on the paper mill coast, feeling the wind and loathing my hometown and imagining myself  born to be wild. I knew all about moonshadows and I saw a cat's cradle in my own family's history.  I was a 14 year old with a knife in her hand that wouldn't cut butter, knocking on heaven's door. In parking lots and trapped in the backseat, I was in the jungle and every failed friendship was a rose with a thorn.  There were songs that I relied on, the ones that told me that they would always love me.
Everything had a soundtrack.
In the locked adolescent unit at St. Simon's Island, Georgia, my roommate and I would sing Metallica's Welcome Home (Sanitarium) while we jumped from her bed to mine, for lack of anything better to do. She taught me the words to The Cure's Just Like Heaven and said she was going to name her baby after Lemmy, from Motorhead.
Later, The Subhumans' Bad Religion and tiny, honest punk bands from New York, Great Britain and California taught me about identity and culture, power and oppression. I learned the word "system." These ideas helped the world to make sense to me in ways that what I was taught in school did not. I felt like, somewhere, there were people in the world that I could respect, people who told the truth and who were not afraid to piss people off with their haircuts.
Music became a way for me to suss out the world. You can learn a lot about about a person by the way they listen to a song, by what sort of songs they listen to and what sort of songs they write.  For long stretches of time, songs were the only reliable place of shared reality that I could find. If someone understood a certain song, I felt like they understood me. Songs seemed to make sense of something that my family and school and the towns that I lived in refused to even acknowledge, which was that sometimes life was bound to be wrenching and strange. In songs, such troubles were normal, necessary even.
I moved to the opposite corner of the country, enrolled in some classes and swaddled myself with lonely and dissonant guitar sounds, strange poetry sung and screamed under bad lights. I fell in love with organs and with the smell of cheap beer spilled in basements, the feeling of bass mixed with trumpets. I was able to dance in those dark, smelly rooms. I didn't, for the first time in years, worry about anyone judging me. Those spaces, small venues, seemed comfortable to me. They were full of loners and seekers, the wounded and glib, desperate and defiant.
It didn't seem remotely strange to me that a song could be about bathyspheres or lemons or vampires. It didn't seem at all alarming that a lead singer would slash a bottle across his bare chest or that the girl with the guitar would have to leave the stage because she got so upset.
I thought I understood those feelings and the musicmakers became, in my mind, real people. They seemed brave and interesting, assured in themselves in ways that I wished I could be assured in myself.  Those that weren't quite graceful and polished in their performance were my favorites.  I felt close to them when they'd fall off the stage or fumble their words.  In my mind they were like me, people struggling to get through a song.
It seems like a lot of people died.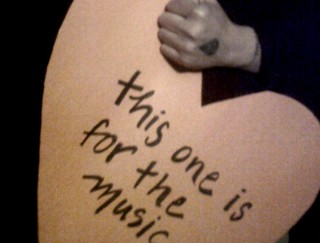 There have been times in my life that listening to the radio was the only time I heard someone saying (in ways that didn't seem like a consolation) that they believed in me, that they loved me.
I still check the songs on the radio in the morning, scanning for what they might have to tell me about what is happening in the world and, perhaps, my life. Clinically, my relationship with radio might be considered to be "mildly referentially delusional." However, it is really more a game I play with myself. It is an entertainment and a comfort to try to find the synchronicities, the indication of shared theme. Admittedly, I do sometimes indulge in the belief that somehow (through the wonders of satellites, algorithms, and disc jockeys of collective consciousness) something related to radio is looking out for me, telling me what I need to hear.
"You've got to get up and try and try and try."
I've been doing micro/macro content analysis of radio playlists for a long time and I know that I am not alone in noticing that there are some distinct similarities between the lyrical content of popular and subpopular songs and what is thought of as "the madness process."
In alternative approaches to psychosis, there is a great deal of discussion about the nature of this process that is thought to be occurring when people experience a disorienting rift in their reality. Typically, these disruptions in the normative experiences of one's life are thought to originate in some deep internal conflict. Madness, from a humanistic perspective, is considered a means of becoming our most true selves, a way by which some people become a part of something bigger than they are, something like the universe as it is explained by songs.
Transformation and grandiose hope against all odds are among the most prominent themes in popular music today. I can barely turn on the radio lately without hearing the word actual word "madness." After years of informal research and reflection, it seems reasonable to conclude that musicmakers understand something about madness. It's no big secret that many artists and musicians have dealt with "mental health" issues in their lives. There is a rich and well-known cultural history surrounding madness and music, the arts and sciences in general.
Why then, don't more musicians talk about whatever it was that they went through? Why don't they discuss their views of madness? What do they mean when they use that word?
More importantly, why don't more musicians and artists say anything about the fact that thousands of young people, the ones who buy their albums, are being quieted and hurt when they express whatever song (anger, loneliness, frustration, love, hope, defiance) rises in their hearts and sets them apart from what is expected?
I know that people do tell their stories, and that they tell them as sacred and personal, which they are. I want to know, though, what it was precisely that helped them through whatever it was that set their songs in motion. What helped them to survive? What was it that they survived?
In the western world, there are thousands upon thousands of visionary and heartfelt people affected by diminishing and distorting mental health treatment. Many of these people are trapped in brutally banal lives enforced by compulsory neuroleptics and random assorted polypharmacy that dulls their minds and shuts down their hearts. The conditions of their lives leave them flaccid and uncaring. They resign their dreams for lack of any real hope of actually pursuing them, trapped as they are in the misery of a tranquilized isolation.
What if the people that wrote some of our most legendary songs did not have such kind and interesting friends, or if they'd had a different family? What if they hadn't been given a guitar when they were young or if they had not lived in a home with a piano?
What if they hadn't figured out how to run away?
What would have become of them?
I'm so glad that they survived to sing the songs they sing. Some of those songs are my still my best friends. I wonder, though, about all the songs I'll never get to hear, the songs that are sleeping in the haze of words like schizophrenia and depression. I think about all the songs that are locked on 4th floors, being written down  in notebooks that will later be lost or discarded.
A lot of songs have died and, quietly, every day I mourn a moment for them.
Is there madness is that?
Maybe someone should write a song about it.
Miscellaneous References and Inspirations:
In the meantime, here are some songs that feature themes about madness. For fun, I posted on my facebook wall an invitation for folks to share their favorite songs about madness.  In addition to this great link the Hearing Voices Movement's "Music and songs about hearing voices" resource, here are just a few from the mix, including a couple of personal favorites I always keep in mind to remind myself that it's not just me…we're all crazy.  Fortunately, according to Seal, that makes it more likely that we'll survive.
If you don't find your favorite song about madness within these links, please feel free to leave it in the comments!
Gnarls Barkley, Crazy http://www.youtube.com/watch?v=bd2B6SjMh_w
"Crazy"
 "I remember when, I remember, I remember when I lost my mind
                            There was something so pleasant about that place.
             Even your emotions had an echo
                                                              In so much space
             And when you're out there
             Without care,
                                Yeah, I was out of touch
                                                But it wasn't because I didn't know enough
                                               I just knew too much
                                                                                        Does that make me crazy?"
This next one is from the archives, I'd never even heard it. I'm not sure I'll ever be the same.
Be forewarned.
http://www.youtube.com/watch?v=hnzHtm1jhL4 Napoleon XV, They're Coming to Take Me Away
From Outside the Airwaves:
Ozzy Osbourne, Diary of Madman – https://www.youtube.com/watch?v=WiEJOzAVAXc
The Kills, Cheap and Cheerful   http://www.youtube.com/watch?v=G6wUPCqwWI8
"I want you to be crazy because you're boring, baby, when you're straight. I want you to be crazy 'cause you're stupid, baby, when you're sane." 
http://www.youtube.com/watch?v=QxKyI1G9e0Y Rudimentary Peni, radioschizo
Alan Ginsberg, HOWL http://www.youtube.com/watch?v=2p_kKhRmRkM
http://www.youtube.com/watch?v=qA-9Iu84JJI Culture Shock, Catching Flies
http://www.youtube.com/watch?v=kVLy2sHXFk0 Public Image Limited, Rise
http://www.youtube.com/watch?v=NeJ_d-ZawFg WereWyatt, I Am A Hospital
Here's one that cannot be forgotten:
Prince, Let's Go Crazy, as performed by Amanda Palmer: http://www.youtube.com/watch?v=cdTC4KDcuf4
In the meantime, on the radio right this very minute, all over North America and the Western World:
http://www.youtube.com/watch?v=aq-7UBc3BPk Coldplay, Charlie Brown
"All the boys, all the girls,
                          All that matters in the world
                                                All the boys, all the girls,
                                                                  All the madness that occurs.
                                                                                   All the highs, all the lows,
                                                                                                            As the room is spinning goes."
Muse, Madness  http://www.youtube.com/watch?v=Mq9zhpBweDk
(Yes, as a matter of fact,"some kind of madness has started to evolve.")
Please, just keep playing music.
***
Mad in America hosts blogs by a diverse group of writers. These posts are designed to serve as a public forum for a discussion—broadly speaking—of psychiatry and its treatments. The opinions expressed are the writers' own.
***
Mad in America has made some changes to the commenting process. You no longer need to login or create an account on our site to comment. The only information needed is your name, email and comment text. Comments made with an account prior to this change will remain visible on the site.