Here is a short review of the Tim Murphy mental health bill. I show the research that was left out when the bill was written, how advocates can approach the issue, and what the main problem with ignoring the research will be.
1. Review the academic literature on forced treatment, some of it shows benefit, but most shows that we could spend the money on increasing voluntary access for anyone and get outcomes just as good. In other words, what "helps" is not the compulsion or force, but simply the increased access created for people that get into that system, so there's really no point in creating that compulsion system at all. A bunch of literature articles for both sides of the debate are right here in this dropbox folder. Advocates should emphasize the money and lack of evidence base over the human rights aspect as, to be honest, most folks don't care about our human rights. The bottom line is the Tim Murphy mental health bill replaces peer support, which works, with forced treatment, which doesn't.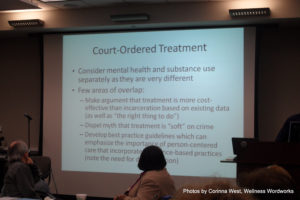 2. Use existing summary documents about the issue.  The National Association of State Mental Health Program Directors (NASMHPD Publications) came up with a large review of forced treatment that said that it was not really all that helpful. They did, however, find that peer support was the #1 most effective way to help people with mental health challenges. Advocates can simply show the data saying, "We know a better way to do this." The Tim Murphy mental health bill replaces years of nuanced discussion and knowledge with a broad axe simply for political reasons.
3. Apply SAMHSA's Recommendations on Court Ordered Treatment:  In 2011 SAMHSA brought together quite a few advocates to dialogue on forced treatment including people from both sides of the issue.   Here is the Powerpoint presentation of court ordered treatment recommendations that came during the event. In general, that event has not resulted in impressive changes or information being shared. Advocates can simply say, "This forced treatment issue has long been discussed and dismissed. There is not much evidence to support it." The Tim Murphy mental health bill doesn't honor mental health care recomendations based on input from very many stakeholders.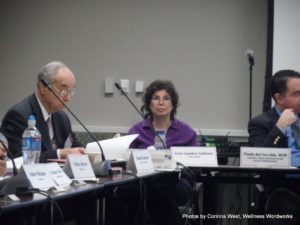 4. Follow the money. Two of the top five biggest donating industries for Tim Murphy are pharmaceutical and health care professionals. Adviocates would do well to point out how the Tim Murphy mental health bill is about replacing small grassroots peer based programs with large corporate subsidies to pharma, institutions, and agencies that promote long-term disability and not complete recovery.
5. Respect all the parties involved. The forced treatment lobby is made up of moms who don't know how to help their kids who won't work on recovery, so I've previously tried to collect support for that demographic. There is also a small portion of people like Fred Frese who actually think that forced treatment helped them recover. If their recovery story is valid, so is ours. So live and let live when they tell their stories. But, also, anecdotal evidence is not useful for decision making in the aggregrate, for either side of the story. Acknowledge that some stories are statistical outliers and if a treatment does more harm than good in the aggregate, that does not mean it doesn't help a few people who got lucky. But if it doesn't hold up statistically, it should in no way become standard, with this type of lottery applied to uninformed people.
Overall, making it an "us vs. them," story is not nearly as appealing as talking about the corporate welfare, waste of money, ineffective treatment, and ignorance of past research that the Tim Murphy mental health bill represents.
* * * * *
From the author: Forgive the brevity of this post, but I'm still recovering from a brain injury and typing and computer use still hurts, so be patient waiting for a response for comments. This issue was just too important to not put in my two cents worth even though it might cost me another day or two of agonizing headaches.
***
Mad in America hosts blogs by a diverse group of writers. These posts are designed to serve as a public forum for a discussion—broadly speaking—of psychiatry and its treatments. The opinions expressed are the writers' own.
***
Mad in America has made some changes to the commenting process. You no longer need to login or create an account on our site to comment. The only information needed is your name, email and comment text. Comments made with an account prior to this change will remain visible on the site.