So, thanks to everyone who has read and commented on my stories of reentry into the mental health system. I have now had many nights of very good sleep and my mental health symptoms are back to the baseline. Baseline for me means I only get separated from consensus reality when a significant trauma occurs at the same time I'm having a pretty good sleep deficit. Usually I can manage it myself simply by being aggressive about handling — and increasing — the sleep. This time I was unable to break that cycle and got some more drugs to help.
The other thing I got drugs for is to help with my vestibular disorder. There are some very good research articles that say that 65% of people who have vestibular disorders also have significant mental health-type issues, or as I have been calling them; "meltdowns."
What happens for me is my energy level is great except when I have to do things that involve motion, or reading, or loud noises, or a lot of heavy thinking. I am alright cooking, farming, walking, and interacting via phone or in person. But reading, or looking at a computer, or driving, or exertion, or too much bicycling just sorta tears me up.
And when I do too much of that I get very fatigued and have to lay down. If I don't get myself laid down in time, I get too fatigued. Then, when I'm lying there, if I am scared and angry and discouraged and hopeless and frustrated, I feel like I am dying. A "meltdown" is when all this emotional stuff piles on at once; the sadness and desperation and total lack of perspective, and I just lay in a ball in bed and start crying. What I have found is this happens a lot less when I take an antipsychotic.
I did a bit of research. (I mean I asked my friend to do a bit of research, because reading is so hard.) My friend found me a good article on the drug treatment of vestibular disorder, and they mention nausea medications. Well, it turns out a bunch of the nausea medications are weak antipsychotics.  So my thought was "hey, why not a strong antipsychotic?"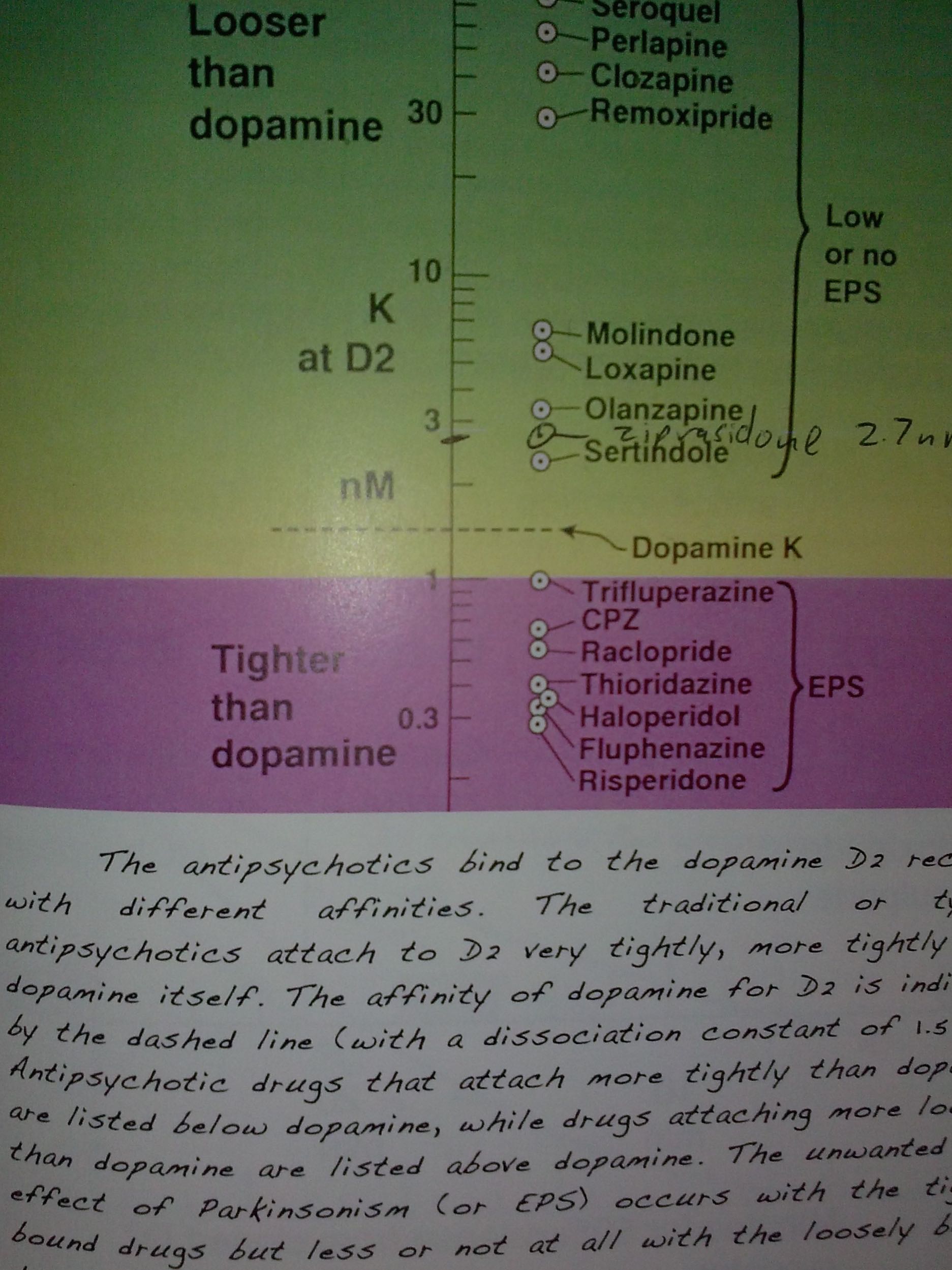 It turns out that antipsychotics can be rated by how tightly they bind to the dopamine receptor. A lot of doctors try to sell more expensive and newer antipsychotics as "atypical." This means they — theoretically — have lower side-effects. But it turns out the side-effect profile is linked to how tightly they bind to the dopamine receptor, not how new the patent of the drug is. A picture from Dr. Philip Seeman's book Psychosis: Discovery of the Antipsychotic Receptor1 lists these drugs in order and shows how some of the typical nausea medications are at the top along with some of the older antipsychotics. In the middle is the Geodon that I am using and at the lower end is, in fact, risperidone — one of the so-called atypical antipsychotics. So risperdone is actually worse than Haldol about causing Parkinson's disease.
Or tardive dyskinesia. I don't know why we're going to call Parkinson's disease a different thing if someone has a mental health label and gets Parkinson's disease – but it's iatrogenetic. That's the first concept I wanted to share: that typical vs. atypical is a matter of dissociation from the dopamine receptor, not a matter of patent life. And some of the new drugs really suck. And some of the older drugs are not that bad.
It's hard to find psychiatrists who actually know this info. I have given a data dump to my current psychiatrist. My appointment is Thursday, we will see what happens.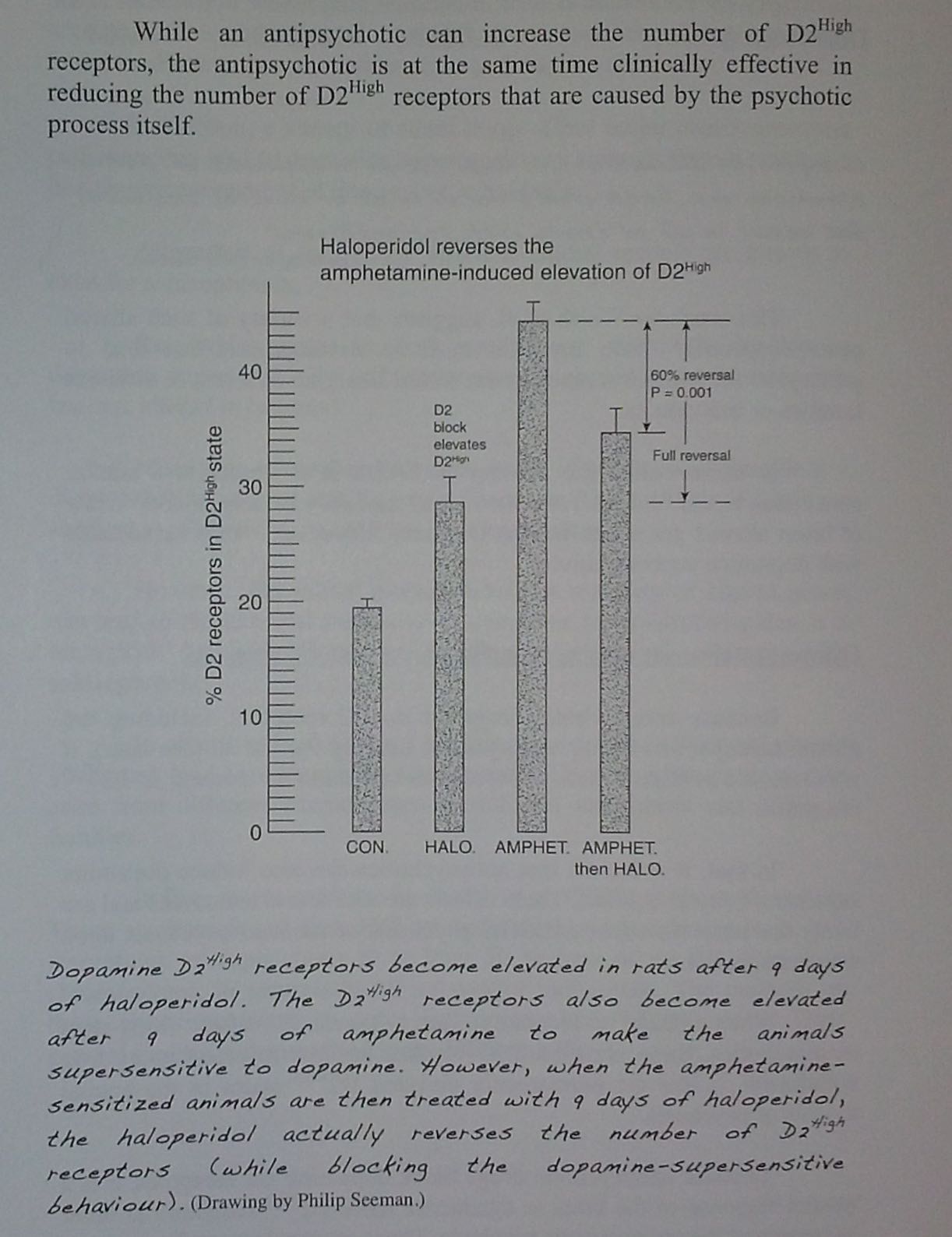 The next thing I wanted to share is how antipsychotics actually cause psychosis. This is best illustrated in a bar graph  by Dr. Seeman, with a caption to explain it from his book. The antipsychotics increase the amount of receptors that are in the high-affinity state for dopamine. People who are experiencing disconnection from reality have more receptors in the high affinity state for dopamine. This is a proven research concept with something like 600 academic citations, which means it is just about as much fact as we get in the scientific industry. All of the animal models for psychosis — and there are about 30 of them — have more of these receptors in the high-affinity state.
Just because there is a biological mechanism doesn't mean that psychosis is a brain disease. Something causes that mechanism to kick in. In the animal models it can be social isolation,2 or it can be drug use, or it can be certain genes that are screwed up on purpose for lab reasons, or it can be oppression.3,4 Another study showed that rats who have a personality type that stands out from other rats in the degree to which they like to explore and be creative, also have more dopamine receptors in a high-affinity state.5 This, and other studies show that those rats get beat on more than the other rats. This may explain why the dreamers and thinkers and artists and advocates and socially conscious people in our society end up with mental health labels.
But the bar graph, which is the most clear explanation I have ever found of dopamine supersensitivity, shows that while a so-called normal rat has one level of dopamine receptor in the high-affinity state, a so-called psychotic rat has another level of dopamine receptors in the high-affinity state, and that giving an anti-psychotic to the so-called psychotic rat will reduce the amount of receptors that are in the high-affinity state. But it will not reduce that level of receptors back to the so-called normal state.6  The difference shown on the bar graph is the amount of supersensitivity that was increased by the anti psychotic by itself. So; anti-psychotics both cause and relieve psychosis. This is why they need to be used temporarily, because if you want someone to get back to a baseline of zero symptoms, getting off of anti-psychotics will be essential. Since antipsychotics cause psychosis, there is a time factor: you have to sift through and gradually taper and accept the increased level of symptoms that were caused by the drug itself.7
When I re-entered the mental health system, I knew all this and knew that taking an anti-psychotic would increase my risk for psychosis. However, I feel very comfortable managing psychosis. I have psychosis two to three times a year. Ever since I left the mental health system, about two to three times a year my trauma issues and sleep problems build up bad enough that I start having hallucinations. I always know that this is just a signal that I need to get better sleep and do better trauma processing work; through journaling, poetry, nature, talking with friends, and doing some online writing.
But I also knew that antipsychotics for nausea medications are good for vestibular disorder, so I gambled as I re-entered the mental health system. I knew that taking anti-psychotics would give me increased psychosis, but it might relieve my vestibular disorder. Since I know how to manage the psychosis that would occur upon withdrawal, this is a problem I felt OK to handle.
Unfortunately, many people are not educated at all about the fact that anti-psychotics cause psychosis. Instead of people being educated about a gradual taper to help them deal with the rebound psychosis, when they quit taking anti-psychotics and get very, very separated from reality that just "proves" to them that they are ill.
I found, four years ago when I tapered off of 10 continuous years of antipsychotic use, that a very, very hard part was learning how to manage emotions. I felt so much strong emotion at that time that it was hard to build skills to manage. That's why my taper lasted a whole year. I had been emotionally numb for 10 years, and it had delayed my adult development. I had some catch-up work to do.
But this time I knew that these emotions were fake. From the vestibular meltdown. Because they only came with fatigue, and there were so many emotions all at once, they couldn't possibly be all the truth.
This is the problem with anti-psychotic taper, and why it's really important to educate people about these drugs. I actually chose the anti-psychotics because I know this process. The benzos and the SSRIs have a worse withdrawal process because they cause brain injury.
But that is another story. I chose, basically very consciously, to deal with rebound psychosis instead of a drug-induced brain injury to compound the brain injury I already have. This is one of the really nasty aspects of psych meds that people really need to be educated about. These withdrawal processes and all of the struggles that come with them.
* * * * *
References:
Seeman, Neil & Seeman, Philip; Psychosis: Discovery of the Antipsychotic Receptor. SZ Publications. Toronto, Ontario. March 12, 2009
King, Madeleine; Seeman, Philip; Marsden, Charles; Fone, Kevin; Increased Dopamine D2High Receptors in Rats Reared in Social Isolation. Synapse. 63:476-483 (2009)
Seeman, Philip; Weinshenker, David; Quirion, Remi; et al; Dopamine Supersensitivity Correlates with D2High States, Implying Many Paths to Psychosis. Proceedings of the National Academy of Sciences. March 1, 2005. 102(9)3513-3518
Seeman, Philip; All Roads to Schizophrenia Lead to Dopamine Supersensitivity and Elevated Dopamine D2High Receptors. CNS Neuroscience and Therapeutics. 17(2011) 118-132
Alttoa, Aet; Seeman, Philip; Koiv, Kadri; Eller, Marika; Jarro, Jaanus; Rats With Persistenly High Exploratory Activity have Both Higher Extracellular Dopamine Levels and Higher Proportion of D2High Receptors in the Striatum. Synapse. 63:443-446 (2009)
Seeman, Philip; Schizophrenia Model of Elevated D2High Receptors: Haloperidol Reverses the Amphetamine-Induced Elevation in Dopamine D2High (Letter to the editor). Schizophrenia Research. 109(2009)191-192
Kanpur, Shitij and Seeman, Philip; Does Fast Dissociation From the Dopamine D2 Receptor Explain the Action of Atypical Antipsychotics?: A New Hypothesis. American Journal of Psychiatry. 2001; 158:360-369
***
Mad in America hosts blogs by a diverse group of writers. These posts are designed to serve as a public forum for a discussion—broadly speaking—of psychiatry and its treatments. The opinions expressed are the writers' own.
***
Mad in America has made some changes to the commenting process. You no longer need to login or create an account on our site to comment. The only information needed is your name, email and comment text. Comments made with an account prior to this change will remain visible on the site.