In 2014, then National Institute of Mental Health (NIMH) director, Thomas Insel, speculated that ketamine "might be the most important breakthrough in antidepressant treatment in decades." A recent review of the research suggests that while ketamine may produce a rapid short-term improvement in depression, the effect is short-lived and the potential for addiction and dependence warrants considerable caution.
Ketamine was developed in 1962 and came into regular use in the 1970s as a fast-acting anesthetic for use on the battlefield in Vietnam. Soldiers realized that the drug produced an "out-of-body" experience that some found uncomfortable and its use in medical settings decreased.  By the 1980s, however, ketamine began to be used as a recreational drug and, as a result, the US federal government added ketamine to the list of schedule III controlled substances in 1999.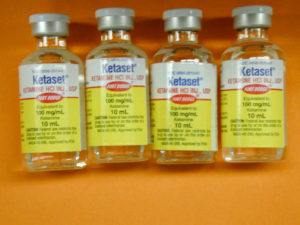 In an article published in this month's American Journal of Psychiatry, researchers led by Dr. Jeffrey Newport review randomized control trials on the use of the drug ketamine for depression. They note that ketamine, also known as the street drug "special K," has been met with a "flurry of interest." This interest, they write, is largely driven by the fact that currently available antidepressants have "less than optimal efficacy." This problem is compounded by the fact the search for alternative antidepressant compounds has been "remarkably unsuccessful" over the past decade.
The researchers identified twelve reports of randomized control trials examining the use of ketamine for depression, including studies that used ketamine alone and ketamine combined with ECT. The studies consistently showed a rapid improvement in the first 24 hours, but the effect declined steadily. The studies also revealed that ketamine use often induced a dissociative state in participants, where they felt as though they had become detached from reality.
In five studies, where ketamine was used to as an anesthetic prior to ECT, participants showed an immediate improvement in symptoms but the improvement did not last over the course of the study and ketamine was not found to improve the effects of ECT.  Some of these studies also reported that the use of ketamine increased the duration of ECT-induced seizures and was associated with delirium and fear upon waking up.
While ketamine infusion centers are popping up all over the country, the research does not support their use for depression. Relapse rates for people with depression who get a ketamine injection are "up to nearly 90%" after only four weeks.  The researchers also caution that "widespread dissemination in the outpatient setting could readily produce physiological and psychological dependence on ketamine." Increasing access to ketamine, they warn, has the potential cause, "or even exceed, problems currently encountered with prescription opiates and sedative-hypnotics."
"It should be noted that the history of pharmacology is replete with examples of new drug development with the promise of major therapeutic advances leading instead to disastrous public health consequences (e.g., heroin as a less addictive and more effective analgesic than morphine)."
*
Newport, D. J., Carpenter, L. L., McDonald, W. M., Potash, J. B., Tohen, M., & Nemeroff, C. B. (2015). Ketamine and Other NMDA Antagonists: Early Clinical Trials and Possible Mechanisms in Depression. American Journal of Psychiatry, 172(10), 950-966. (Abstract)
Conflicts of Interest:
Dr.Newport has received research support from Eli Lilly, GlaxoSmithKline, Janssen, NARSAD, NIH, and Wyeth; he has served on speakers' bureaus for AstraZeneca, Eli Lilly, GlaxoSmithKline, Pfizer, and Wyeth; and he has served on the advisory board for GlaxoSmithKline.
Dr. Carpenter has served as a consultant for AbbVie, Magstim, Naurex, Taisho (Helicon), and Takeda/Lundbeck; and she has received research support from Cervel Neurotech, NeoSync, Neuronetics, and NIH. Dr. McDonald has received research support from Cervel Neurotherapeutics, the Health Resources and Services Administration, NIMH, the National Institute of Neurological Disease and Stroke, Neuronetics, Soterix, and the Stanley Foundation; he has served as a consultant for the Center for Devices and Radiological Health, the Food and Drug Administration, and the Neurological Devices Panel of the Medical Devices Advisory Committee; he is a member of the APA Council on Research and Quality representing ECT and Neuromodulation Therapies; he holds a contractwith Oxford University Press to co-edit a book on the Clinical Guide to Transcranial  Magnetic Stimulation in the Treatment of Depression; he serves on the editorial boards of the American Journal of Geriatric Psychiatry and the Journal of ECT; and he is Section Editor for Current Psychiatry Reports.
Dr. Tohen has been employed with Eli Lilly; he has received honoraria from or consulted for Abbott, Alkermes, AstraZeneca, Bristol-Myers Squibb, GlaxoSmithKline, Elan, Eli Lilly, Forest, Geodon Richter Plc., Janssen/Johnson and Johnson, Lundbeck, Merck, Pamlab, Otsuka, Roche, Sepracor Wyeth, Sunovion, Teva, and Wiley Publishing; and his spouse has been employed with Eli Lilly. Dr. Nemeroff has received research/grant support from NIH; he has served as a consultant for Allergan, Clintara LLC, Eli Lilly, Gerson Lehrman Group Healthcare and Biomedical Council, Lundbeck, Mitsubishi Tanabe Pharma Development America, Prismic Pharmaceuticals, Roche, Shire, SK Pharma, Taisho Pharmaceutical, Takeda, Total Pain Solutions, and Xhale; he is a shareholder with Abbvie, Celgene, OPKO Health, Seattle Genetics, Titan Pharmaceuticals, and Xhale; he has served on scientific advisory boards for American Foundation for Suicide Prevention, Anxiety Disorders Association of America, Brain and Behavior Research Foundation (formerly NARSAD), Clintara LLC, RiverMend Health LLC, Skyland Trail, and Xhale; he holds patents forMethod and devices for transdermal delivery of lithium (U.S. 6,375,990B1) and Method of assessing antidepressant drug therapy via transport inhibition of monoamine neurotransmitters by ex vivo assay (U.S. 7,148,027B2); he serves on the Board of Directors of American Foundation for Suicide Prevention, Anxiety Disorders Association of America, and Gratitude America; and he has received income sources or equity of $10,000 or more from American Psychiatric Association Publishing, Clintara, CME Outfitters, Takeda, and Xhale.
Dr. Potash reports no financial relationships with commercial interests.