In a new study, researchers found that bright light therapy was an effective treatment for nonseasonal major depressive disorder (MDD) while Prozac (Fluoxetine) alone did not outperform placebo. The randomized control trial, to be published in JAMA Psychiatry, was designed to test the efficacy of bright light therapy in adults with nonseasonal MDD.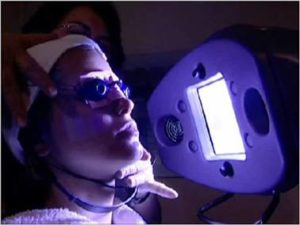 Bright light therapy is currently used as a treatment for seasonal depression, but researchers think that it may also be effective for those who suffer from non-seasonal depression. The researchers separated 122 participants diagnosed with moderate to severe MDD into four groups: (1) bright light therapy, (2) antidepressant alone (fluoxetine), (3) combined light therapy and antidepressant, and (4) placebo pill.
The participants were tested on the Montgomery-Åsberg Depression Rating Scale (MADRS) from baseline to the 8-week end point. The results showed that on average the combination therapy and light monotherapy were significantly superior to placebo. Fluoxetine alone, however, was not superior to placebo.
"For the respective placebo, fluoxetine, light, and combination groups at the end point, response was achieved by 10 (33.3%), 9 (29.0%), 16 (50.0%), and 22 (75.9%) and remission was achieved by 9 (30.0%), 6 (19.4%), 14 (43.8%), and 17 (58.6%)."
*
Lam, R. W., Levitt, A. J., Levitan, R. D., Michalak, E. E., Morehouse, R., Ramasubbu, R., … & Tam, E. M. (2015). Efficacy of Bright Light Treatment, Fluoxetine, and the Combination in Patients With Nonseasonal Major Depressive Disorder: A Randomized Clinical Trial. JAMA Psychiatry, 1-9.(Summary)