A new randomized, double-blind, placebo-controlled trial has found bright light therapy to be a powerful intervention that could provide an alternative to medication for people with "bipolar depression." Two-thirds of the people receiving the light therapy improved, compared with one-fifth of those who took only medication. The research was led by Dorothy Sit at Northwestern University and published in the American Journal of Psychiatry.
The study included people who had a diagnosis of either bipolar I or bipolar II disorder, but who were not currently meeting criteria for a manic or hypomanic episode. All participants were taking "antimanic" medication, also known as "mood stabilizers" (e.g. lithium).
Many (78.3%) of the participants were also taking antidepressant medications, and the researchers made sure that both the control group and the intervention group had similar numbers of people taking these drugs. All participants also met criteria for continuing depression, despite their current medication regimen.
One group of 23 participants was exposed to 7000-lux bright white light daily, between noon and 2:30 pm. They initially began at 15 minutes of light use, then gradually increased to the "target dose" of 60 minutes per day at week 4. The other group received a placebo light intervention that was described as "50-lux dim red" light.
The difference in improvement is startling. 68.2% of people who received the bright light intervention no longer met criteria for depression (what researchers refer to as "remission"), compared with only 22.2% who received a placebo light intervention.
This difference was not due simply to an improvement in sleep quality, as sleep was observed to improve equally for both groups. There was no difference in side effects between the two groups, indicating that light therapy did not create any additional adverse events. No one experienced a hypomanic or manic episode.
The improvement in depressive symptoms appeared to occur between weeks 4-6 for most participants, which the researchers theorize is due to reaching the 60-minute per day "dose" of light at week 4 (see graph below).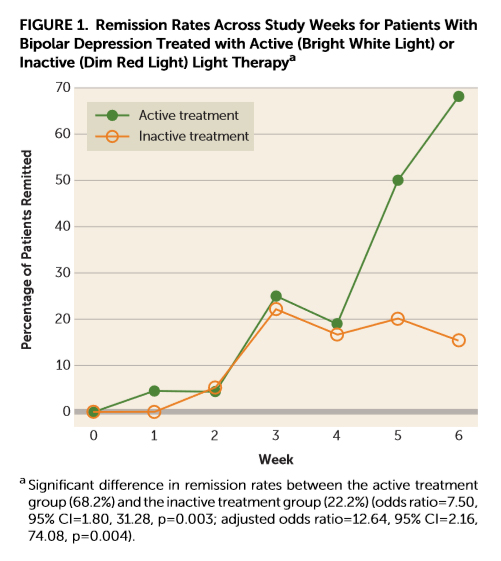 Particularly surprising is that, despite most participants being on antidepressant medications, only one-fifth of those who did not receive the light therapy experienced remission of their depression. As noted by the researchers themselves, the antidepressant medications did not seem particularly effective in this case. They further write that antidepressant medication is often not recommended for this particular population, as it could trigger manic symptoms.
Thus, given the lack of effectiveness of antidepressants, and their associated risks, bright light therapy could be positioned as an effective non-medication option for improving mood for people with the bipolar disorder diagnosis. The researchers also suggest that this could be an intervention suitable for pregnant women, who may not wish to risk taking psychopharmaceuticals.
****
Sit, D. K., McGowan, J., Wiltrout, C., Diler, R. S., Dills, J., Luther, J. . . . Wisner, K. L. (2018). Adjunctive bright light therapy for bipolar depression: A randomized double-blind placebo-controlled trial. American Journal of Psychiatry, 175(2), 131-139. https://doi.org/10.1176/appi.ajp.2017.16101200 (Link)
***
Mad in America hosts blogs by a diverse group of writers. These posts are designed to serve as a public forum for a discussion—broadly speaking—of psychiatry and its treatments. The opinions expressed are the writers' own.
***
Mad in America has made some changes to the commenting process. You no longer need to login or create an account on our site to comment. The only information needed is your name, email and comment text. Comments made with an account prior to this change will remain visible on the site.