Over the past twenty years, the number of prescriptions for atypical antipsychotics written to children and young adults between four and eighteen has increased precipitously, according to the results of a recent study published in the journal Medicine. Two-thirds of these antipsychotics were prescribed "off-label" for unapproved uses, many for children diagnosed with 'ADHD.'
"It's concerning that such a high proportion of pediatric patients were taking [atypical antipsychotics] AAPs off-label and that a number of children are exposed to AAP side effects such as metabolic syndrome and diabetes, while the drugs' effectiveness on their psychiatric condition may not have been well-established," Minji Sohn, a co-author of the study, told Contemporary Pediatrics in an interview.
Antipsychotic drugs have received FDA approval for only schizophrenia, bipolar mania, irritability associated with autism, and Tourette syndrome in children. When atypical antipsychotics were introduced during the 1990s, however, they were marketed as having fewer side-effects than the first-generation antipsychotics that preceded them. As a result, it became increasingly common to prescribe these drugs for conditions other than those for which the FDA had approved.
The practice of prescribing antipsychotics for unapproved conditions, also known as "off-label" prescribing became controversial, however, as post-marketing research found the potential for serious adverse effects, including metabolic syndrome, cardiovascular complications, and even death. "Nevertheless," the researchers point out, "AAPs are one of the top-selling classes of pharmaceuticals in the United States."
"In fact, antipsychotic medications generated about $18.2 billion total revenue in 2011, with 3 individual AAP agents accounting for 65% of the total revenue. In children and adolescents in the United States, AAPs are probably among the most increasingly used classes of prescription drugs."
The present study attempts to examine the historical trend on antipsychotic prescribing to youth in the US, specifically to those diagnosed with 'ADHD' who are being prescribed these drugs off-label.  Using data from the National Ambulatory Medical Care Survey (NAMCS) and the National Hospital Ambulatory Medical Care Survey (NHAMCS), the researchers looked at national prescribing trends between 1993 and 2010.
They found that throughout the study period the majority of children and youth receiving antipsychotic drugs did not have a one of the FDA approved conditions. Only 34% of those receiving prescriptions were diagnosed with one of the conditions for which the FDA had approved the drugs use, with the majority of patients having only a diagnosis for 'ADHD' (24%).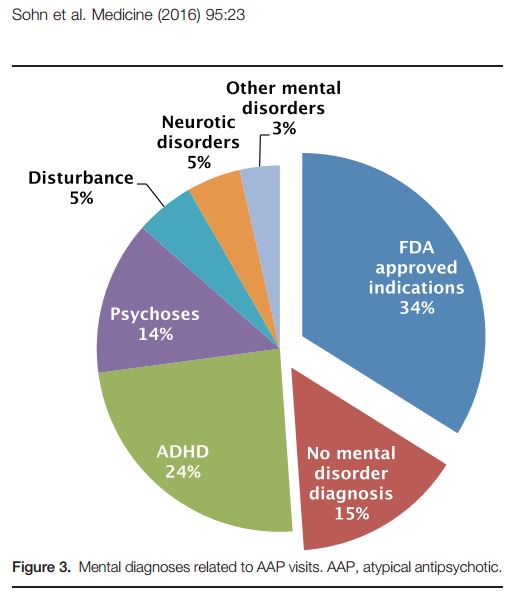 Of all of the children going in for a pediatric appointment concerning an 'ADHD' diagnosis, 12% received at least one prescription for an atypical antipsychotic. Patients with Medicaid as a primary source of payment were significantly more likely to receive an antipsychotic prescription for 'ADHD.'
"Our analysis for identifying mental diagnoses that are related to AAP prescriptions revealed that approximately 66% of total pediatric AAP visits did not include a diagnosis for US FFDA-approved indications," they conclude. "Of those, ADHD was the most common primary mental diagnosis."
Overall, the use of atypical antipsychotics increased steadily with large increases between 1999 and 2000, when the rate doubled, and between 2002 and 2003, when the rate doubled again (from 0.8 per 100 visits to 1.6 per 100 visits).
****
Sohn, M., Moga, D.C., Blumenschein, K. and Talbert, J., 2016. National trends in off-label use of atypical antipsychotics in children and adolescents in the United States. Medicine, 95(23), p.e3784. (Abstract)