In 1939, in the laboratories of Geigy pharmaceuticals, Paul Mueller discovered that DichloroDiphenylTrichlorethane — DDT — killed insects more effectively that anything else then available.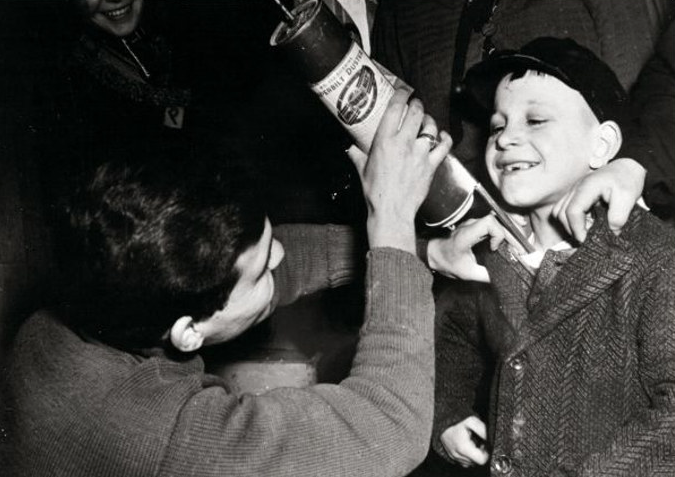 Robert Domenjoz, later the creator of imipramine, had the job of evaluating it. He did the testing on lice that was to make DDT one of the best-selling pharmaceuticals in the world. He asked the Salvation Army to bring him two of the paupers who slept there and he bought their shirts – for their lice. He put the lice in small boxes which could be sealed with a sieve so that the lice could breathe. He attached the boxes to his arms so that they could live off his blood. Over weeks, they multiplied. When he had enough, they started testing DDT on them. It worked a treat.
Lice carried typhus, a disease which, since Napoleon, has killed more people during wars than wartime combat itself. Domenjoz headed straight to the Swiss army, which started using it and then presented the results at the American embassy in Bern. When the Americans invaded Italy soon after, the troops were all sprayed with DDT and pretty soon everyone who was liberated from the Germans was liberated from lice also.
After the War was Over

After the war, it became common to spray the public in cinema queues and at football games across Europe and America, as the photo above shows. Mueller won the Nobel Prize in 1948. Domenjoz might have thought at the time he should have shared it.
As almost every ghostwritten article about all of the drugs in current use now says, DDT was very clearly "safe and effective."
The use of DDT spread. The image most of us have now is of planes dusting crops with plumes trailing behind them.
Then, in the early 1960s, the wheels came off the bandwagon. By the time Rachel Carson's Silent Spring was published, DDT was on the road to oblivion, with most of us thankful we had been saved from oblivion. DDT, it became clear, accumulated in the food chain, with small doses in some insects and crops ending up as larger doses in the predators living on them, and larger and lethal doses in the birds, fish and other mammals living on them — or in their eggs or milk.
And larger doses in us.
We had learnt that the acute effects of a drug given in a particular way might be dramatically different from the effect that came with chronic exposure or from unexpected routes of administration.
Wasn't this what we learnt?
Geek Tragedy
Controlled trials (RCTs) are all about establishing the acute effects of a drug given in a standardized way, by drug companies who hope the verdict will be that their chemical is safe and effective, so that they can head out and put it in the drinking water (metaphorically). People will end up on these chemicals chronically and they will be mixed with lots of other chemicals in ways never imagined when the drug was first tested.
The result is biphosphonate drugs marketed to reduce the risk of fractures, but which increase the risk of serious fractures. Antidepressants marketed to reduce suicide risk, alcoholism, substance misuse, marriage breakdown, etc., which increase the risk of all these things, as well as causing Autistic Spectrum Disorder and birth defects. Statins marketed to reduce risks linked to diabetes which increase rates of diabetes, and to reduce the cognitive problems stemming from strokes but cause cognitive problems in their own right. RCTs miss all of these things – and when they don't miss them, as in the case of the antidepressants and suicide, the data is fudged, sometimes fraudulently.
Far from recognizing the role of RCTs in producing a new Silent Spring, RCT enthusiasts are spreading the word that we need more of them. No one should be on a treatment who isn't in an RCT. This is the script for a Geek Tragedy.
RCTs do more than miss the long term injuries a drug might do us. They get used to building standards of care to which doctors are obliged to adhere. Anyone who figures it might not be wise to add a sixth drug into the mix a person is on, or that thinks that maybe adolescent crises are not something that need medicating, will find themselves up against these standards of care facing managers who say, "Who are you to go against the Standard of Care? Sorry, we have to let you go."
Part of the tragedy is that we would, in fact, save vast amounts of money by giving the pharmaceutical companies ten times the inflated prices they currently receive for drugs as part of a bargain that ensures that only 10% of those currently taking lipid-lowering drugs, antidepressants, biphosphonate and other drugs, end up on them – and perhaps slightly higher proportions for hypoglycemic drugs, antihypertensives and antibiotics. The savings would come from shutting down osteoporosis screening services. From the savings on not having to treat treatment-induced disabilities. From elective patients (patients on cancer chemotherapy) not having their bed blocked by an antidepressant induced suicide attempt or biphosphonate triggered fracture of the femur, or a hypoglycemic episode (the biggest cause of brain damage) triggered by the use of extra hypogylcemic drugs being used to lower blood sugars elevated by the use of Statins that current standards of care mandate in diabetes.
Thankfully, most of us won't get tangled up in these elements of the tragedy – the final scenes where, as in King Lear, the corpses are strewn around the stage. For most of us the ending will be more like the ending of a play by Samuel Beckett – The Algorithm will See You Now.
* * * * *
Editor's Note: This blog first appeared on David Healy's website.
***
Mad in America hosts blogs by a diverse group of writers. These posts are designed to serve as a public forum for a discussion—broadly speaking—of psychiatry and its treatments. The opinions expressed are the writers' own.
***
Mad in America has made some changes to the commenting process. You no longer need to login or create an account on our site to comment. The only information needed is your name, email and comment text. Comments made with an account prior to this change will remain visible on the site.