It's a common enough idea: people who abuse alcohol are self-medicating. People drink to diminish feelings of intense physical or emotional pain. Now a new study, published in the journal Nature Communications, confirmed this hypothesis by examining the impact of alcohol on brain chemistry. Their findings indicate that alcohol has rapid antidepressant and antianxiety effects.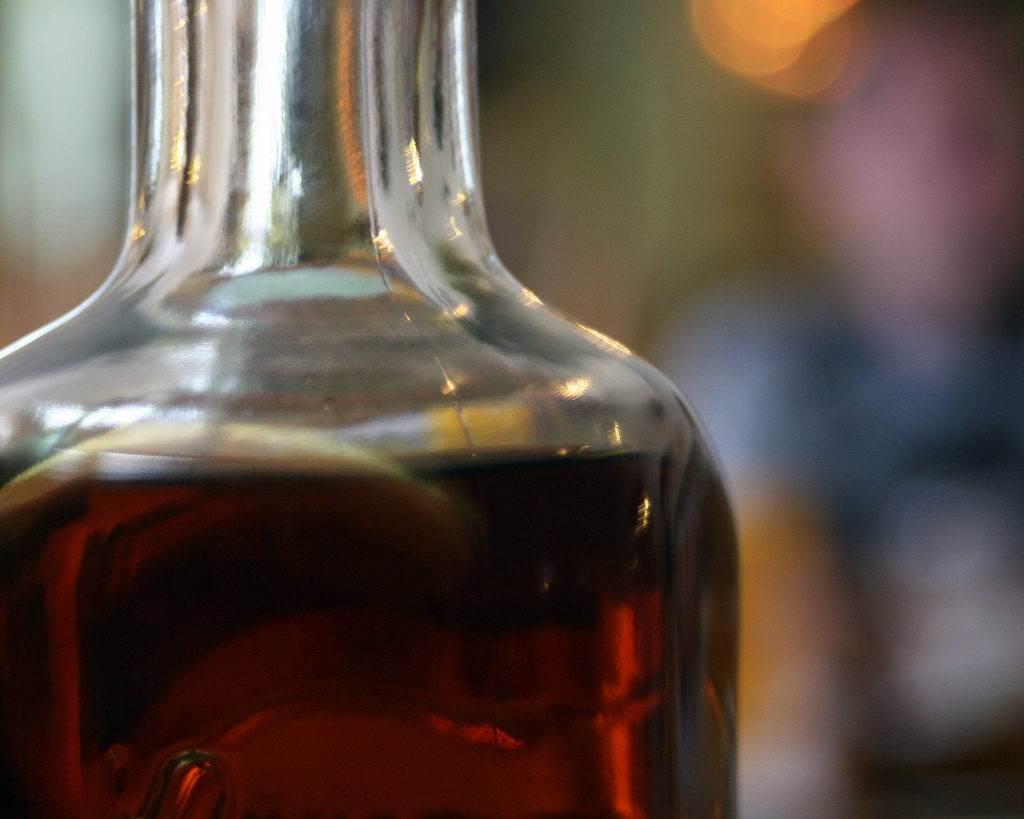 "Acute exposure to ethanol produced lasting antidepressant and anxiolytic behaviors," write the researchers, led by Dr. Kimberly Raab-Graham at the University of Texas, Austin. In their study on the brain chemistry of mice, the researchers found that the effects of alcohol were comparable to other rapid-acting antidepressants.
The authors first conducted a behavioral test with mice by injecting them with ethanol and observing their behavior. They found that the mice behaved in ways associated with rapid antidepressant and antianxiety effects. These effects are also observed in studies of ketamine, a tranquilizer popular as a recreational drug, which has been undergoing numerous tests as an antidepressant. Although rodent studies have limited validity in predicting human behavior, they are commonly used methods to determine initial theory validity.
The authors' research into the neurophysiological action of alcohol identified GABABR2 as the main protein increased by use, with the RNA-binding protein FMRP regulating this action. The GABA neurological mechanism is associated with the effects of other psychopharmaceuticals, such as gabapentin (Neurontin), which strengthens this finding.
Of course, the researchers caution against self-medicating with alcohol. The side effects of alcohol range from short term effects like dizziness, nausea, and impaired cognition and judgment, to long-term impairment in cognition and social-emotional functioning. Tolerance becomes so high in alcohol addiction that withdrawal from chronic use of alcohol can be deadly.
The researchers also write that over time, "the initial antidepressant actions of alcohol are shifted to depressant allostatic states with chronic abuse," meaning that in the short term, alcohol has an antidepressant effect, but in the long run, its effects create a new, perpetual state in the body which is actually more depressed. The same argument has been raised regarding the use of prescribed antidepressant medications (SSRIs such as Prozac, for instance).
Decades of accumulated evidence increasingly shows that use of antidepressant medications has altered the progression of depression. Once an episodic illness from which it was common to recover without treatment, now depression is considered a chronic illness that requires lifelong medication use to treat.  And that drug use itself is problematic: side effects of antidepressant medications include nausea, sexual dysfunction, impaired cognition, diabetes, increased depressive and anxious states, and suicidality. Severe withdrawal states have been noted by patients attempting to reduce their use of antidepressant medications and the benefits of antidepressant drugs have been questioned as well. Research indicates that they are far less effective than commonly believed.
Particularly since ketamine has been referred to as the "miracle cure" for depression, and as researchers continue to search for the next biochemical panacea, it is important to remember that even if a substance has antidepressant effects, it still may not be an appropriate treatment for depression. Just as alcohol appears to have far more risks than benefits, so too might ketamine—and so too might SSRIs.
****
Wolfe, S. A., Workman, E. R., Heaney, C. F., Niere, F., Namjoshi, S., Cacheaux, L. P., . . . Raab-Graham, K. (2016). FMRP regulates an ethanol-dependent shift in GABABR function and expression with rapid antidepressant properties. Nature Communications, 7. doi: 10.1038/ncomms12867 (Abstract)
***
Mad in America hosts blogs by a diverse group of writers. These posts are designed to serve as a public forum for a discussion—broadly speaking—of psychiatry and its treatments. The opinions expressed are the writers' own.
***
Mad in America has made some changes to the commenting process. You no longer need to login or create an account on our site to comment. The only information needed is your name, email and comment text. Comments made with an account prior to this change will remain visible on the site.