A recent study, published in Current Directions in Psychological Science, used statistical methods to determine if men and women actually fall into two distinct neurobiological classes. Their results supported the opposite view: male and female traits exist on a continuum, and no clear two-class structure could be found.
Reis and Carothers, the authors of the study, write that "although there are average differences between men and women, these differences do not support the idea that 'men are like this, women are like that.'"
In fact, according to the authors, "sex differences are better understood as individual differences that vary in magnitude from one attribute to another rather than as a suite of common differences that follow from a person's sex." Simply put, each person has a set of traits which all fall on a continuum of gendered interpretation, and each trait is independent of the others. That is, knowing that a person has a stereotypically masculine trait in one area does not mean that the person will have other stereotypically masculine traits.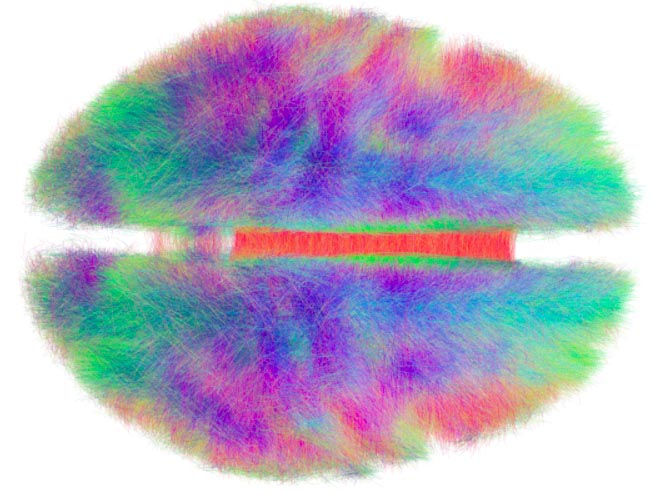 According to popular opinion, the brains of men and women are biologically different. After all, "men are from Mars, women are from Venus." For more than a century, the scientific establishment has purported to confirm this popular opinion via biological explanations. For instance, a Victorian finding that women's brains were smaller was often cited as indicating male superiority—despite the fact that women's brains are proportional to their body mass.
Reis and Carothers caution that neuroscientific results that class humans into two categories, "male" and "female," tend to reify gender stereotypes by giving them the appearance of objective scientific truth.
Cordelia Fine, Senior Research Fellow at the Department of Psychological Sciences at the University of Melbourne, Australia, has extensively studied neurosexism, or the use of neuroscientific results to justify stereotypical assumptions about gender differences by relating them to "natural" or "biological" differences. In her 2010 book Delusions of Gender, and in a 2013 article published in Neuroethics, she conducted a systematic review of studies involving neurological gender differences.
According to Fine, studies of neurological gender differences fall prey to many errors. She writes that consistently, neuroscientific researchers that make claims about gender tend to overinflate the results with false positives, in which researchers find correlations that are not truly there. Additionally, she writes, researchers interpreting study results tend work backward, starting with stereotypical assumptions and attempting to justify them with flimsy neurological data.
Fine makes clear, as do others who study the neuroscience of gender, that the influence of the environment is integral to understanding the biology of gender. That is, the ways in which boys and girls are socialized has an impact on their brain development. The science of epigenetics focuses on the ways in which the environment impacts gene expression—activating and deactivating genes, and determining how cells express genetic orders. Studies that focus on neurophysiological differences as innate differences miss the vital impact of the environment and socialization on the brain.
Donna Maney is an expert in neurobiology at Emory University. Earlier this year, she published an article stating that "the communication and public discussion of new findings [in the neuroscience of gender] is particularly vulnerable to logical leaps and pseudoscience." She cautions that researchers should resist speculating about "functional or evolutionary explanations for sex-based variation, which usually invoke logical fallacies and perpetuate sex stereotypes."
A recent study by O'Connor and Joffe at University College, London confirms this result. The authors found evidence that "traditional gender stereotypes were projected onto the novel scientific information" leading to "benevolent sexism, in which praise of women's social-emotional skills compensated for their relegation from more esteemed trait-domains, such as rationality and productivity." O'Connor and Joffe state that of the numerous potential interpretations of the results of neuroscience studies, researchers tended to choose the interpretation most consistent with their assumptions and stereotypes about gender.
Additionally, researchers have found that within-group (different women, for instance) biological differences are just as profound as between-group (women vs. men) biological differences. Thus, researchers have argued for an understanding of a "human brain mosaic" in which each individual brain has a number of traits that may be similar to others of the same gender, or different. In fact, a recent article in Human Neuroscience finds that essentialist notions of gender are inherently flawed predominantly because they rely on overly simplified understandings of neuroscientific results that do not take into account the inconsistency of actual gender neuroscience findings.
These researchers suggest that we need to be cautious about gender biases when interpreting neuroscientific data, lest we fall into the trap of confirming stereotypes with insubstantial findings and reifying sexism by giving it the veneer of science.
****
Reis, H. T., & Carothers, B. J. (2014). Black and white or shades of gray: Are gender differences categorical or dimensional? Current Directions in Psychological Science, 23(1), 19-26. (Abstract)