A new study reported on in Medscape, examined risk factors for misuse of benzodiazepines (drugs such as Xanax, Ativan, and Klonopin). The researchers found that patients who had been prescribed the medication on an as-needed basis were more likely to end up abusing it than those who had been prescribed a standing dose. The data was presented at the 27th annual meeting of the American Academy of Addiction Psychiatry (AAAP) on December 11.
Doctors prescribe medications on an as-needed basis in an attempt to actually reduce the amount of medication a person is taking—i.e. take it only when you need it, rather than, say, twice a day. However, the results of this study suggest that this practice actually increases the risk of misuse. Lead author Amy Swift, MD, was quoted in Medscape Medical News: "When [benzodiazepines] are prescribed as standing, people take them in the expected fashion, but when there is a little bit less standardization of what exactly is expected of the patient, then there is more room for misuse." That is, when people are told they can take a medication whenever they need it, people tend to take it more than they would if they were told specifically how and when to take the medication.
According to Dr. Swift, as quoted in Medscape Medical News: "We theorize that this is because the prescriber is saying to take them only when needed, and the patient may be thinking, 'I can take them as much as I need.'"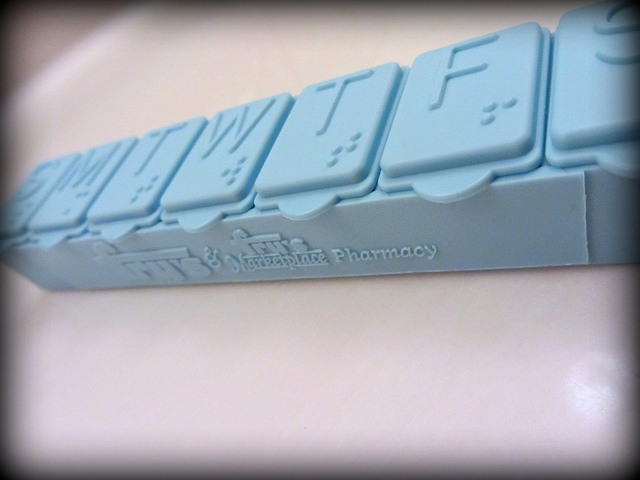 The researchers asked the prescribers at their psychiatric outpatient clinic to report on their prescribing practices for benzodiazepines. Most of the patients reported on were women between the ages of 50 and 60 years old who had a diagnosis of major depressive disorder. 71% of them were receiving benzodiazepines. Dr. Swift noted that this was a startling finding, since benzodiazepines are not FDA-approved medications for the treatment of depression. Additionally, other researchers have found that benzodiazepines have been associated with the development of treatment-resistant depression—that is, benzodiazepines may actually prevent recovery from depression, rather than help. According to researchers Gordon Parker and Rebecca Graham, "Benzodiazepines, by their very action, suppress feelings, and this may worsen depression and the effectiveness of any treatment."
Additionally, Dr. Swift found that 60% of the patients in her study had been prescribed benzodiazepines for at least 5 years. This type of long-term use is counter to recommendations in the scientific literature that urge short-term use only. Long-term use has been associated with dementia, cognitive decline, and cancer.
Benzodiazepines are one of the most commonly prescribed classes of medication. In 2008, 5.2% of the US population were prescribed at least one benzodiazepine, and that has likely only increased since that time.
Yet concerns about addiction and overdoses due to benzodiazepines have been growing in recent years. According to a recent study, "In 2013, an estimated 22,767 people died of an overdose involving prescription drugs in the United States […] Benzodiazepines were involved in approximately 31% of these fatal overdoses." Dr. Swift also noted that although more attention has been paid to the opioid epidemic, many opioid overdoses involve benzodiazepines as well. Part of the problem is that benzodiazepines are notoriously difficult to discontinue using, with withdrawal symptoms including anxiety, tremors, headaches, aggression, seizures, panic attacks, nausea, depression, anorexia, and psychosis. Protracted withdrawal symptoms may include tinnitus, declining cognitive function, and decreased overall life satisfaction. Mad in America recently released a literature review that contains detailed information about benzodiazepine withdrawal symptoms.
Another recent study found that benzodiazepines were actually prescribed more to those who were at more risk of misusing them or encountering dangerous, possibly deadly side effects from them. Researchers found that benzodiazepines were prescribed at higher rates to patients with depression, substance abuse, osteoporosis, chronic obstructive pulmonary disease, sleep apnea, and asthma, all of which are contraindicated in the literature.
According to Dr. Swift, as quoted in Medscape Medical News: "More attention needs to be paid to prescribing habits and the appropriateness of prescriptions." Although benzodiazepines may be an important element of treatment for some patients, more oversight is needed to ensure that prescribers are following best practices. This study suggests that benzodiazepines are inappropriately being prescribed for depression and long-term use, both of which are incongruent with current best practice recommendations. The researchers suggest that prescribers need to be aware that benzodiazepines carry particularly risk for addiction and overdose, and prescribe more carefully.
****
Swift, A., & Perkel, C. (2016, Dec). Abstract B-29. Presented at the American Academy of Addiction Psychiatry (AAAP) 27th Annual Meeting, Bonita Springs, FL. (Abstract)
***
Mad in America hosts blogs by a diverse group of writers. These posts are designed to serve as a public forum for a discussion—broadly speaking—of psychiatry and its treatments. The opinions expressed are the writers' own.
***
Mad in America has made some changes to the commenting process. You no longer need to login or create an account on our site to comment. The only information needed is your name, email and comment text. Comments made with an account prior to this change will remain visible on the site.