A letter just published in JAMA Psychiatry suggests that "precision psychiatry" is not the paradigm shift it's purported to be by the psychiatric establishment.
The paper was authored by Ana Gómez-Carrillo, MD, Dr Med; Timothé Langlois-Thérien, BSc, and Laurence J. Kirmayer, MD, FRCPC, FCAHS, FRSC, at McGill University and at Jewish General Hospital in Montreal, Québec.
A previous "viewpoint" featured in JAMA Psychiatry suggested the need for a "paradigm shift" in psychiatry—but focused on "genomic medicine" as if it were that shift. "Genomic medicine" forms the basis of what is called "precision psychiatry." It's based on the notion that if enough genetic variants are discovered, pharmaceuticals could be targeted to specific people with those variants—thus, supposedly targeting only those who would have a positive reaction to those chemicals.
However, as Gómez-Carrillo and the other authors point out in their letter, this is hardly a paradigm shift. After all, mainstream psychiatry already operates on the assumption that mental health concerns are a brain disorder which can be targeted via pharmaceutical agents. This supposed "paradigm shift" is simply saying "psychiatrists need to better target those pharmaceuticals"—which is, at best, a slight extension of the current paradigm, not a shift.
According to Gómez-Carrillo, "The authors' view perpetuates current reductive explanatory approaches and, as such, cannot be considered a paradigm shift."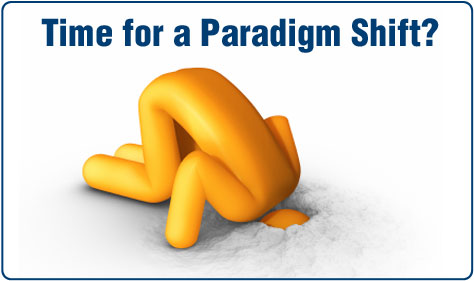 Although neurobiological psychiatry has identified numerous genetic variants that are theoretically associated with mental health concerns, none of these variants are useful for telling the difference between individuals with and without mental health concerns (aside from physical illness markers such as those for thyroid disease or metabolic illness, which can lead to mental health problems).
For instance, one study, reported on here at Mad in America found that, out of 7,849 people with a mental health diagnosis, 32 people had a particular genetic variant. Out of the 10,799 people in the "healthy" control group, 9 had that same genetic variant. That is, in both groups, a minuscule number of people had that genetic variant, and more than 99.5% of people in both groups did not have that genetic variant. Nonetheless, this study was presented as if it was scientific evidence that a genetic variant was discovered that was linked with mental health concerns. 
Thus, Gómez-Carrillo argues that "precision psychiatry" as it is presented in the literature is a red herring, continuing the dominance of the neurobiological reductionist paradigm that has repeatedly failed to find any identifiable biomarkers for mental health concerns.
Instead, writes Gómez-Carrillo, psychiatry should be focusing on better understanding the social, environmental, and psychological correlates of mental health concerns. After all, trauma, poverty, marginalized identity, and urban living are all much more highly correlated with mental health concerns than biological factors. That, she writes, would be a true paradigm shift.
****
Gómez-Carrillo, A., Langlois-Thérien, T., Kirmayer, L. J. (2018). Precision psychiatry—Yes, but precisely what? JAMA Psychiatry, e1. Published online October 17, 2018. doi:10.1001/jamapsychiatry.2018.2651 (Link)