A recently published review, in the journal Child and Adolescent Mental Health, summarized empirical studies that implemented yoga and mindfulness-based interventions for children diagnosed with autism spectrum disorder (ASD). The review concluded that yoga and mindfulness-based interventions have positive emotional and psychosocial effects in children with ASD. However, more evidence is needed to draw reliable conclusions.
"Yoga practices and other body-focused mindfulness interventions have recently been considered as interventions for children with ASD and may be helpful in managing repetitive, self-injurious, or aggressive behaviors," the researchers write.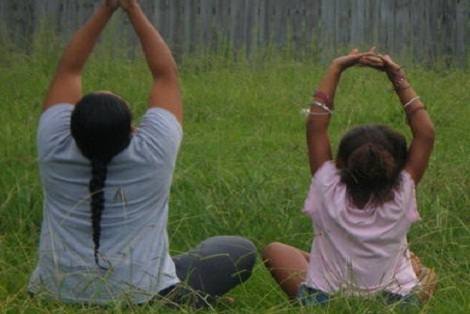 As youth diagnosed with ASD often demonstrate deficits in motor coordination, body awareness, and sensory integration, providers and researchers have looked to yoga and body-focused mindfulness interventions as possible treatments. Indeed, previous research has demonstrated that yoga significantly benefits and improves emotional and psychosocial quality of life in children.
The proposed benefits for the use of yoga and body-focused mindfulness exercises include stimulation of the parasympathetic nervous system, reducing heart rate, pulse, blood pressure, and respiration, as well as enhanced attention, and affective self-regulation. However, several challenges have been identified, including the lengthy duration of the sessions and participants' difficulties in attending and understanding abstract language.
Utilizing the search words "autistic or autism" and "yoga, mindfulness, or meditation," the authors identified eight studies that met inclusion criteria for their analysis. Studies were included if they empirically evaluated the effectiveness of yoga, movement-oriented, or mindfulness-based intervention for you with ASD and were written in English.
In one study, six children and their parents participated in a 10-month specially designed yoga program (Integrated Approach to Yoga Therapy). Improvements were reported in communication, imitative behaviors, and motor control.
Another study evaluated the "Meditation on the Soles of the Feet (SoF)" program when used with adolescents. Here, the findings indicated that the participants showed reduced aggressive behaviors and that these improvements were maintained at a four-year follow-up. A second study of the SoF technique examined the effects of the SoF technique reported the intervention to have had led to a significant decrease in physical aggression that was maintained at a three-year follow-up.
The Get Ready to Learn (GRTL) program was implemented in select classrooms and compared to "education-as-usual" classes. The authors found significant reductions in irritability, lethargy, and hyperactivity, lower rates of social withdrawal and noncompliance in the youth who completed the program.
The Nei Yang Gong (NYG), a traditional Chinese mind-body activity aimed at improving self-control, was demonstrated to be effective in enhancing self-control and decreasing impulsivity, as well as control of temper and behaviors as reported by parents.
Lastly, an 8-week group therapy program utilizing breathing meditations, mindfulness exercises, and yoga for teens diagnosed with ASD, demonstrated positive effects on quality of life, social responsiveness, social communication, social cognition, social motivation, and eye contact and decreased rumination.
The results indicated that yoga and mindfulness-based interventions are feasible and may improve prosocial behaviors such as communication, imitative behaviors, social communication, social cognition, preoccupations, and social motivation. The interventions also demonstrated evidence for reducing aggressive behaviors, irritability, lethargy, social withdrawal, and noncompliance.
The existing studies demonstrate the positive effects of yoga and mindfulness-based interventions for youth diagnosed with ASD. However, only eight studies with various limitations were identified. Despite the evidenced benefits, the authors conclude that multiple weaknesses in the available research make the results of the present review as inconclusive, and they call for further study. The researchers conclude:
"Although there is only meager evidence to suggest that yoga and mindfulness interventions improve core symptoms of ASD, early indications suggest that these interventions are feasible and may have some effectiveness in managing commonly comorbid mental health problems and reducing aggressive behaviors."
****
Semple, R. J., (2019). Yoga and mindfulness for youth with autism spectrum disorder: a review of the current evidence. Child and Adolescent Mental Health, 24(1), 12-18. (Link)