A recent study conducted by a group of psychologists in Belgium seeks to challenge common stereotypes about social media use and problems with attention. Most assumptions about this relationship start with the premise that overusing anything is the result of issues with controlling one's attention. However, applying this too broadly to all instances of social media use leads to oversimplified pictures of users as well as platforms, ignoring the many different purposes for which social media networks can be used. 
This study, led by Lien Faelenes, Faculty of Psychology and Educational Sciences in the Department of Experimental Clinical and Health Psychology, used a network analysis approach to construct a more complex picture of Facebook use. Network analyses are methods used to create graph models of multiple variables, with each variable represented by a node and relationships between them mapped as edges. More specifically:
"The current study set out to model the unique associations between central indicators of Facebook use and vulnerability for affective disorders. An important strength of this study is that it examines the role of both social capital and social comparison in the relationship between Facebook use and indicators of well-being."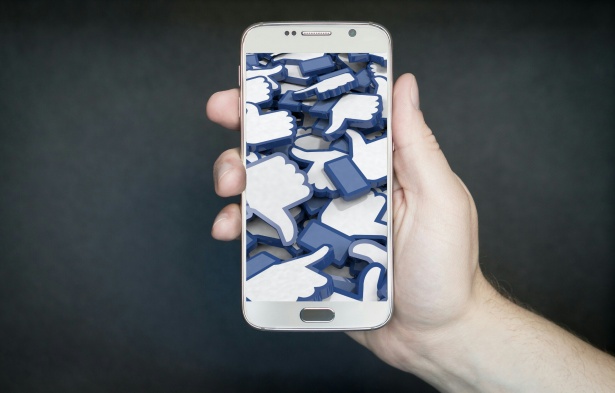 There is no shortage of recent studies linking social media to depression. Many of these studies highlight a range of psychosocial risks related to too much screen time, including problems with attention. 
And yet, other studies have challenged such purely pessimistic takes on the relationship between social media and psychology.  They argue, instead, that using social media networks can increase a person's sense of purpose and feelings of connectivity in ways that can potentially counteract the negative effects of overuse. In other words, it might not be these tools themselves that cause problems for people but, rather, how such tools are used to relate to others. 
The study by Faelens et al. builds upon earlier research conducted by the lead author, which also used a network analysis approach to illustrate "complex associations between social media use, social comparison, self-esteem, and indicators of risk for affective disorders." 
The model from this earlier research suggested that when social media is used primarily to compare oneself to others, there is a higher likelihood of both low self-esteem and symptoms of depression. The most recent study, however, focused specifically on Facebook use and sought to integrate factors related to social capital and attentional control into this graph model.  
The concept of social capital—understood as the measurable benefits each person receives from social relationships—was borrowed from research in sociology and political theory. Going further, the authors of the study make a more subtle distinction, proposed by Putnam (2000), between two types of social capital: 'bonding social capital' and 'bridging social capital.' 
Bonding social capital refers to benefits of intimate relationships with family and friends while bridging social capital refers to benefits of relatively 'weak ties' that nonetheless provide new information and have the potential to broaden the individual's worldview.  
It was benefits related to bridging social capital that the authors were most interested to connect with regular Facebook use. As they explain:
"SNS provides users the opportunity to activate latent ties into weak or bridging ties. This gives users the chance to maintain connections that would otherwise disappear, allowing (intensive) users to maintain larger and more heterogeneous networks"
To study these correlations, the authors developed a survey composed of already existing scales and administered it to 469 Facebook users. They then used descriptive statistics gathered from the survey to create a 'Gaussian Graphical Model' of the following factors: "Facebook (Facebook intensity (FBI), active public, passive and active private Facebook use (MSFU-PU/MSFU-PA/MSFU-PR), bonding social capital (BOSC) and bridging social capital (BRSC)) and emotional vulnerability (rumination (RRS), depression (DEPR), stress (STRESS), anxiety (ANX), attentional control (ATC))." 
Overall, the study paints a more complicated picture of variables linking social media use to mental health than most previous studies on the topic. Specifically, it did not find a direct correlation between one's ability to control their attention and Facebook use. 
And yet, the construct of 'bridging social capital,' described above, "emerged as a key variable in the network uniquely connecting indicators of (intensity of) Facebook use with indicators of risk for affective disorders via social comparison and self-esteem."
This implies that it is not simply social media use in general that causes noted psychological problems spanning decreased attention, depression, stress, and anxiety. Rather, as users expand their social networks to increase 'bridging social capital,' these authors suggest, there is a greater tendency to evaluate oneself negatively in relation to others they observe online. 
It is, as such, tendencies to evaluate oneself negatively in relation to others, and not problems related to attention itself, that appears to be linked most strongly with symptoms of depression or anxiety. And yet, symptoms of depression or anxiety could still be linked indirectly with one's ability to control one's attention through bi-directional relations formed between negative affect and control over focus. 
This is notably different from prior research suggesting that the overuse of social media can cause problems with attentional control. On the other hand, Faelens et al. did not uncover any positive benefits relating to Facebook use to either form of social capital. There are several potential limitations of this research to consider.  
As the researchers themselves note, all participants were between the ages of 18-35, and the data was based on a convenience sampling approach—meaning that the data collected is not likely representative of all Facebook users. The graph produced was also based almost exclusively on self-report data, making it nearly impossible to know how well the data match the reality of the participants' everyday lives. 
To address these concerns, the authors suggest that future studies couple objective measures of Facebook use with physiological indicators of mood. This certainly makes sense in terms of verifying possible causal relationships between variables. And yet, it likewise underscores the ethical dilemmas at stake anytime research is conducted on individuals' internet use.
Social media platforms are organized through algorithms that are programmed by data scientists to maximize user interactivity. The overarching goal of the companies in control of such processes is to collect data on user behavior to optimize 'user experience.' Despite using (and proposing) the same methods that data companies do to increase user engagement with their sites, Faelens et al. do not address such important topics in their article.
At the same time, individual users also play critical roles in reinventing such platforms when they are used for collective purposes beyond those that serve tech companies. As digital technology becomes ever-more seamlessly embedded within everyday activities, attentional control will, in turn, become more widely distributed throughout a growing network (the internet) of things. Here, any boundaries between virtual and actual spaces are destined to become even more porous than they already are. 
This growing market for attention, coupled with more concerted data-collection, has been named by former Google programmers, quite aptly, as the 'attention economy.' We have already begun witnessing how data collected by mental health software can be used in ways that cross ethical boundaries without users' consent. An essential question for psychologists at this juncture, therefore, is whether they will reflect critically on the ways in which they contribute to the attention economy rather than just participate in it unreflectively.
****
Faelens, L., Van de Putte, E., Hoorelbeke, K., de Raedt, R., & Koster, E. H. W. (2019). A Network Analysis of Facebook Use and Well-being in Relation to Key Psychological Variables: Replication and Extension. https://doi.org/10.31234/osf.io/y9u4a (Link)