A multi-generational coalition of ex-psychiatric patients and allies ranging in age from 27 to 72 launched a campaign last month to hold the Massachusetts Department of Mental Health accountable for its mismanagement of COVID-19 response in publicly-funded psychiatric institutions and other settings. Mobilizing as Massachusetts Advocating for Change Together (Mass ACT), advocates say DMH is not being transparent about measures it is taking to mitigate the transmission of the novel coronavirus in its congregate facilities, a familiar refrain echoed across the U.S. since the start of the pandemic.
Naomi Pinson, a feminist community organizer who was twice institutionalized as a teen, has been widely credited with helping to seed Mass ACT. Pinson was alarmed when she read an April 16 letter to state officials penned by the Disability Law Center (DLC) and the Mental Health Legal Advisors' Committee (MHLAC) regarding conditions within Lemuel Shattuck Hospital in Jamaica Plain.
"DLC and MHLAC have received information indicating that the health, safety, and rights of patients at LSH are at great risk," the letter read. "Those reports include information regarding the rapid spread of COVID-19 infection through the Metro Boston Mental Health Units (MBMHUs) and indefinite suspension on access to fresh air and privileges for the patients in those units beginning two weeks ago."
"Shattuck is a pit," Pinson told Mad in America via email. "Its denizens are drawn from the poorest and most marginalized of all. They also have a large Department of Corrections unit, and a large number of forensics patients, mostly people of color, as I understand it."
Pinson, 72, a resident of Framingham, told Mad in America that she got the idea for a caravan the day after she read the letter, when she witnessed an hundreds-strong car protest organized by the Roxbury-based Families for Justice as Healing. The group is holding a series of ongoing car protests to raise awareness about conditions within the MCI Framingham, a women's prison and one of the correctional facilities being hardest hit by the virus in the state of Massachusetts.
Recalling her own experience as an institutionalized young person, Pinson was moved to organize in solidarity with those detained in her state's psychiatric facilities. "When you're in these places, you want people to know that you're alive, to appreciate the situation you're in. To say, 'I'm rooting for you.'"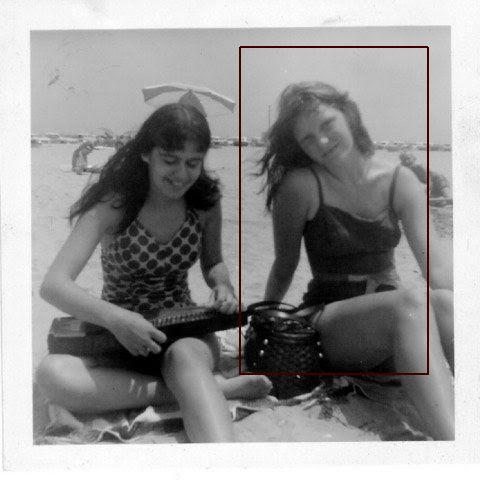 The very next day, Pinson reached out to members of her community and, referring to the Shattuck letter and the MCI Framingham protest, asked them for help in taking action. The message generated the spark that ultimately led to the formation of Mass ACT.
While the idea for the Shattuck car protest came from Pinson, one of the group's elder members, the planning and logistics were aided by the group's youngest organizer, Kayla Neumeyer. Neumeyer, 27, who also works with the youth-led Jewish direct action groups If Not Now and Never Again Action, had just helped to organize a series of car protests and had energy to lend, with practical advice to give.
I spoke with Neumeyer on the phone about the deep intersectional analysis that undergirds Mass ACT's organizing. "It's racist, classist, and ableist conditions that have led us to this point," she emphasized. She added that she had heard something recently at a conference that struck her: "'The people closest to the pain are the ones with the best solutions.' That's an ethos I hold in all my organizing work."
On May 17, less than a month after Pinson first reached out to her fellow community members, 17 cars bearing signs reading slogans such as "Freedom Now" and "Free Our People" made three giant circuits around the Shattuck Hospital grounds. Some members of the group got out of their cars and continued the protest at a safe distance from one another outside the facility. Organizers shot footage of the action, which meets viewers with a continuous cacophony of horns blaring—alternately staccato, bellowing, and screeching out their rage and resistance.
"It's Like Dracula's House" to Us
When I asked Mass ACT organizers on a recent Zoom meeting why they chose Shattuck as the site of their car protest, they listed a multitude of reasons. Organizer Sera Davidow mentioned that the 255-bed teaching hospital was the site of the first resident death from COVID-19 on April 21.
Shattuck Hospital and Tewksbury State Hospital, the two largest state-run psychiatric facilities in Massachusetts, have both been heavily impacted by COVID-19. Nearly a month after a United States Army Reserve unit came to Tewksbury to assist with mitigation, thirteen residents have died, two of them on the hospital grounds, according to a May 19 Patch report.
Thomas Brown, one of the primary car protest organizers, likened Shattuck to "Dracula's house" in the original movie version of the Bram Stoker novel, a comparison which drew laughter from his comrades on Zoom. "Shattuck Hospital is that kind of Gothic building for us. It's a symbol in this state," Brown said.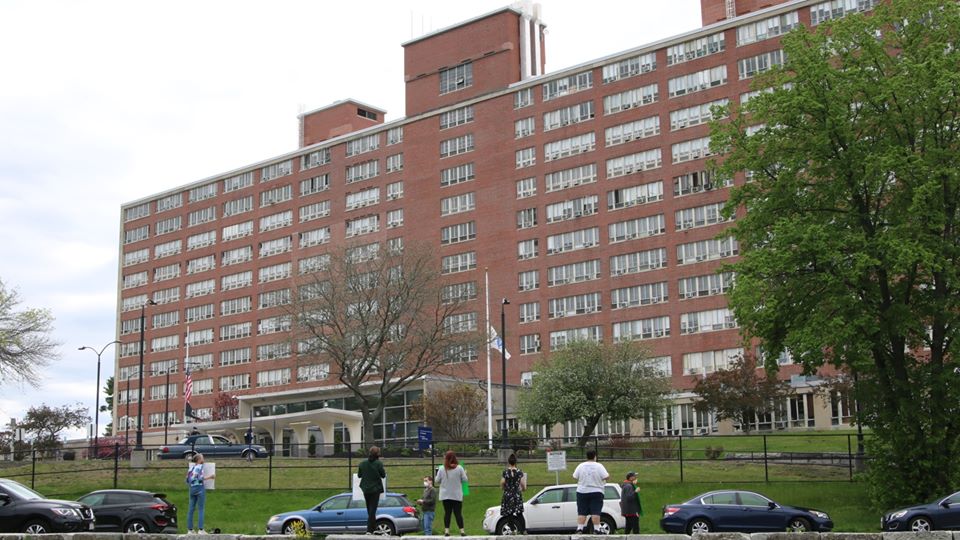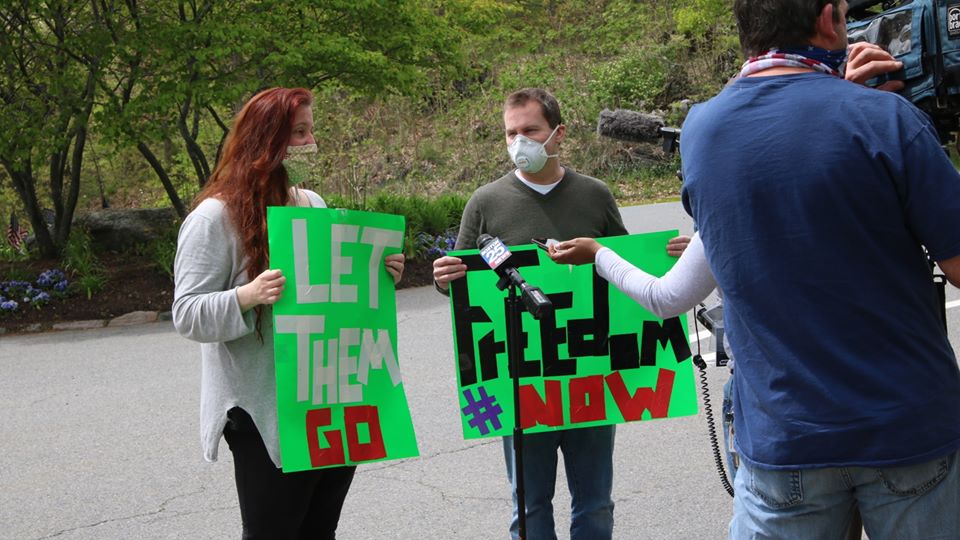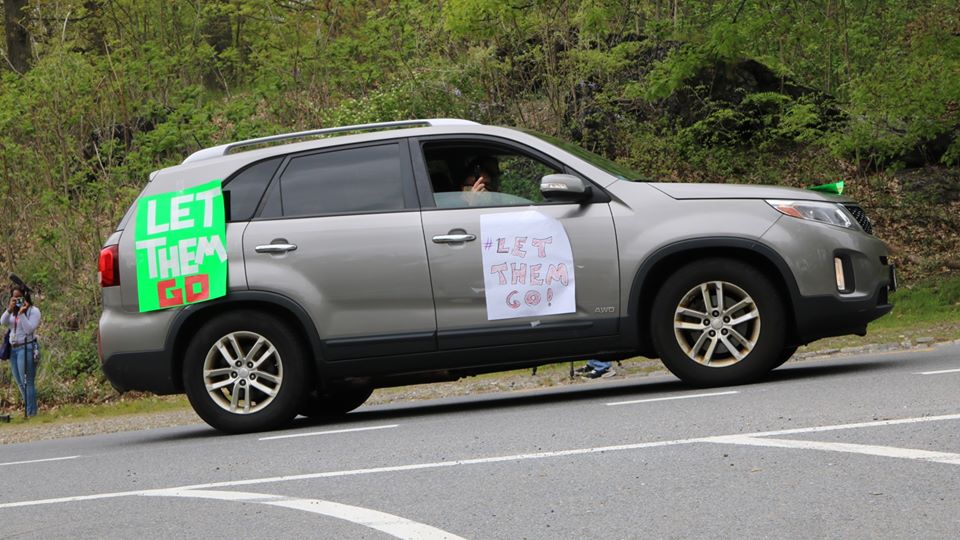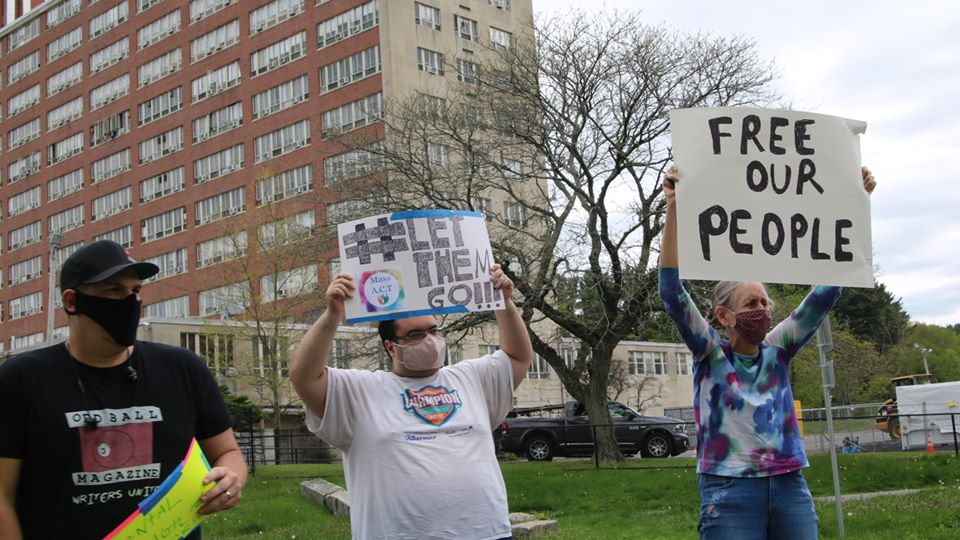 "It was already supposed to close because it's run down and it's not fit to have people in it," said organizer Martha Barbone. The hospital, erected in 1966, is slated to be shut down and relocated in 2021, according to a government website.
"For me, it's because it's [located] in a community of color that is being hit very, very hard," added Ruthie Poole, who has a shared history of activism with Pinson, having met her on a picket line. A slew of emerging data have indicated that the overwhelmingly disproportionate brunt of the virus has been borne by Black, Brown, immigrant, and undocumented communities, and Massachusetts is no exception. However, according to a report last month in The Boston Globe, the full scope of the impact remains unclear, as the state does not release racial and ethnic data.
Pinson, who created and directed a peer educator training program that ran biweekly at Shattuck for six years, said that one of her biggest worries about the May 17 action was that those living within the walls would be unaware of what was happening outside that day. On an organizers' call following the protest, she asked the group, "Did the people inside know we were there? Why we were there?"
While the hospital had set up gendarmes in advance to try to limit the protesters' access to the grounds, the message appears to have reached its intended recipients. "The patients were hearing us. They were yelling out at us. Someone else flashed a phone at us," answered Poole.
"That was really, really great," Poole said.
The protest, which was organized over the span of three days, attracted local media interest. Coverage included a moving photo essay in the Boston Herald as well a segment that aired on local TV news station Fox 25.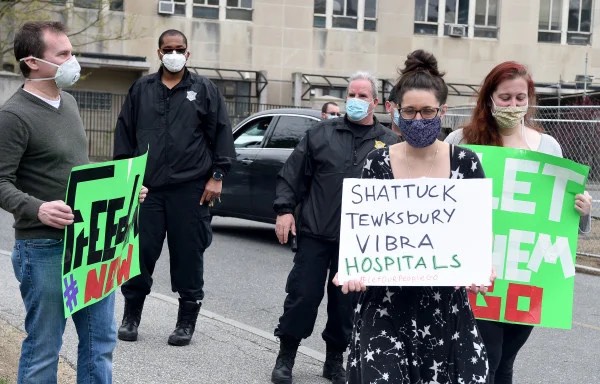 "We're Not Asking for Too Much"
The car protest was just one aspect of a multipronged and ongoing awareness-raising and resistance campaign spearheaded by Mass ACT, which describes itself as a "human rights advocacy organization comprised of individuals who are receiving or who have received psychiatric services and their allies."
"It's not like we're asking for too much," said Mass ACT organizer Jason Wright, who recently interviewed Davidow and Brown about the campaign on his podcast, The Oddball Show. "We're just asking for fair treatment in psychiatric hospitals during COVID-19."
Organizers told of several drivers of their urgent efforts. One of the primary areas of concern revolved around the isolation and distancing policies that may be necessary for the public's health but are particularly worrisome for individuals' human rights. These measures include the cessation of all outside visitation, including lack of access to outside peer support workers and other non-hospital affiliated advocates who are in a position to monitor conditions.
A related issue further fueling the isolation is a lack of digital infrastructure, often exacerbated by the age and size of the buildings, which makes it difficult for residents to utilize video conferencing and other technologies that would allow them to interact with the outside world. Additionally, public health measures limit access to translation and interpretation services. "There are people who are in some of these facilities who don't read or speak English, who have even less access to people in their lives who speak their own language, and have less access to information about COVID-19 that is accessible to them," Davidow said.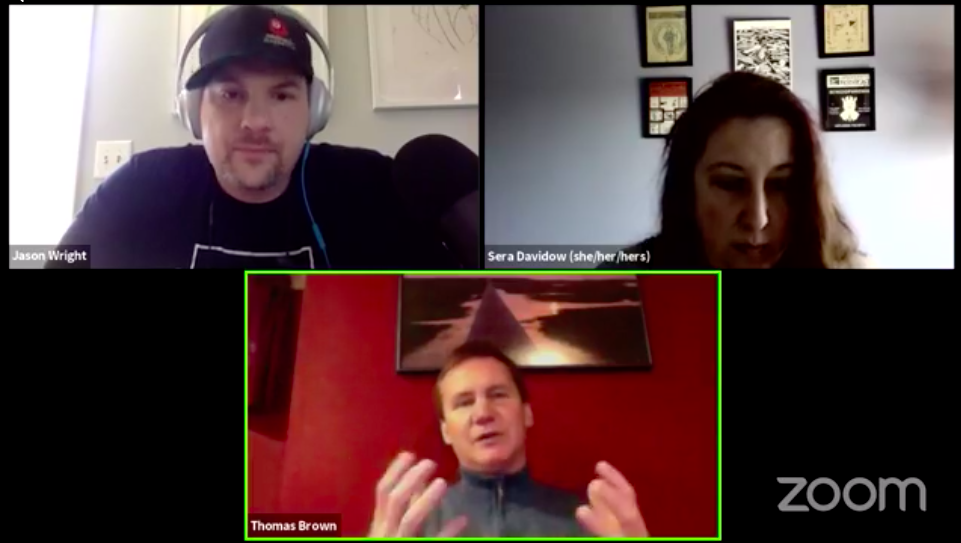 The isolation measures land particularly hard on persons already historically vulnerable to abuse and neglect within the walls of aging and authoritarian institutions.
"When you have people held against their will, who have been marginalized often for much of their lives, held somewhere without the public being able to find out what's going on—that's a problem of its own," Davidow told The Oddball Show. "There are lots of people in these hospitals who have a lot to say, but without support from the outside, the risk to them [in speaking out] is really, really high."
The community's concerns are further compounded by an absence of clear and forthcoming information from the state's Department of Mental Health. Transparency is by no means the group's only ask, Davidow told Wright, but it is the primary one. "If there's no transparency, it's impossible to figure out what to do, because nobody knows what's happening." She added, "We believe [state officials] have a responsibility to tell us what is happening, what measures they are taking to protect people. And instead, the little bit that we're able to find out is that people are getting sick and they are dying."
Brown is concerned about the long-term effects of what he describes as "the core features of traumatic experience:" hopelessness, helplessness, and terror. "People are being traumatized by a lack of ethical response and responsible protocols," he said on The Oddball Show. "The people who are in the units right now, and in group homes and nursing homes, they're going to come out of this with terror that's going to last for a long time."
Davidow related on The Oddball Show podcast that in her role as director of the Western Massachusetts Recovery Learning Community she had requested information from the Department of Mental Health on COVID-19 transmission rates in a local long-term psychiatric unit on April 20.
"I got the answer on May 12," Davidow said, adding that it took a Herculean effort, going all the way up the chain to the Executive Office of Health and Human Services, to obtain that information. She found out that a full ninety percent of those hospitalized in the facility she inquired about had tested positive for COVID-19. "It's only by luck that none of them have died. It's not because anyone has done anything right," Davidow said.
Davidow is not alone in her frustration at the dearth of basic COVID case data made available to the public. Other advocates across the country have shared similar complaints. In response, earlier this month the Autistic Self-Advocacy Network launched a COVID-19 case tracker to aid those seeking to understand the true impact of the virus in congregate facilities.
As Mass ACT was in the process of coalescing as a group, Davidow had simultaneously been mobilizing, along with other local advocates, to pen a letter to Department of Mental Health and Department of Public Health officials, again demanding transparency on the COVID-19 response. The group met by conference call with state mental health officials earlier this month to discuss the letter, and found the response to be "vague" and lacking in substance.
For example, advocates asked what the state was doing to move discharge planning along more quickly for those who are able to shelter safely in the community. What they heard disturbed them. As Brown told The Oddball Show, the number of people currently being released from state hospitals is "about the same" as would be discharged without a pandemic.
"The Department of Mental Health is risk aversive to the point of phobia," Pinson told Mad in America in an email. "In the face of the virus, Mass ACT is urging speedy discharge, but it's much easier for DMH to just let people languish indefinitely."
Pinson spent almost four years as a human rights officer at Tewksbury State Hospital. "I watched 'risk committees' and 'discharge committees' drag discharge out not just months, but at times, years," she said. "Patients are only 'invited' to attend when being grilled, or at the point at which decisions had already been made for them."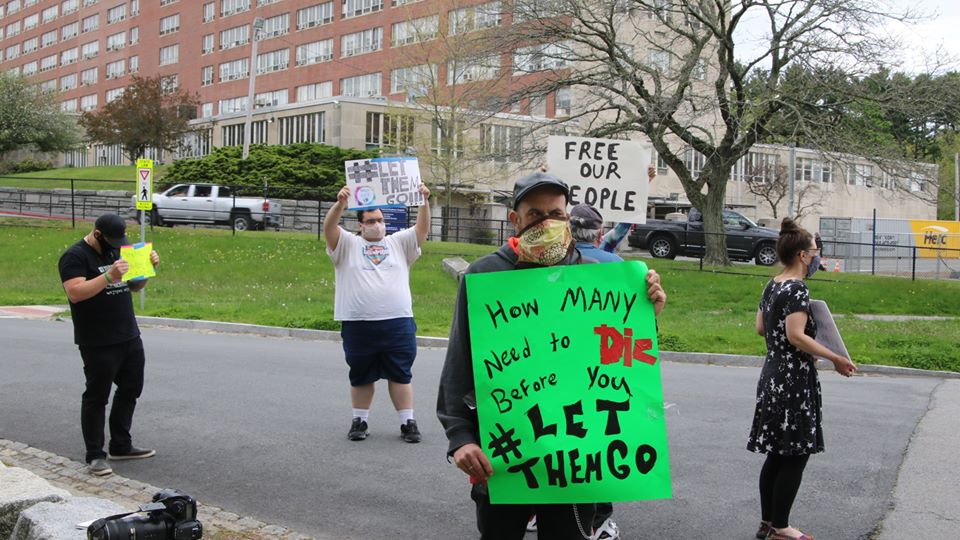 Davidow pointed out that there have been efforts to get people out of jails and prisons on "compassionate release," as per a state Supreme Judicial Court ruling last month on reducing incarceration due to the virus. As of last week, WBUR reported that 1000 people had been released from Massachusetts jails and prisons, a number advocates say is insufficient.
But she feels that people incarcerated in psychiatric hospitals and other congregate settings have been largely ignored.
On the podcast, Davidow referred to the obliviousness of cable television refrains about "staying home, together" and the like: "There's all these communities that can't do that, because they're living without a home, or they're in a psychiatric facility, or in a nursing care facility. They're not having that choice. And the world isn't seeing us any more than they did under more 'normal' conditions. In fact, I think even less are we being seen."
Mass ACT insists that its demands are fair and reasonable, given the dire circumstances. "We are not asking that people be forced to be out on their own if they feel like they want to stay in a hospital. And we're not saying, 'Just open the doors and let everyone out, without any support.'" Davidow and others had requested that the state use emergency dollars to re-evaluate residents and provide them with housing, hotel vouchers, and other types of support that would allow them to avoid a risky congregate setting.
In a follow-up communication shared with Mad in America, Davidow cited a dizzying array of unresolved questions and concerns beyond discharge planning and vouchers, ranging from a lack of data on COVID infection rates, to little information on what forms of mental health treatment (if any) were being provided, to reports of residents being deprived of fresh air, to a lack of access to technology, to staffing levels, among other subjects. As of this writing, she has not received a response from the state.
The letter to DMH would form the basis for Mass ACT's Change.org petition, addressed to Massachusetts Governor Charlie Baker and state legislators. "We join with those held in immigration detention facilities and prisons in demanding equitable treatment and humane conditions," the petition reads. "Mass ACT is demanding immediate action by the legislature and the Baker administration to address the conditions in these psychiatric settings that put residents' lives at risk."
While other petitions, such as one created by New Jersey state hospital workers last month, have demanded that lawmakers address conditions within psychiatric facilities during the pandemic, Mass ACT's is one of only two known petitions to be authored and launched by former residents of such facilities. The Mass ACT petition amassed 250 signatures within its first 24 hours, and over 500 within the first week.
https://www.instagram.com/p/B_nHWedJGrb/
Plaintiffs Wanted
In addition to the letter, petition, and car caravan protest, Mass ACT is actively working with advocates at the Mental Health Legal Advisors Committee, the Disability Law Center, and other state and local groups to locate potential plaintiffs to launch a class-action lawsuit against the state for its poor management of conditions inside its facilities. Such lawsuits have been launched in other states, including Connecticut and the District of Columbia.
Earlier this week, we did the one thing within our power as lawyers to do: we filed a case in federal court. Complaint linked here: https://t.co/vTLvqDdXvO Getting to lead the team at @CTLegalRights is such a privilege. Grateful every day. https://t.co/9Lh9pJnunW

— Kathy Flaherty (@ConnConnection) May 2, 2020
In 75-minute hearing in @WashLaw4CR and ACLU-DC case against @stelizabethsdc today, judge expresses continued concern about death rate, notes they are "dying at an extraordinary rate." Ruling expected by midnight tonight when the court's prior emergency order expires.

— ACLU of the District of Columbia (@ACLU_DC) May 22, 2020
The MHLAC created an online survey designed to gather data and information on what is occurring within these facilities. The survey reads, "Share the injustice you or someone you know has experienced so that we can go to the legislature, government agencies, and courts with powerful evidence of these harms. Or give us an example of a setting that shines so that we can convince governments that following prevention measures and creating a humane environment in psychiatric settings can be done."
At a recent organizing meeting, the group brainstormed at length as to how to get the surveys to people inside who cannot access the Internet, or who may need assistance in filling out a survey. Their extensive calculations were all designed to figure out how to do so without getting anyone into trouble.
Both Davidow and Brown repeatedly emphasized on The Oddball Show that in order for real change to take place, those working and living within the walls of these facilities will have to assume some level of risk—no easy feat in the authoritarian and disempowering setting of the psychiatric hospital, where retaliation against staff and residents occurred with disturbing regularity even before the pandemic. Brown recalled a period of time when he tried to make change from within an agency he worked for: "Once I started being vocal, I knew I was risking my employment every single day. It's a horrible feeling."
"People need to take those risks to let people know [what's happening]. If these advocacy law centers don't have real stories from people, they can't do anything. You can't bring a lawsuit on hearsay," he added.
"It's beyond the abstract idea of human rights. It's about life and death here," Davidow told The Oddball Show. "If we're not willing to take risks, what we are saying is we are willing to risk silence around the lives and deaths of people in our community who are locked away and have no power right now."
Davidow added that legal advocates are also willing to take confidential reports, which may not result in a lawsuit, but could help to fill in some of the massive information gaps.
Calling All Whistleblowers
One of the discussions at the post-car protest Mass ACT organizers' meeting centered on whether or how change can be made from inside oppressive systems, which speaks to the vital role of the whistle-blower within these settings. Some organizers came down unequivocally on the need to push for change from without. "When I worked inpatient, I hated everything they did," said Barbone. "I had this idea, 'I'm on the inside, I can [make] change from the inside.' And that was wrong." She added, "I'm not there anymore."
Brown agreed with Barbone about the ultimate futility of systems change from within. "You've got to go so much farther than that."
Others were more circumspect. "I don't think it's one or the other," said Pinson. "I think you can work on both sides to create change," to which she added, "Me, Marx, and Lenin think that," provoking a round of laughter from the group.
Brown gently pushed back. "I tried it for 13 years. I'm somebody who works really hard at anything that I do, and I could barely make change. What I got until the very end, was people punishing me for the change that I was trying to bring."
Poole, who now works in the setting Brown once did, assured him that his efforts had not been completely in vain. "You made changes, Thomas. You made good changes."
Davidow also came down on the side of pushing from within and without, while recognizing the limitations of the former. "I think it's next to impossible to make the kind of long-term, big changes we're trying to make from the inside. I think a lot of people get pretty tortured for trying. And I think we should still be trying. I don't know what else to do. Otherwise, we're just deserting [people]." Barbone concurred. "Everyone who's stuck on the inside is stuck on the inside. So if some of us aren't there, what do they have?"
Many of the group have significant experience as peer supporters, educators, and advocates. Despite the obstacles, they remain hopeful that their fellow peer workers on the inside can help aid in the resistance. Their focus moving forward will continue to be on encouraging hospital residents, workers, and others with insider knowledge to speak out on the state's mismanagement of COVID response.
Pinson has an idea as to how to potentially make it easier for people to come forward in Massachusetts. "We need to rewrite the human rights handbook and strengthen whistleblower protections," she said. Brown agreed, noting that existing policies protecting whistleblowers were not being followed, and that there were few agencies where people in peer roles felt safe to speak up. "I hope one of the functions of Mass ACT will be to help protect change agents," he told Mad in America.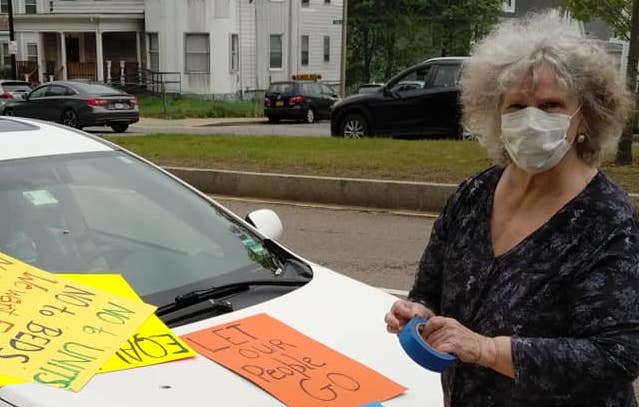 In Part 2 of Mad in America's series on the mismanagement of COVID-19 response in U.S. psychiatric facilities, Lori Sevigny spoke about her experience on a 72-hour hold at a psychiatric ward in a large city hospital in the Northeast last month. Sevigny was the only person who was willing to be named in that piece, as others harbored understandable concerns about retaliation at work and privacy of loved ones.
As she promised one of the nurses on the unit where she was hospitalized, Sevigny threw herself immediately into activism, connecting with Pinson and helping to launch Mass ACT soon after her release. She designed the group's logo, started its social media pages, released the Change.org petition, and became a primary organizer, along with Brown, of the Shattuck car protest.
Sevigny and I reconnected on May 19, and she talked about how generative it has been to work with Mass ACT, with its combined ethos of peer support and activism. When I asked her what she wanted people still on the inside to know, she said, "Just because things don't happen overnight, we're not going to stop. I can promise them that."
Reflecting on her harrowing hospital stay last month, Sevigny said, "Sometimes in life we have to go through experiences to make things better for people who can't speak up, for people who don't have a voice. And in that, I feel a little bit honored that I was [in the hospital] that week. I just hope that I can help make things better."
Brown, for his part, has had it with being in the business of being polite, he told Mad in America. Recalling his own personal and professional history, he said, "You're always encouraged to be nice. Be sweet. Set a 'feel-good' tone. But you can't talk about the horrors [of COVID] without being furious. Or at least a little edgy."
Organizers at Mass ACT hope that their multi-pronged efforts to hold the state accountable will embolden their peers in other states to lead similar actions. "All we need is courage," Brown said, "And to be an example. To show that it's safe to lift our voices."
Mass ACT is fixing their sights on Tewksbury next. On May 21, they will mobilize again, snaking around the grounds of the old state hospital with car horns blaring, signs displayed, sounding out loudly and insistently for justice in a terror-filled time.
Spread the word… Join Mass Act for a protest at Tewksbury State Hospital on 5/31, 12:30pm to 3:30pm. 16 people (15 held in the psychiatric facility, and one staff person) have died of #COVID19 at Tewksbury State Hospital to date.. How many need to die before action is taken? pic.twitter.com/PbfjORbTn4

— Wildflower Alliance (@WldflwrAlliance) May 23, 2020
***
MIA Reports are supported, in part, by a grant from the Open Society Foundations