Let us be honest.  2020 will be remembered for decades, maybe centuries, to come and not for reasons for which we should be proud.  We are facing a convergence of crises.  Our public health institutions are finding it increasingly difficult to control a pandemic.  Our justice system's institutional racism has been exposed.   And our economic system has been questioned, as some of our poorest citizens are now seen as essential to society (without a raise, mind you).  Historians, social scientists, and journalists will be able to build careers and dissertations on these crises for years to come.
While there are many connecting threads for these crises, there is one that is easy to overlook.  This is how our culture perceives drugs and drug addiction.  Our views of drugs and drug addiction obviously help to create our standards for treatments and diagnosis, while also helping to drive policy at all levels of government.  Our fears about drugs and drug addiction have allowed our society to accept court mandated treatment and the continuing militarization of police, all the while pulling money from social services and using it to fund more law enforcement, even at the risk of our own ill health.
Models of Drug Addiction
The traditional view of addiction is what is known as the "Brain Disease Model of Addiction."  This model posits that persons who suffer from drug addiction have a "disease" which affects the neurochemistry of the brain, causing obsessive use of psychoactive chemicals, even when that use leads to unhealthy outcomes.  The American Society for Addiction Medicine's 2011 definition of addiction is:
"a primary, chronic disease of brain reward, motivation, memory and related circuitry. Dysfunction in these circuits leads to characteristic biological, psychological, social and spiritual manifestations. This is reflected in an individual pathologically pursuing reward and/or relief by substance use and other behaviours.  Addiction is characterized by inability to consistently abstain, impairment in behavioural control, craving, diminished recognition of significant problems with one's behaviours and interpersonal relationships, and a dysfunctional emotional response. Like other chronic diseases, addiction often involves cycles of relapse and remission. Without treatment or engagement in recovery activities, addiction is progressive and can result in disability or premature death" (emphasis added)
This model was originally rooted in the idea that certain drugs are "endogenously addictive" and this endogenous addiction causes the brain disease.  Our current understanding first developed around the late 1700s, when physicians (such as Benjamin Rush) started to believe that alcohol was one of these endogenously addictive drugs.  This spurred the creation of the "Temperance Movement" of the 1800s.  This movement's goal was to eradicate all drinking, period, as they believed that, on a long enough timeline, any drinker would eventually become addicted.  Once addicted, the drinker would inevitably fall into poverty and disease.
This idea, that drugs are inherently addictive, lives on in ideologies around drugs like crystal meth and crack.  During a conference in 2010, the Hawaii Meth Project, which advocated against the use of meth, presented their "theme of 'not even once,' [where] TV commercials portray users to be immediately addicted at their initial sniff, swallow or injection of the drug, leading to ugly physical consequences."  Even famous journalist Dan Rather quipped that "journalism is more addictive than crack cocaine," using crack as a benchmark for endogenous addictiveness.
Since the public saw drugs such as meth and crack inherently addictive, policy makers sought to create public interventions to "eradicate" drugs from the streets.  In the 1970s, President Nixon launched the "War on Drugs", which was eventually escalated during the Reagan and Clinton administrations.  This war locked up hundreds of thousands of Americans in an effort to chasten future drug users by setting an example with existing drug users and dealers.  We also created treatment models based on the ideas of inherent addictiveness, and the permanent and chronic state of addiction that arose from using these drugs.
The most famous model/"self-help" group is, of course, Alcoholics Anonymous (AA).  AA's biggest adaptation to addiction theory is "the idea that alcoholics constitute a special group who are unable to control their drinking from birth."  Instead of all users of addictive chemicals eventually becoming addicted, only a chosen few had a "predisposition."  Those who had the predisposition were now addicted for life, and need to abstain from ALL psychoactive substance, usually through the use of a "support group" such as AA or offshoots like Narcotics Anonymous, lest they fall right back into full-blown addiction.
Questions Arise
However, the last few years have seen a "war over addiction," in which questions have arisen over the exact nature of addiction.  This "war" is coinciding with a growing push to question the "war on drugs" and the treatments we use with people suffering from addiction.  Some of these questions include:
Answering these questions is not a task that can be performed in a single article, unfortunately.  Instead this will have to be done through a multi-part series that will attempt to answer these questions by focusing on different periods in American's addiction history, and how those periods unfolded to leave us where we are today, starting with a signatory of the Declaration of Independence, Dr. Benjamin Rush.
Part I – "Ardent Spirits"
In addition to being a signatory to the Declaration of Independence, Dr. Benjamin Rush was also a pioneer in medicine before, during, and after the American Revolution.  While known for his "Miasma" theory of disease, he was also recognized for Americanizing the ideas of epidemiology and public health, and he was a leading figure in what would become known as the "Temperance Movement."  While being a "man of science," he was also religiously orthodox, "marked by faith in an absolute and heavily Calvinistic God."
His religious beliefs, in which sin was forgiven through purification via salvation, led him to believe that diseases were cured and prevented by the purification of environments of miasmic elements.  In other words, you would need to purify the air and water of the miasmic (aka smelly and undesirable) elements to ensure the environment didn't cause harm.
As a trained preacher, he combined his verve for public health and "purifying" with his public speaking skills to spread his message of cleanliness to fight diseases.  In this way, he was using what became the core element of public health:  messaging and education of the public to decrease the existence of disease and other ill health.
He adapted this approach to the "revivalist tent," in the very early 1800s, where he would also preach fervently against the use of "Ardent Spirits."  "Ardent spirits" was a term for beverages created via a distillation process (think whisky, brandy, etc.), that led to a high alcohol content.  Rush and others would use revivalist camps to spread the idea that drinking  ardent spirits would cause a disease to take hold within the drinker, who would no longer be able to control himself (men were the main focus of his studies, as they were the focus of most things during this time).
The first issue we have seen with the endogenous addictiveness of alcohol is that most people who drink alcohol don't become addicted.  The second problem was tied to a public health issue.  During Rush's time, there were no water treatment systems, so clean water was harder to come by.  One easy way of ensuring a drink was sanitary was if it contained alcohol.  The existence of alcohol within a beverage would ensure that the drink was safe.  People knew this as a fact but were still a few decades away from being able to identify why, as "germ theory" had not yet developed.  They did understand there was some form of impurity within their water, and that alcohol would cure this impurity, but could not identify the specific microorganisms that made people sick.  The presence of alcohol would stop these microorganisms from growing, meaning alcoholic beverages could be safer than water.
Because the consumption of some types of alcoholic beverages was needed to maintain public health, Rush created a "temperance thermometer."  This "thermometer" was used to show which alcoholic beverages were "safe," as opposed to "intemperate" beverages.  Intemperate beverages were those that contained too much alcohol (i.e., ardent spirits).  Intemperate beverages' higher levels of alcohol would cause a person to become addicted.  This was the effect of ardent spirits.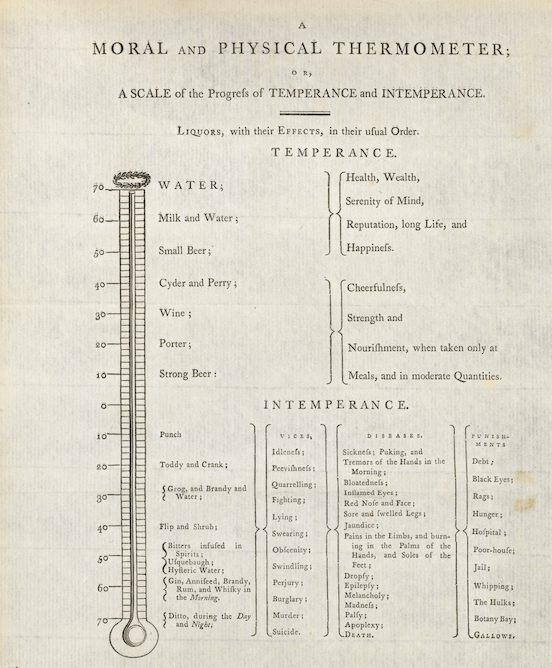 Now, a cursory examination of the theory does lend some credence to this idea that higher alcohol content would more likely lead to addiction.  The stronger the beverage, the more intense the effects.  The more intense the effects, the more intense the problems someone might have from drinking.  In fact, there is something called the "Disruption Hypothesis," which states that drinking "distilled liquor makes drunkenness easier and more likely," leading to the belief that those distilled spirits were in-and-of-themselves the reason people would habitually get drunk.
Conveniently, Rush and others like him could use the Disruption Hypothesis to explain social ills as well. Rather than it being a pre-existing economic state due to inequality, Rush explained poverty as a result of ardent spirits and their effects on intemperate men:
"[L]et us not pass by their effects upon the estates of the persons who are addicted to [ardent spirits] Are they inhabitants of cities? – Behold! Their houses stripped gradually… to pay tavern debts… Are they inhabitants of country places?  Behold their houses with shattered windows – their barns with leaky roofs…. Thus we see poverty and misery, crimes and infamy, diseases and death, are all the natural and usual consequences of the intemperate use of ardent spirits."
Rush didn't view the drinking of ardent spirits as an effect of the poverty he witnessed in the cities and countryside.  He saw ardent spirits as the cause.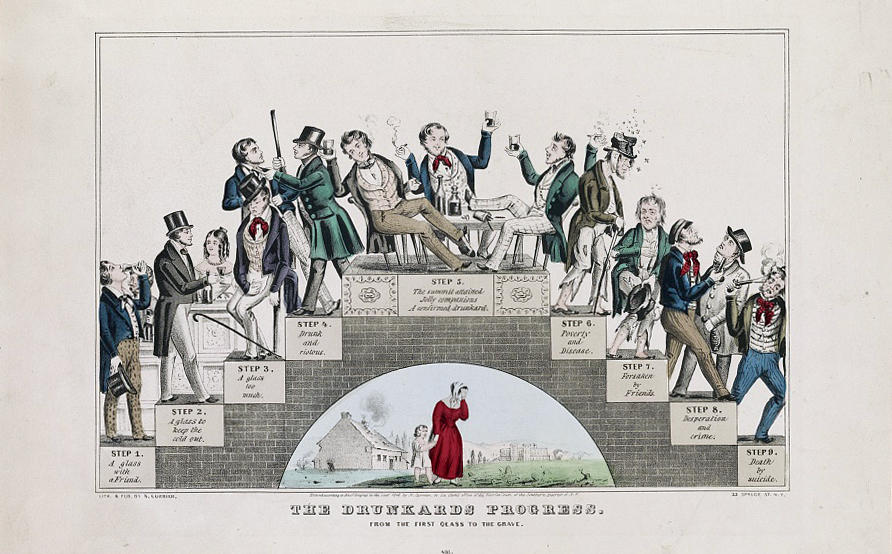 Here we can see a policy maker decrying poverty as an effect of drug abuse and addiction as far back as the early 1800s.  Doctors were already explaining to the public that addiction to alcohol was caused by the choice to drink ardent spirits, and this addiction caused poverty.  Even if the hope of the doctor was to create some sense of empathy, it's understandable that those citizens would back the creation of "poor houses."  These houses were used to ostracize and marginalize the poor for being… poor.
If the persons who were sent to the poor houses were there because of the effects of ardent spirits, especially if they drank ardent spirits even after the travelling revivalists came to town to teach them about their ill effects, then wasn't it really their own fault?  Sure, they now had a "disease" that eliminated their choice, but hadn't it been their choice to take the drink in the first place?  And if that had been their choice, wasn't it really their responsibility to find the will to get past this disease?
To show proof of the disease caused by ardent spirits, revivalists would search out people suffering from addiction and assist them in purifying their need for ardent spirits.  Those in the Temperance Movement would use religiosity and "spirituality" to help people find total abstinence from alcohol.
In fact, if you've ever been to a 12-step meeting, some of these tools will seem pretty familiar.   While we will discuss treatment models and AA in a later piece, it is important to see how this religiousness, specifically Protestant religiousness, connected to the idea of addiction as a "disease."
Their Protestantism "[rejected] the idea that insanity reduced people to animals [and embraced] the idea of mental disease" (Foucault in Levine, p. 8).  Protestantism, especially in the Temperance Movement, contained a "religious individualism."  This individualism lead to a belief in self-control, a trait needed to turn away from our natural state of sin and towards the enlightenment provided by God.  So, Temperance Movement adherents would work with sufferers of alcohol addiction to learn self-control over their disease using the tenets of Protestant religion.
As part of the Temperance process to regain self-control, and to show others how important it was for people to admit their disease caused by ardent spirits, folks who had found their way through alcohol addiction were placed on the stage at these revivalist camps.  People who had fought to gain back their morality and fight off the demons of ardent spirits were given the stage to tell their stories.  One man, paraded for the masses, was John Gough.  Gough became a "Temperance celebrity", using striking oratory to explain his suffering and eventual salvation, which was found after becoming a member of the "Washingtonian Total Abstinence Society":
"I was now the slave of a habit which had become completely my master, and which fastened its remorseless fangs in my very vitals. Thought was a torturing thing."
Like many members of Temperance "recovery" and "support" groups (those two terms had not yet come into parlance), Gough used vivid, almost religious, imagery of his suffering and his ability to find the courage (usually through God, but not always) to slay his demon and become free of the effects of ardent spirits.  His tale, like many others, was used both as a warning of the effects of ardent spirits and as a tale of hope for those already suffering from those effects.
Through the right lens, you can see a familiar story in this history—one that many people have already heard, whether personally, or through connections with others who suffered from addiction, or even in cultural artifacts like "People" magazine.  We start with a theory regarding the endogenous addictiveness of a psychoactive chemical, yet that endogenous-ness was somehow not total (in this case, endogenously to ardent spirits and not to alcohol specifically).  When it does happen, the inherent addictiveness causes a disease that ravages the body and mind, creating a person who can no longer temper their use of the psychoactive chemical.  That person then suffers from poverty and ill health because of the disease of "Intemperance" (not yet alcoholism or addiction).  All the while, the environment the sufferer existed within was only seen as an outcome of the disease, and not a possible cause.  And in terms of the cure, the theory places the onus on the sufferer to partake in "self-help" to rid themselves of the condition.
Right at the time of the Temperance Movement's "heyday" in the early to mid-1800s, there were ships full of immigrants from cultures tied to ardent spirits on their way to America.  In "Part 2," we will examine how the Temperance Movement reacts to these immigrant cultures, many of which had cultural connections to ardent spirits.  Would it be able to adapt to these cultures?  How would immigrants react to Temperance culture?  And how would legislators acknowledge this growing movement, especially when faced with a rapidly changing nation?
Editor's Note: All blogs in this series are available to read here.
***
Mad in America hosts blogs by a diverse group of writers. These posts are designed to serve as a public forum for a discussion—broadly speaking—of psychiatry and its treatments. The opinions expressed are the writers' own.
***
Mad in America has made some changes to the commenting process. You no longer need to login or create an account on our site to comment. The only information needed is your name, email and comment text. Comments made with an account prior to this change will remain visible on the site.