One of the primary arguments of critical psychiatry has arguably been a staunch rejection of 'reductionist' understandings of mental illness and the assertion that the 'brain disease' model leaves no room for meaning, human relationships, or social context. In a commentary in the BJPsych Bulletin, Mad studies scholar and psychiatrist Mohammed Abouelleil Rashed points to new, integrative approaches emerging from developments in science and philosophy built from these critiques. He suggests that it is time to transcend critiques focused on radical reductionism and instead look toward integration based on the continuity between the broader values of critical and orthodox psychiatry.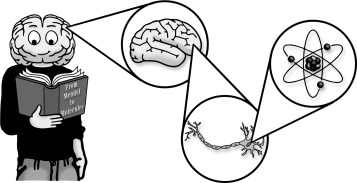 The notion that mental health disorders should be reduced to brain disorders has been charged with lacking scientific validity, falling prey to longstanding philosophical misnomers, hampering scientific progress and patient outcomes in the course of treatment and long after it.
Meanwhile, myths about critical and anti-psychiatry are rampant, with many onlookers believing, for example, that anti-psychiatry theorists oppose all psychiatric reform despite historical evidence that the movement has been capable of supporting limited agendas meant to meet immediate needs while pursuing the long-term goals. As with most revolutionary movements, voices urging the pursuit of common ground with more mainstream efforts can be heard alongside proponents of uncompromising radicalism.
Rashed, a Research Fellow at the University of London, is trained as both a psychiatrist and a philosopher of mental health and Madness. He uses this broad training to take stock of critical psychiatry's principle charge of reductionism. In light of emerging debates about the definition and classification of mental disorders, he suggests that this charge has been duly noted by mainstream psychiatry and belies its search for truly integrative models of mental illness.
Rashed takes Duncan Double's rendering of critical psychiatry as paradigmatic: 'functional mental illness should not be reduced to brain disease. ' Because psychopathology is functional, not structural (i.e., not denoting structural abnormalities in the brain), such reduction is ethically and scientifically unjustified. Yet, the more substantial purpose to critical psychiatry's message is that, even if all psychopathology was accounted for in structural abnormalities in the brain, this understanding suggests the wrong approach for classifying, understanding, and managing 'mental illness.'
While one still sees signs of the "goose chase" of causal, biological indicators of mental illness in psychiatry, Rashed points to a more recent, exemplary exchange on reductionism to discern what remains to be said by critical psychiatry.
Chiefly, arguments made for collapsing mental disorders and brain disorders into the overarching category, "disorders of the nervous system" is that "psycho-social factors 'interact strongly' with neurological disorders, whereas 'disorders of the mind are rooted in dysfunction of the brain.'" These have been countered with claims that psychiatry is not neurology and that the biological dimension of mental health problems should not obscure their social, cultural, and psychological dimensions.
What is important here is that, despite their opposite conclusions, these arguments are both non-reductionistic in their accounting for non-biological causal and risk factors. Rather, the question is one of emphasis: genetic and neurological, or psychosocial.
He suggests the forced choice of emphasis and the terms of the debate are, in fact, out of keeping with developments in new mental health sciences:
"Here, gene-environment interactions, social determinants of health over the life course, individual psychology, and neuroscience are all relevant for an integrated understanding of health… The aim is to move beyond a biopsychosocial model that is integrative only in name and towards one that can provide concrete risk and causal pathways across the range of factors of relevance to a particular health condition."
This exchange evinces the fact that it is possible to debate the distinction between mental disorders and brain disorders without falling into the radical reductionism against which critical psychiatry positions itself. If this reductionism is essential to critical psychiatry's continuing relevance, the author suggests that it may have run its course.
However, if critical psychiatry aims to go further in the search for truly integrative approaches to mental health, this juncture of a potential alliance with mainstream psychiatry should give its adherents cause for celebration. Continuing debates on the boundaries and definitions of mental illness, the validity of current classifications, the efficacy and risks of medication, mental health activism, and others show that these other facets of the constructive critique of psychiatry and society are alive and well.
While these debates continue, it may be time to lay to rest the version of critical psychiatry that clings to the core goal of ending radical reductionism. New terms of debate about mental disorder suggest that we look ahead to issues lying beyond reductionism.
****
Rashed, M. (2020). The critique of psychiatry as we enter the third decade of the  21st century: Commentary on Critical psychiatry. BJPsych Bulletin, 44(6), 236-238. doi:10.1192/bjb.2020.10 (Link)