An executive summary by the APA Council of Representatives, published in American Psychologist, provides guidelines for psychologists working with individuals of low-income and economically marginalized (LIEM) groups across areas of Education and Training, Health Disparities, Treatment Considerations, Career Concerns, and Unemployment.
Additionally, two cross-cutting recommendations are offered: (1) the intersection of economic status and other identities impacts psychological health; (2) biases and stigma exacerbate negative experiences. This long-overdue report contributes essential information to behavioral health professionals and researchers on how to work with LIEM groups.
"The goal of establishing the term LIEM is to draw attention to the contextual importance of economic marginalization, not to serve as an identifier or an absolute measure of socioeconomic status," the APA task force on LIEM issues writes.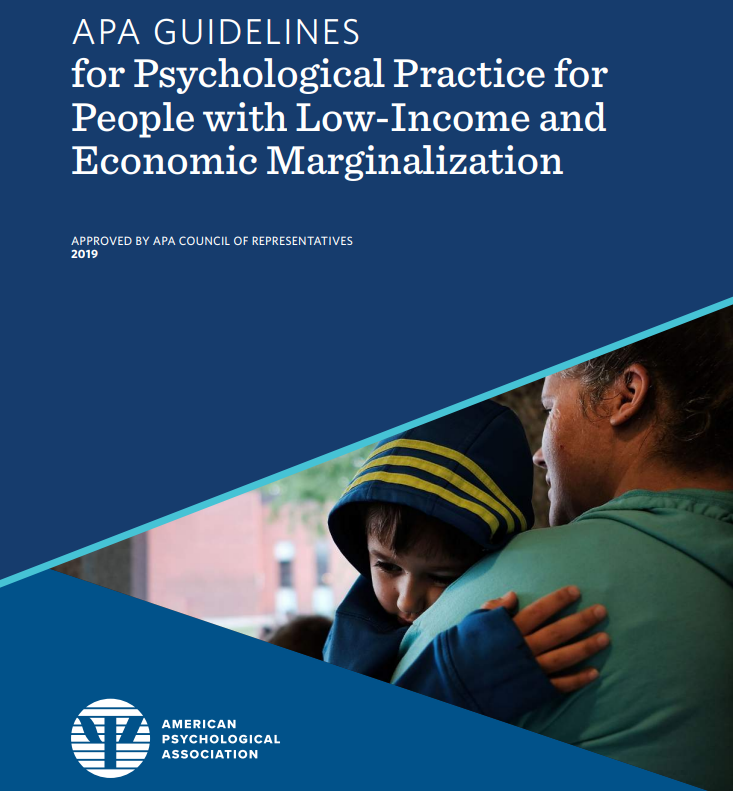 Socioeconomic status affects a wide range of health issues, such as pain treatment, provision of therapeutic treatment, suicide, and poor mental health outcomes more generally.
The first domain focuses on ensuring psychologists receive appropriate training and education, especially given that the majority of psychologists are distanced from issues of socioeconomic status and do not come from low-income backgrounds. To fulfill this domain, psychologists must strive to understand how personal biases related to social class may impact the training and education they provide. Psychologists should also increase their knowledge and understanding of social class issues through continuing education, training, supervision, and consultation.
The second domain centers on recognizing the links between adverse health outcomes and socioeconomic status. Psychologists are called to understand the contribution of economic and social marginalization to the substantial health disparities in our society. Furthermore, psychologists must strive to promote equity in access to quality health care available to people from LIEM backgrounds.
The third domain incorporates past evidence indicating that financial difficulties impact the delivery and efficacy of psychological treatment in best practice guidelines. As a part of this domain, psychologists should acknowledge the presence of social class as an influential aspect of mental health treatment settings.
Psychologists should also aim to understand the barriers that prevent people with low socioeconomic status from better accessing mental health care and make efforts to alleviate such barriers in the provision of psychological treatment. Additionally, psychologists would benefit from understanding the common clinical presentations that may be more likely to occur among people in LIEM situations and learn how to best address these issues within treatment settings.
The fourth domain discusses the intersection of LIEM identity with career concerns and unemployment, with the understanding that work is a pathway to power and economic wellbeing through increased resources. Psychologists may be aware of intersectional issues by building an understanding of the impact of social class on academic success, career aspirations, and career development throughout the lifespan.
Another way that psychologists can navigate this intersection is by seeking to understand the interaction between economic insecurity, unemployment, and underemployment and attempt to contribute to reemployment processes for individuals. The task force writes:
"Throughout this document, the task force has provided recommendations for skilled practice with LIEM populations. Regardless of these recommendations, if growing economic inequality and meritocracy remain the unquestioned status quo in the western world, these guidelines will remain aspirational. It is our belief that psychologists must view systemic economic injustice as a direct contradiction to mental wellness and not simply a proximal aspect of peoples' lives. When psychologists view economic marginalization with the same importance as other psychosocial factors, these guidelines will move from aspirational to enacted."
****
Juntunen, C. L., Pietrantonio, K. R., Hirsch, J. K., Greig, A., Thompson, M. N., Ross, D. E., & Peterman, A. H. (2022). Guidelines for psychological practice for people with low-income and economic marginalization: Executive summary. American Psychologist, 77(2), 291–303. https://doi.org/10.1037/amp0000826. (Link)