After my first forced hospitalization in 2009, I received the 'schizophrenia' classification. Together with the divorce from my husband, the side effects of the antipsychotics and the fact that I needed to quit my work at the university, this led to many years of depression. Eight times I suffered from psychotic episodes. In this essay I describe what helped me deal with the depression, the psychosis, the antipsychotics and what I do to lower them. I also write how my life has changed completely and that I wish to contribute to world peace via peaceful means now and help other vulnerable people. God inspires me.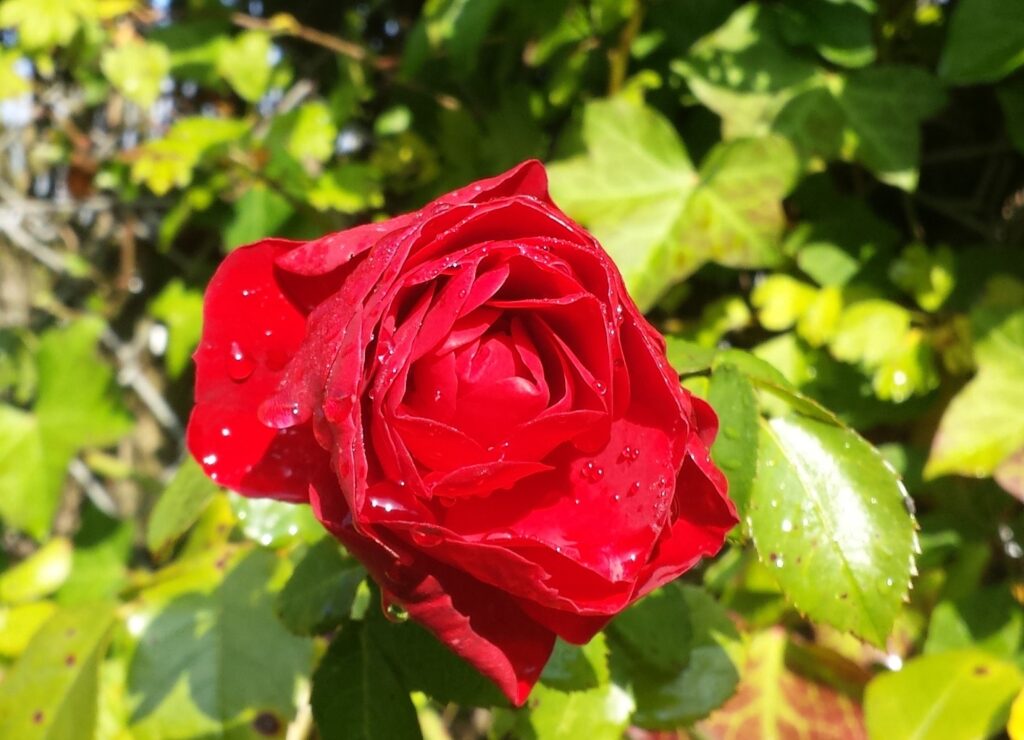 Dealing with depression: You may love yourself
The words 'schizophrenia', 'divorced' and 'quit my job' echoed in my head for many years. When I woke up late, I needed to throw up. I tried to relieve my suffering by doing some jobs for an Iranian news organization, by walking in nature and going out to a cafe. In addition, I had a boyfriend for several years. I got to know him in the mental hospital. Being in love eased my pain and his pain as well.
For many years, my sister called me every day to listen to my suffering. There was also a moment in time where I really couldn't bear it anymore. I asked for help and was hospitalized for two weeks because of my depression. The drawings of my son helped me to survive. It went a bit better when my psychiatrist gave me another type of antipsychotic and God told me to "be open about your vulnerability and come to my home." In this way, I gradually started to love myself again. That is what I would like to say to everyone. You may love yourself.
You are unique
You are also unique. People can tell you many things, but you may just need to accept them if they contribute to your life. In my case, the 'schizophrenia' classification didn't help. It made me feel worthless and like an outcast. It took me five years to see myself as a 'normal' person with a vulnerability to psychosis. Later on the classification was changed to 'schizo-affective disorder'. For me it makes more sense to say that I have a vulnerability to psychosis and mania. In addition, my nurse recommended me to do neuropsychological tests. The results were that my intelligence didn't match my education level anymore — my intelligence had gone backwards, they assumed. I was depressed for a day because my academic career had been so important to me. My sister talked me out of that feeling and my friends told me they didn't perceive a drop in my intelligence. Nevertheless, as a result, my psychiatrist didn't want to lower the doses of my antipsychotic, because the psychosis had already 'damaged' my brain, she said. I was convinced that I couldn't concentrate anymore due to the side effects of the antipsychotic.
Later on, I talked to the psychologist about the 'intelligence test'. She took my criticism seriously and said the neuropsychological research missed its goal. She discussed it with the other psychologists. Nevertheless, based upon my experience I would advise to never do an intelligence test when you don't feel fit and there is not really a need to.
Do what you can do and like to do
Just after my first forced hospitalization, I wrote a book to describe what happened inside my head. In this way, I could also do what I like to do. It was as if I was 'strengthening my brain' again. You may need to find out what you like to do and what you find meaningful. In the beginning it may be hard to discover what you like. I also worked at a farm and at a horse riding stable.
After the 'intelligence test', I decided to forget about it. I concluded that it is more important to have a beautiful heart then an analytical brain. I decided to follow my mission, working on world peace. First I was active for the peace organization Women for Peace and later on I founded Peace SOS. I started writing articles in Dutch national newspapers about how to achieve peace via peaceful means, and presented a peace manifesto.
Maybe you like writing as well, or something else — maybe photography or arranging flowers or making wooden chairs. It can be anything. If you can't think of anything, maybe you can do some exercise or go out for a walk.
The battle with antipsychotics resulted in a second forced hospitalization
I was convinced that my depression was also caused by the antipsychotic I was taking. I mentioned this to my psychiatrist. She wanted me to take the antipsychotic. After three years, because I continued to say that I suffered so much from the antipsychotic, she said that I could stop taking it 'cold turkey'.
I felt the idea that the secret service was spying on me come back again. I didn't dare to tell her, because I was afraid that she would raise the dose again. This resulted in my first forced hospitalization in 2009. A couple of years later, I still struggled with the antipsychotics and stopped taking them. This led to my second forced hospitalization. As I wrote in my previous story, I had the idea that spirits entered my body. I stayed in solitary confinement, sending out peace and love to the world. They gave me forced medication, and after a while I got out of my psychosis. In addition, I reached out to Dr. Jim van Os. He came to visit me for mediation, traveling from the south of the Netherlands where he worked (Maastricht) at that time to the center where I was hospitalized (Hilversum). He suggested that I might need to take antipsychotics for a while and he gave me hope. To this day I am very grateful that he visited me in the center of darkness, where I was isolated from the world.
Learning to trust the psychiatrists and nurses
During my second forced hospitalization a nurse said to me: "I can really see you are suffering, May-May." For me, this was an important sign of compassion. After my second forced hospitalization, I went to talk to the doctors. I said that mental health care should be improved and that I care about other psychiatric patients like me. The doctor said: "I care about them too." This made me realize that doctors and nurses really do their best to help patients in mental crisis, even if it sometimes doesn't feel this way. The next time I was in a mental crisis, I was voluntarily hospitalized. I was more open to the nurses and doctors. This helped me to recover more quickly — I was released after two weeks. This process was repeated several times until I learned to take into account that I have a vulnerability to psychosis and mania, and learned to monitor my mental health and take actions accordingly.
How my psychiatrist and I dealt with antipsychotics
After many years I was prescribed another antipsychotic. I still struggled with the side effects, but they didn't possess my mind the whole day. In addition, I got a new psychiatrist with whom I sought to maintain a balance between enough antipsychotics to not go into a psychosis again and little enough to not suffer so much from the side effects. Having something to say about how much antipsychotics I took helped stimulate me to take them.
Nevertheless, my wish to come off antipsychotics still remained because of the side effects. I suffered from depression, lack of energy, weight gain, and I slept 12 hours a day. A year ago, I read about medication 'tapering' on the Twitter account of Dr. Jim van Os. In this way, you can gradually reduce your intake of the drug. I had already learned to monitor my mental health and discussed it with my psychiatrist. She thought it was a good idea, despite the fact that I sometimes had a 'psychotic thought'.
I looked for a period with not much stress in my life to lower my dose of antipsychotics. I took 'tapering strips' and reduced the dose of my antipsychotic by half. It all went well. After 14 years, I left the mental clinic and now I am having talks with my GP sometimes. Maybe in future we are going to lower my dose of antipsychotics even more. Although I am also a bit nervous to get another psychosis again.
Using a signaling plan to monitor your mental health
At the mental hospital, I learned to make a signaling plan in order to prevent psychosis. The common elements are: four phases ranging from being 'in balance' to 'in crisis', the signals (such as being unable to sleep or concentrate), the actions you can do (such as going outside, getting away from the computer, canceling appointments) and the actions others need to do, such as asking me questions in a gentle way or discussing if I need to be hospitalized. You can find my signaling plan here.
The most important thing is that you learn to monitor your mental health. I try to make just one appointment per day and make sure I have enough time to rest or do spontaneous activities. Also I don't make too long video calls and I try to be outside in nature.
Raising my son, being divorced and having a vulnerability to psychosis and mania
My son is now fifteen years old. His father and I divorced when he was three years old. Just after we were divorced, I needed help to take care of my son. The help with care for my son by the mental hospital didn't come. Later on, I considered this as a blessing. I asked my father to be there, one of the days my son was with me. My father helps us with fixing things, and the idea that he was there gave me some rest. Due to the antipsychotics, I couldn't react fast, but sometimes my father or boyfriend helped when my son would run away on the street. Also due to my mental vulnerability, I tried to choose my 'battles' with my son's father in case there was a different point of view. I was simply too weak to make a fuss about everything and I wanted to keep a good relationship with the father of my son. When my son was young, I felt that I didn't see him that often and I missed him very much. My sister said, "He will grow up and then he will be able to visit you himself."
My son's father got a new partner. In the beginning it was difficult to accept that another woman would raise my child as well. I kept some distance from her at first, because I needed some rest and to heal. Later on, I was praying and said: "Father, please forgive us our sins, as we forgive others." I realized I had to forgive the father of my son for wanting to divorce from me. Since then, I feel better. I am grateful that my son has a bonus mother who also loves him. She also has two children who grew up with my son.
Called by God
God supported me during my psychosis. In 2009, he was there for me. I met him one night, and the next day a fellow patient was praying on the patio. She told me she had also had a vision of God and needed to tell me that I didn't have schizophrenia and that we are children of God. I still kept hearing God's voice in my head, but I was grateful that I could talk with another human being about it. I was afraid that I would lose God when I took antipsychotics again. That had happened after my first forced medication.
During my second forced hospitalization in 2013, I often went out to the patio. Through the fence, I could see the top of the roof of the Saint Vitus Church. I felt Christ talking to me again. One day, I felt locked up and so miserable, being in the heart of darkness. Christ encouraged me to look around me. I saw a beautiful red rose (the one in the photo above). I thought: "If such a beautiful rose can grow here in the darkness, this is a sign of hope. One day I will recover and I will do my best to contribute to world peace." Christ also showed me the world through his eyes. The bushes seemed as if they wanted to touch me; the organisms in the ground were full of life, the snails were moving and communicating with each other. Everything is full of life. We need to cherish all life.
I talked with the spiritual caretaker of the mental hospital. She had a quote on her wall which I wrote down in my diary:
If you don't see the hand of God
You can trust his heart
I was grateful that I could talk with her about God. Christ also encouraged me to be open about my mental vulnerability and come to his home.
After my release from the mental hospital I had several talks with Father Dresmé. I decided that I wanted to belong to the church. During a Holy Mass, during the consecration, a big man entered the church with a large bouquet of flowers. Church guards tried to send him away, because he was disturbing the Mass. Christ encouraged me to go to the man. I said, "You are always welcome in the house of God." He mumbled, "I am looking for a woman, I need to give her these flowers." I answered, "You don't know what she looks like?" He was quiet and looked away. Then I continued, "In any case, you are always welcome in the house of God." The big man looked at me, put the flowers in my arms and said, "I give them to you." He turned around and walked away.
After the Mass, a woman who was sitting a few benches behind me gave me the 'Miraculous medal.' She said, "It was so brave, what you did. From now on you will be protected by Mother Mary." I let myself be guided by God. He is within me. God is love. I think that all religions strive towards the same things: world peace, helping vulnerable people and taking care of our planet.
A World in Which All Children Can Play
God reaches out to other vulnerable people as well. Eva Ouwehand (2020) investigated religious experiences in people with bipolar disorder. She found that religious experiences mainly occur during mania. Her results show that more than 60% of the respondents see themselves as 'religious and spiritual' or 'exclusively spiritual'. This percentage in the general Dutch population is 31%. She suggests that a possible explanation is that after a manic episode in which a person has had religious experiences, the religious search has led to more religious and spiritual involvement, especially in the field of new spirituality. The documentary Crazywise also questions if psychosis should be considered as a mental breakdown or spiritual calling. In my case, I see psychosis and mania as both a mental breakdown and a spiritual calling. In addition, there are also many people who encounter God without having been in a mental breakdown.
It is time that our voices are heard. Time to take care of vulnerable people and to learn from them; time to end hunger; time to live in harmony with nature, and ban nuclear weapons and killer robots worldwide. It is time for world peace: "A World in Which All Children Can Play."
***
Mad in America hosts blogs by a diverse group of writers. These posts are designed to serve as a public forum for a discussion—broadly speaking—of psychiatry and its treatments. The opinions expressed are the writers' own.
***
Mad in America has made some changes to the commenting process. You no longer need to login or create an account on our site to comment. The only information needed is your name, email and comment text. Comments made with an account prior to this change will remain visible on the site.