New research has shown that only about 15% of people improve more on antidepressants than they would on a placebo. The other 85% are unnecessarily exposed to the harms of the drugs—including sexual dysfunction, weight gain, and emotional numbing. But how to identify that small group of people for whom the drugs seem to be effective?
One recent attempt is pharmacogenomic testing. According to the theory, DNA tests can reveal whether a person has genetic factors that interact with the drug's effectiveness. With this information, doctors could avoid drugs that have their effectiveness "blocked" by a person's genes.
Sounds good in theory. But researchers have had mixed results when testing it so far. For instance, the large randomized controlled trial of pharmacogenomic testing (GUIDED), failed on its primary outcome of symptom improvement—although the secondary outcomes showed a slight advantage for those who received testing.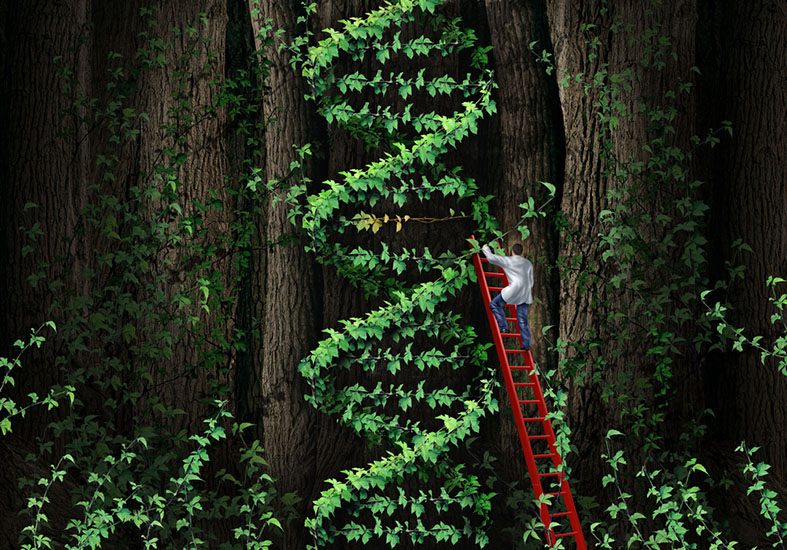 Now, researchers have attempted another large randomized controlled trial of pharmacogenomic testing (called PRIME Care). A total of 1944 patients took part, recruited from 22 Department of Veterans Affairs (VA) medical centers.
In the group that received pharmacogenomic testing, only 18% of the prescriptions had drug-gene interactions, while in the group that did not receive testing, 45% of the prescriptions had drug-gene interactions. In this way, the study could be seen as a success—access to testing meant that far fewer people received drugs that were predicted to interact poorly with their genes.
And this also seemed to improve some outcomes slightly. By the halfway point of the study (12 weeks), 16.5% of those who received testing had recovered from depression ("remission"), while 11.2% of those who did not receive testing had recovered. A promising start.
However, by the endpoint of the study, this small difference had disappeared. The difference between groups was not significant at 24 weeks (six months).
"Overall, there were small positive effects on symptom remission over the 24 weeks with peak differences early in the trial and no significant difference in remission at 24 weeks. The secondary outcomes of response and symptom reduction followed similar patterns," the researchers write.
That is, receiving pharmacogenomic testing did reduce the amount of predicted drug-gene interactions—but it did not improve actual outcomes by the end of the study. Both groups were just as (un)likely to recover from depression: 17.2% versus 16.0%.
Another way to look at this is as a study of antidepressant effectiveness. At the six-month mark, taking antidepressants led to recovery for 17.2% of people at most.
What about the secondary outcomes? Well, at 24 weeks, 32.1% in the testing group experienced "response" (at least a 50% reduction in PHQ score). That number was 27.5% in the non-testing group, a statistically significant difference. However, over the course of the study, that number was not consistent. At the assessment just previous to that one (18 weeks), the groups were no different in terms of "response."
The researchers also note that secondary outcomes should be considered "exploratory" since they did not control for multiple testing (which makes positive findings more likely by chance). And they add that they switched the type of statistical test used to compute their outcomes, rather than sticking to the analysis they wrote in the study protocol (which could introduce further bias).
One more methodological point: The researchers write that even the small positive effect early in the trial—which disappeared by the endpoint—may have been a result of the placebo effect. Patients, or their doctors, may have expected those who received genetic testing to improve more.
The researchers write, "There was no attempt to blind either the clinician or patient in the study. Thus, the modest effects in the pharmacogenomic-guided group could be a placebo-type effect."
Finally, they suggest that there may be a small group of people who benefit from pharmacogenomic testing—those who have specific genetic traits that are known to interact with antidepressant drug metabolism. However, their study was not able to find such an effect, suggesting that the amount of people who would benefit is very small or that the effect is marginal at best.
****
Oslin, D. W., Lynch, K. G., Shih, M. C., Ingram, E. P., Wray, L. O., . . . Thase, M. E., and the PRIME Care Research Group. (2022). Effect of pharmacogenomic testing for drug-gene interactions on medication selection and remission of symptoms in major depressive disorder: The PRIME care randomized clinical trial. JAMA, 328(2), 151-161. doi:10.1001/jama.2022.9805 (Abstract)