Clinical trials typically find that antidepressants are slightly better than placebo, at least in the short term. However, many researchers argue that this difference—about two points on a 52-point depression scale—is clinically imperceptible.
The question is what this minimal average difference means. There are two possibilities:
Most people experience just a tiny bit more improvement on the drug (a 12-point improvement) than they would on a placebo (a 10-point improvement); or
A small group of people experiences a larger effect from the drug, which is canceled out on average by the larger group of people who experience no effect.
In a new study, researchers have now concluded that it is the latter—in clinical trials, about 15% of people experienced a large effect from the antidepressant drug that they would not have received from the placebo. The authors write:
"The observed advantage of antidepressants over placebo is best understood as affecting a minority of patients as either an increase in the likelihood of a Large response or a decrease in the likelihood of a Minimal response."
The paper appeared in BMJ. It was led by Marc Stone at the FDA's Center for Drug Evaluation and Research. Also, it included famed Harvard placebo effect researcher Irving Kirsch, as well as researchers from Johns Hopkins and the Cleveland Clinic.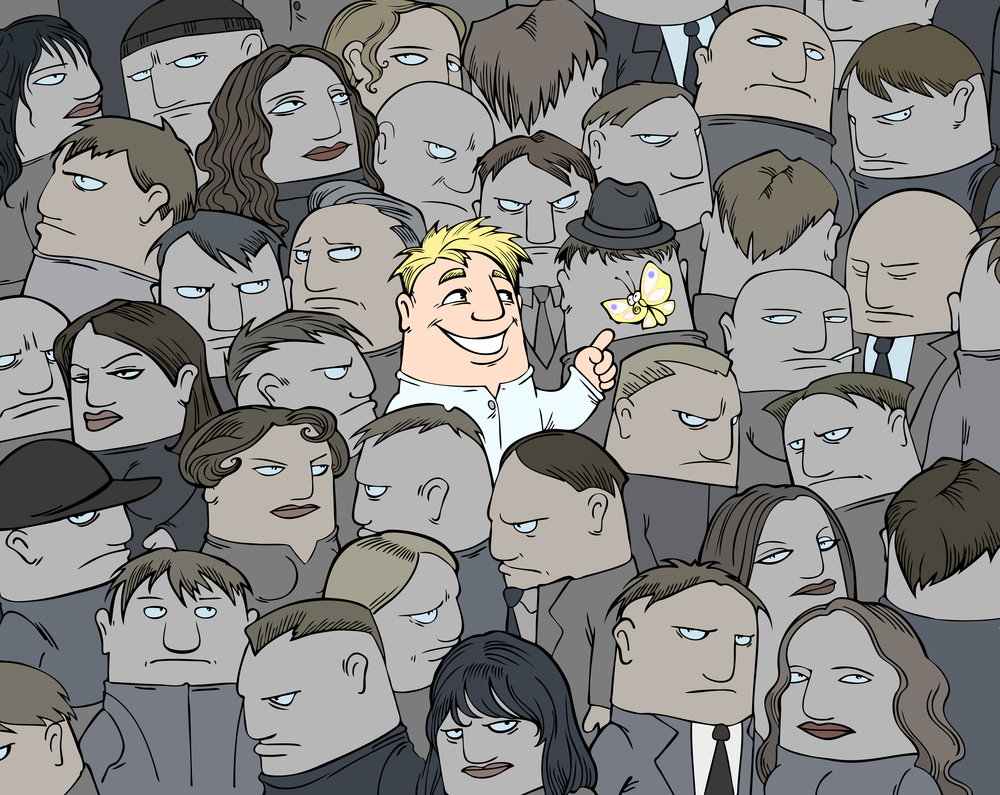 The study was a participant-level analysis of the double-blind, placebo-controlled trials of antidepressants to treat depression submitted to the FDA. The data included 242 studies that were conducted between 1979 to 2016—a total of 73,388 participants.
The researchers accounted for age, sex, and baseline severity of depression in their analysis.
Consistent with the previous research, they found the usual, minimal, less-than-two-point difference between the drug and the placebo effect, on average, across all 73,388 participants.
"The difference between drug and placebo was 1.75 points," they write.
(This is the average for adults. For children and adolescents, the average difference between drug and placebo was less than 1 point, at 0.71.)
For both the drug and the placebo group, adults were more likely to get better if they were younger and had worse symptoms at the start of the trial.
However, because this was an individual patient-level analysis, the researchers were also able to break down the statistics further. They found that those who took the drug were a little more likely to experience a large improvement than those in the placebo group.
They write, "About 15% of participants have a substantial antidepressant effect beyond a placebo effect in clinical trials."
Essentially, the researchers suggest that there is a small group of people for whom the placebo response doesn't really happen and for whom the antidepressant drugs reduce symptoms.
More Information
The drug and placebo groups both had extremely high rates of symptom improvement: 84.4% of the placebo group found their depression symptoms improved, while 88.5% of the drug group improved. However, in many cases, this "improvement" was small.
More important is the number of people who experienced a large improvement. This improvement is more likely to be clinically relevant. The researchers found that those taking the drug were more likely to experience this level of improvement—24.5% of the antidepressant group experienced large improvement, versus 9.6% of the placebo group.
Based on these numbers, there seems to be a small group—about 15% of people—who experience a large response to the drug who would not otherwise improve to this level.
Unfortunately, the researchers found no way to predict who, exactly, is in this 15%. They write that if everyone with a depression diagnosis is given an antidepressant, about seven people need to be given the drug (and thus be exposed to the harmful effects with no benefit) before one person benefits.
"Further research is needed to identify the subset of patients who are likely to require antidepressants for substantial improvement," they write.
"The potential for substantial benefit must be weighed against the risks associated with the use of antidepressants, as well as consideration of the risks associated with other treatments that have shown similar benefits."
Common risks of antidepressants include weight gain, sexual dysfunction, and emotional numbing, and the drugs are challenging to discontinue once started.
Explanations for the Findings
Despite some newer arguments that the placebo effect has been increasing over time—thus making new drugs look worse—the researchers found that the placebo effect has remained stable since the 1980s.
"Depression symptoms" measured on common depression questionnaires include bodily responses like sleep and eating, and the drugs' sedative and appetite effects could account for some of this improvement.
Another explanation is that some people receive an enhanced placebo effect because they can tell, from the side effects, that they are in the active drug group (breaking the "blind" of the study).
Clinical trials also usually hand-pick their participants, searching for those with no other conditions and who are not suicidal. This makes them very different from the individuals most often treated with the drugs in real life.
Indeed, in a study this year, other researchers found that response to treatment is much lower in real life. For example, in a study where over a thousand people with depression were treated with antidepressant drugs—more than half on multiple drugs—as well as therapy and hospitalization, less than a quarter responded to treatment.
In another paper, those same researchers also found that those with more severe depression, those with comorbid anxiety, and those who were suicidal were least likely to benefit from the drugs.
****
Stone, M. B., Yaseen, Z. S., Miller, B. J., Richardville, K., Kalaria, S. N., & Kirsch, I. (2022). Response to acute monotherapy for major depressive disorder in randomized, placebo-controlled trials submitted to the US Food and Drug Administration: individual participant data analysis. BMJ, 378(e067606). http://dx.doi.org/10.1136/ bmj-2021-067606 (link)