After we published our report "Psychiatry, Fraud and the Case for a Class-Action Lawsuit" on August 13, psychiatrist Awais Aftab—who has staked out a public persona as a reformer and critic of his profession—weighed in with a review on Twitter. Here was his initial tweet: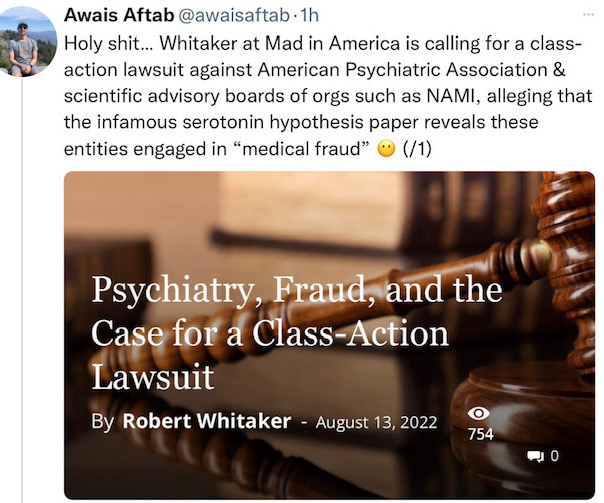 I have to confess that I know very little of the Twitter world. I occasionally get notices in my email telling me of a tweet by critics of psychiatry, although I am not even sure how that notification came about. But I very much appreciated Aftab's initial tweet—I mean, could anyone ask for a better review than "Holy shit"?
However, I figured that in his case, it wasn't a prelude to a review that praised the article. And after his first "Holy shit" tweet, Aftab followed up with a longer thread of tweets, which told of his unhappiness with me and other "critics" of psychiatry, and that in turn triggered a number of tweets in response that Aftab didn't appreciate, and he pulled the thread down.

As I am not a Twitter visitor, I didn't follow the thread. I have long stopped worrying about such criticisms, and I imagined this was just more of the same. However, several people emailed screenshots of the thread, and once they did, I saw that Aftab had made a public accusation that couldn't go unanswered. His was an accusation of journalistic malpractice, and it was designed, of course, to undermine the credibility of our report.
In his tweets, Aftab focused on a brief passage in our report that told of how the American Psychiatric Association (APA), in a page on its website still visible today, continues to mislead the public about the efficacy of antidepressants. He tweeted that I had "twisted the facts" about what was presented on the website, and that it was an example of how I "embellished" things, and how such "misrepresentation(s) add up."
Now, it is easy to show that I did no such thing, and that the page misinforms the public about the effectiveness of antidepressants and, even more broadly, about the outcomes for patients that are treated for depression. Indeed, his accusation provides an opportunity to set forth in detail just how egregious the deception is, and in that manner add to the evidence of how the APA, as a guild, regularly misleads the public about the efficacy of its treatments.
His tweets are revealing in another way too. They tell of a powerful flareup of cognitive dissonance. While his tweets are his own, they are representative of responses by many psychiatrists to critics who have pointed out that psychiatry's public pronouncements are, with some regularity, belied by its own research. The cognitive dissonance appears every time: the critics are dismissed as biased, or motivated by animosity toward the profession, and so on, and in this way the field avoids recognizing its own behavior as faulty and in need of reform.
This is why psychiatry cannot be expected to reform itself. The guild simply can't bear to confront the reality of its own research. Perhaps public pressure could force such change, but medical professions in the U.S. are treated by the mainstream media as speaking with authority, and that limits the possibility of public pressure as a change agent. That leaves the law as the only possible lever for prompting such wholesale reform.
One way or another, our society needs psychiatry, as the medical specialty that oversees this domain of our lives, to provide us with honest information about the "biology" of psychiatry and the merits of its treatments.
Cognitive Dissonance as a Barrier to Reform
The premise of cognitive dissonance is that individuals experience psychological distress when their behavior is at odds with their ethical beliefs, or when they are trying to hold incompatible thoughts. Individuals experiencing cognitive dissonance have a desire to reduce their feelings of discomfort by attempting to reconcile their conflicting beliefs and behaviors, or their incompatible thoughts. Two social psychologists that have studied cognitive dissonance, Carol Tavris and Elliot Aronson, put it this way:
"Because most people have a reasonably positive self-concept, believing themselves to be competent, moral, smart and kind, their efforts at reducing dissonance will be designed to preserve their positive self-images—even when that perpetuates behavior that is incompetent, unethical, foolish or cruel."
Dissonant states, they note, may be resolved in numerous ways. We are more likely to notice and remember information that confirms our beliefs, and ignore or discount information that threatens our beliefs. If we are forced to confront information that threatens our sense of self, we may simply reject the information (it's just wrong), or metaphorically kill the messenger (he's biased, or has evil motives), or find reasons to justify it.
Unfortunately, studies have found that we are unaware of our own cognitive dissonance. The unconscious mind seeks to resolve the psychological distress by constructing a narrative, on the fly, for the conscious mind that preserves one's positive self-image.
"The nonconscious mechanism of self-justification is not the same thing as lying or making excuses to others to save face or save a job," Tavris and Aronson write. "It is more powerful and more dangerous than the explicit lie, because it blinds us from even becoming aware that we are wrong about a belief or we did something foolish, unethical, or cruel. Dissonance theory therefore predicts that it's not only bad people who do bad things. More often, the greater problem comes from good people who do bad things or smart people who cling to foolish beliefs, precisely to preserve their belief that they are good, smart people."
Provoking Cognitive Dissonance
When Joanna Moncrieff, Mark Horowitz, and colleagues published their finding that there was no good evidence that low serotonin caused depression, it caused a great stir with the public, quickly garnering more than a million reads, and generating a measure of cognitive dissonance within the psychiatric profession.
A number of psychiatrists said this had long been known, dismissing it in importance, while others criticized the study, questioning the findings. Others sounded a "no harm, no foul" excuse: "Antidepressants work." All of these responses had the effect of downplaying the significance of the paper and reassuring the public that antidepressants were a helpful treatment, and in that way soothed dissonant feelings that Moncrieff's paper was an embarrassment for psychiatry.
Our MIA report published on August 13 was certain to provoke an even stronger dissonant response in psychiatrists who read it. The report documented how the APA continued to promote the chemical imbalance story to the public for years after its own textbook had declared it dead and buried.
That was a description of a guild's unethical behavior. Patients were told they suffered from a chemical imbalance in the brain, the public understood that was true, and all the while academic psychiatrists—and APA leaders—knew that it wasn't. This obviously presented psychiatrists with a "cognitive dissonance" moment: how could they reconcile those facts with their own self-image as medical doctors who treat their patients well, and in an ethical manner?
Many community psychiatrists, upon reading this, might have felt a dissonance of a different sort. Many undoubtedly had thought the chemical imbalance story was, in fact, true. So why would the guild deceive the public—and its own members—in this way?
In addition, our report investigated the "antidepressants work" response. That literature review told of how outcomes for "real-world" patients treated with antidepressants are poor, and that long-term studies provide reason to conclude that antidepressants increase the likelihood that a person will become chronically depressed and functionally impaired. This was sure to provoke the strongest dissonant feeling of all: psychiatrists had built their professional careers on the understanding that antidepressants and other psychiatric drugs "work."
The research review, versus their understanding that "antidepressants work," presented two "incompatible" thoughts. And so the obvious "cognitive dissonance" response: the report "twisted" the truth. The author "embellished" things. And now prescribers could relax: Antidepressants, after all, did "work."
Aftab's Tweets
Awais Aftab has staked out a presence on Twitter as a psychiatrist who readily engages with the public, and as a go-to person for the media when it is looking for someone to comment on critics of psychiatry, or on controversial papers that challenge conventional wisdom. He provided comments on Moncrieff's paper, in ways that were not particularly flattering, and I wasn't surprised to learn that he had quickly pushed the "send tweet" button on his phone after our MIA report was published.
There are several examples of cognitive dissonance in his tweets that can be easily identified. They don't require much explication. However, his charge that I "twist" the facts requires an in-depth response, as it seeks to challenge the integrity of the report (and my reputation.)
A Slip of the Tongue
In his initial "Holy shit" tweet, Aftab refers to Moncrieff's paper as "infamous." Now, the paper followed a clear scientific process, and from that perspective, there was nothing controversial about it, and yet here is the definition of infamous: "well known for some bad quality or deed; wicked; abominable."
I imagine this was an unconscious choice of words. However, it revealed Aftab's discomfort with a paper that put a spotlight on a falsehood that the public had come to believe.
Introducing a Red Herring
In his opening tweet, Aftab asserts that I am calling for a class action lawsuit because Moncrieff's paper "alleged" that the APA and other "entities engaged in medical fraud." That is not the case at all.
Moncrieff's paper didn't allege that the APA or other entities engaged in medical fraud. I did. I wrote my paper in response to public comments by prominent psychiatrists that they had long known that the low serotonin theory of depression was false. These comments served as confessions, I wrote, of medical fraud. And then our report provided a detailed account of that fraud.
Aftab's description of our report hides that theme of documented fraud. Instead, I am presented as relying on an "infamous" paper to attack psychiatry. And that is apparently so outrageous that it deserves a "Holy shit" exclamation—can readers believe what a monstrous thing this is to do?
Kill the Messenger
This is a response that can be expected to surface whenever there is a presentation of information that threatens one's beliefs or sense of self. The "messenger" is denounced as biased, or driven by animosity.
Here is a string of tweets that fit into the "kill the messenger" category: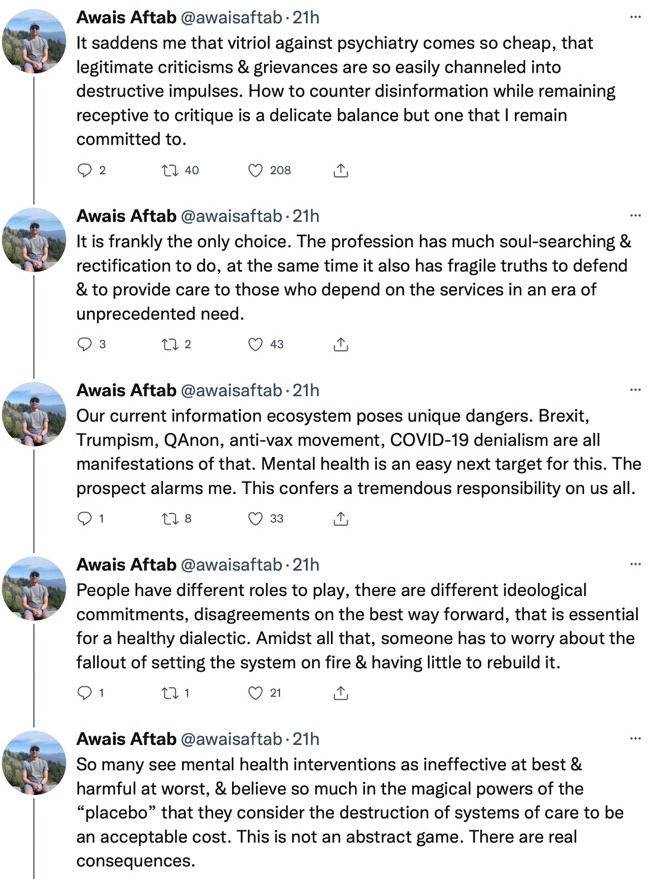 Cheap vitriol, destructive impulses, disinformation, Brexit, Trumpism, QAnon, anti-vax movement, COVID-19 denialism, setting the system on fire, destruction of systems—that is an avalanche of disparaging adjectives, aimed apparently at me and others who go too far in their criticisms (beyond what Aftab can tolerate.) Meanwhile, he "struggles to counter disinformation while remaining receptive to critique."
Hence the cognitive dissonant resolution: at least there is one person with an open mind to be found in this "debate."
Whitaker "Twists the Truth"
In terms of a cognitive dissonance response, this accusation is designed to be the one that puts the matter to rest. There is no reason to be disturbed by the report because it isn't true.
However, given that this one disparages the integrity of the report (and my integrity as a journalist), this tweet needs to be responded to in detail.
Aftab's Accusation
In response to Moncrieff's paper, a number of psychiatrists voiced a "no harm, no foul" excuse. "Antidepressants work," they said. In my MIA report, I examined that claim with this intent: Was this a statement that provided the public with "informed consent?" This was just one section in a long report, and so I quickly summarized three types of evidence relevant to the question:
In industry-funded trials, antidepressants provide a greater reduction of symptoms than placebo by two points on the 52-point Hamilton Depression Rating Scale, a difference of questionable clinical significance.
In studies of "real-world" patients, only a minority of patients respond to the drug, even for a short time, and stay-well rates at the end of one year are particularly poor.
There is evidence that over the long-term antidepressants increase the risk that a person will become chronically depressed and functionally impaired.
At the conclusion of this section, I wrote:
This, of course, is information that would enable patients to make an informed choice about whether to take an antidepressant. Yet—and this is an example of how the APA continues to misinform the public—here is what the APA currently tells the public about the efficacy of antidepressants:
"Between 80% and 90% of people with depression eventually respond well to treatment. Almost all patients gain some relief from their symptoms."
Those are the two paragraphs, in a report that was more than 8000 words long, that Aftab seized upon to accuse me of journalist malpractice.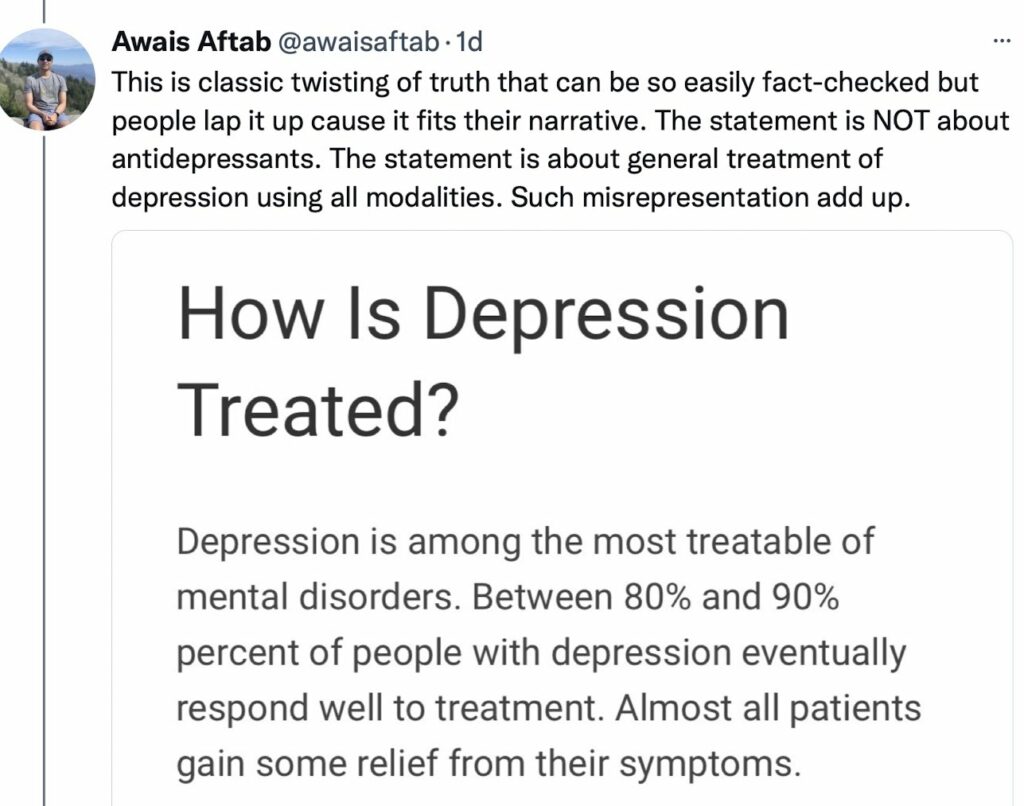 And here's the thread that followed: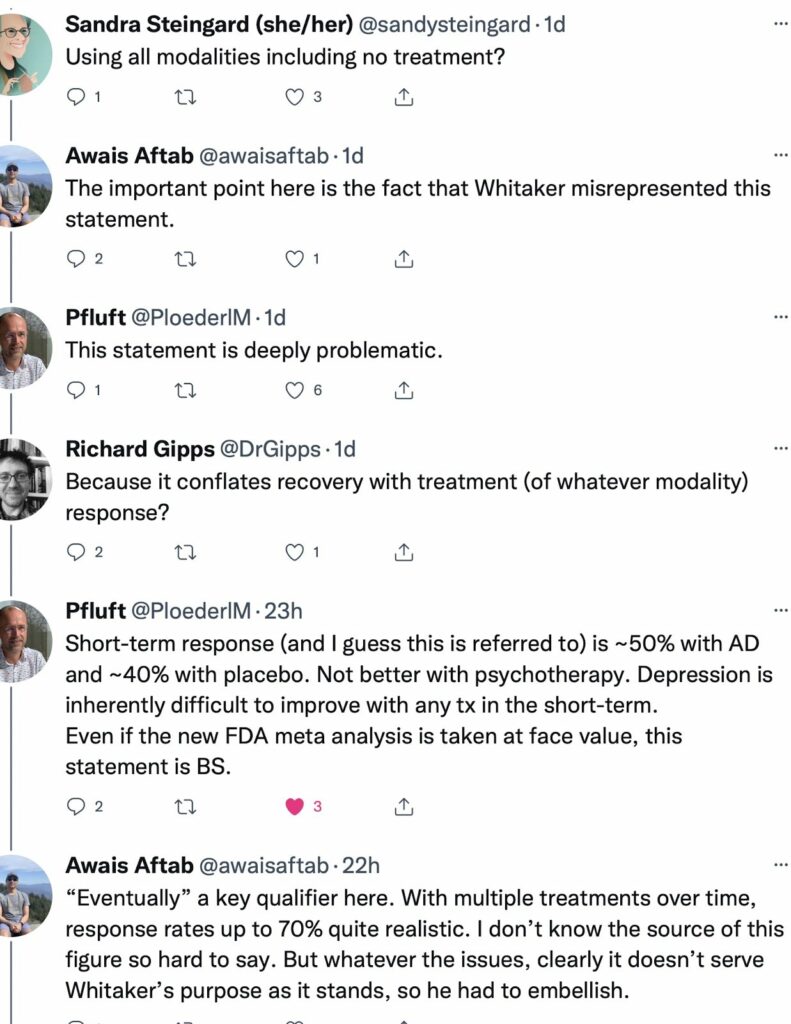 Although I am not positive, I think Aftab is maintaining that the "80% to 90%" good outcomes figure is derived from research that shows that if a first modality doesn't work (antidepressants), then a second modality can be tried (psychotherapy), and if that doesn't work, then a third can be tried (ECT), and somehow at the end of this process, 80% to 90% of patients will have "responded well" to treatment, and nearly all will have gained some relief—e.g. nearly everyone is doing better than at baseline.
Thus, he is saying, the passage is not informing the public about the efficacy of antidepressants, but rather of the good outcomes that arise from psychiatry's deployment of the three treatments mentioned on the web page: antidepressants, psychotherapy, and ECT.
The APA's Web Page
Fortunately, there is a document that readers can review to assess the merits of his charge. Below is snapshot of the page that I had linked to (click on image to enlarge):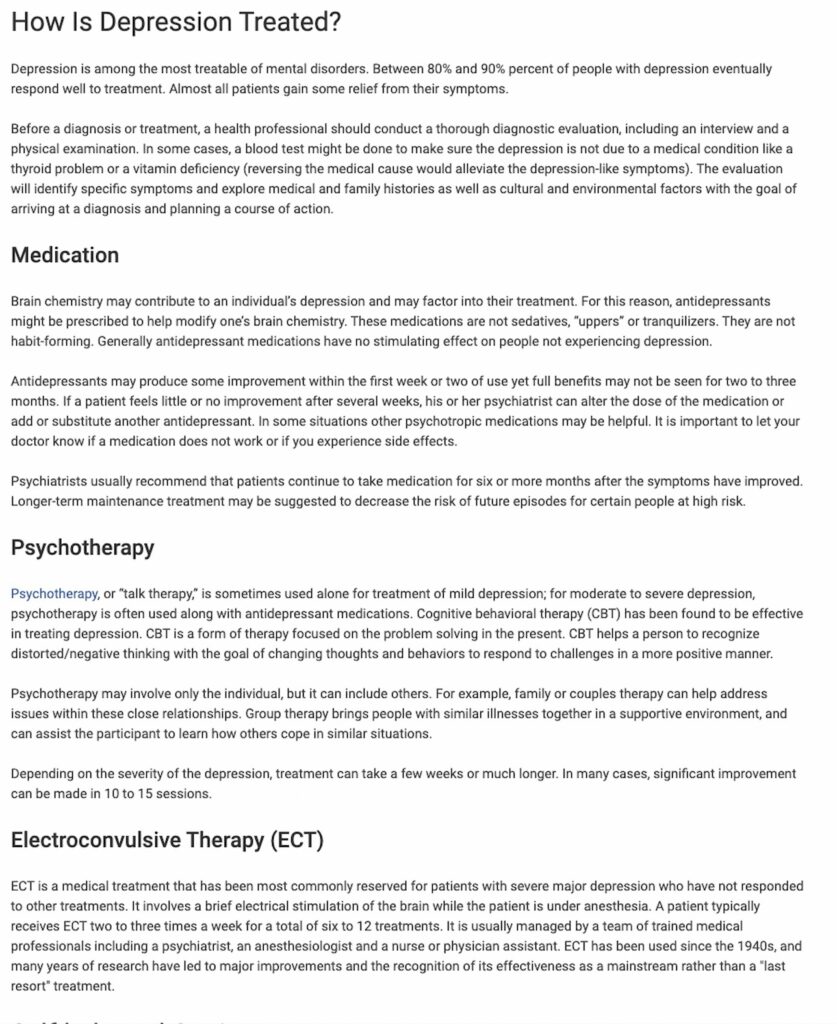 There is a subtle way that this text is informing patients of the "efficacy of antidepressants," and it relies on a trick common to PR efforts.
The first paragraph presents a statistic (80% to 90%) that tells of positive outcomes for patients who are treated for depression. The use of a statistic provides the passage with an aura of being scientific, and the lay reader is being prompted to think that this statistic comes from clinical research. However, there is no citation given for it, and equally important, there is no explanation for how it may apply to any one treatment. Nor is there any other "outcomes" statistic cited in this passage. It's that vagueness that makes for effective PR: the statistic floats in the air, with the reader's mind ready to apply to whatever he or she reads next.
That "next" moment tells of antidepressants, which of course is the treatment that is regularly prescribed for people with depression. The section begins by telling visitors a mild version of the chemical imbalance theory: "Brain chemistry may contribute to an individual's depression and factor into their treatment. For this reason, antidepressants might be prescribed to modify one's brain chemistry." Then it informs readers of the efficacy of these drugs: "Antidepressants may produce some improvement within a week or two of use yet full benefits may not be seen for two to three months."
The visitor to this APA page on depression will then learn that psychotherapy and ECT are effective too.
Now imagine that a visitor to this page shuts his or her computer after reading this text and a family member asks them what they learned about antidepressants. The visitor's mind will recall the one outcomes statistic that was presented, that 80% to 90% respond well to treatment, and conclude that this is the outcome to be expected at the end of two to four months on an antidepressant when the "full benefits" arrive.
That is the power of that floating statistic. The reader will apply it to the antidepressant treatment—after all, "full benefits" will eventually arrive—and that becomes his or her understanding of the "efficacy" of this treatment. Indeed, as there is no claim in this passage that the 80% to 90% figure represents outcomes after all three treatments, visitors to this page might conclude that regardless of which of the three therapies they chose, they would have a 80% to 90% chance of "responding well."
However, it is possible to see how Aftab's mind exploited the vagueness of the APA's claim in this web page. In order to capture that vagueness in my report, I should have written: Here is what the APA currently tells the public about the efficacy of antidepressants and its other treatments for depression. It was the absence of those last five words that enabled Aftab's mind to think "gotcha," and once he grabbed onto that idea he was all in. His mind needed to conjure up an explanation for the "80% to 90%" respond-well claim, and it quickly cobbled together the notion that it was cumulative outcomes the APA was talking about (even though there is no claim to that effect in the APA's text), and once his mind had done that, voila—Whitaker "twists the truth!"
Only then a responder to his tweet, Pfluft, called him on his claim: he smelled "BS." And so Aftab's mind now had a new cognitive dissonance challenge, and it put together a quick addition to his defense of the APA's "respond-well" claim: these were "eventual" outcomes, and it was over time that the respond-well outcome climbed to 70%, and no he didn't have a source for that 70% figure, which admittedly was a bit short of the APA's 80% to 90% figure, but that didn't really matter, the important point was that Whitaker couldn't be trusted. And it was then, I believe, that Aftab shut down the thread.
Such is cognitive dissonance at work. However, there is an important factual point to further review here. In the report, I cited the web page as evidence that the APA was continuing to deceive the public about the outcomes for patients treated with antidepressants. The real-world studies I cited in the report reveal just how egregious the APA's ongoing deception is, and how far off Aftab was with his claim that eventually 70% of depressed patients respond well to treatment.
Outcomes for Real-World Patients Treated for Depression
As my review of the research regarding the risk/benefit profile of antidepressants was just one section in a long report, I did not describe the "real-world" studies in any detail. However, those studies belie Aftab's claim that the outcomes for depressed patients in clinical settings "eventually" end up quite good. Together, these three studies did not just tell of poor outcomes with antidepressant treatment, but rather of poor outcomes for patients treated in clinical care settings. The patients were provided with various clinical supports, and in two of the three, many patients also received psychotherapy.
Study one: One-Year clinical outcomes of depressed public sector outpatients.
In a study of 118 real-world patients, the researchers explained that "treatment was delivered under conditions specifically designed to maximize clinical outcomes, which included the use of medication algorithms, additional trained clinical staff support, patient and family education, regular assessment of symptoms and side effects at all medication visits, the use of a clinical procedures manual, and expert consultation."
Response and remission rates at the end of 12 months were 26% and 13%. These results "reveal remarkably low response and remission rates," the researchers wrote. They further noted that these results were superior to a "treatment as usual group" that did not get the "enhanced treatment package," and thus outcomes in ordinary clinical care were likely even worse than this.
When the NIMH launched its STAR*D study, it touted it as the "largest and longest study ever done to evaluate depression treatment." This study in real-world patients, the NIMH investigators stated, would produce results that would guide clinical care in the United States. "Given the dearth of controlled data [in real-world patient groups], results should have substantial public health and scientific significance, since they are obtained in representative participant groups/settings, using clinical management tools that can easily be applied in daily practice." The results, the NIMH promised, would be "rapidly disseminated."
The study was designed to mimic real-world prescribing practices in outpatient settings. If the first antidepressant didn't work, then a second one could be tried, and ultimately patients were given up to four tries to see if they could find one that would produce a remission of their symptoms (defined as seven or below on the Hamilton Depression Rating Scale). During this phase of active treatment, there was also the opportunity for patients to receive cognitive therapy alone or in combination with citalopram, a design that showed this would be a study, as the NIMH said, of "depression treatment" and not just of antidepressants. The patients treated with psychotherapy, the researchers concluded, had "similar response and remission rates to those assigned to medication therapies."
The outcomes from this study were quite poor, so much so that the reporting of results by the NIMH-funded investigators is a story of a scandal. The investigators relied on various mathematical gyrations to tell the public that 67% remitted in the treatment phase, when in fact, as a re-analysis of the study data by outside investigators found, only 26% of the patients ever achieved this status.
The study also had a "maintenance" phase that sought to assess whether those who had remitted could stay well. During this year-long follow-up, "physicians were allowed to make any psychotherapy, medication and/or medication changes to maximize the likelihood of maintaining patients' remission status."
Once again, the NIMH investigators reported the results in such a confusing way that it was impossible to figure out the stay-well rate. It took several years of medical sleuthing for a group of outside investigators, led by Ed Pigott and Allan Leventhal, to identify the actual number. Pigott told Medscape of the bottom-line results:
"We found that out of the 4041 patients initially started on the SSRI [selective serotonin reuptake inhibitor] citalopram in the STAR*D study, and after 4 trials, only 108 patients had a remission and did not either have a relapse and/or dropped out by the end of 12 months of continuing care . . . In other words, if you're trying to look at sustained benefit, you're only looking at 2.7%, which is a pretty jaw-dropping number."
Medscape then interviewed one of the principal investigators from the STAR*D trial, Maurizio Fava, and asked if Pigott's conclusions could actually be true. The STAR*D investigators had published a graphic with that 108 number, although it had been nearly impossible to understand what it signified, and in the interview, Fava acknowledged that Pigott had it right. "I think their analysis is reasonable and not incompatible with what we had reported," Fava said.
Study three: Combining psychopharmacotherapy and psychotherapy is not associated with better outcome in major depressive disorder
In a recent international study of 1,217 patients diagnosed with major depressive disorder, the investigators charted outcomes for those treated with an antidepressant alone and those treated with an antidepressant plus some form of psychotherapy. The results were virtually identical, and they were poor for both groups. Only 24% responded to treatment (e.g. experienced a 50% drop in symptoms); 34% were non-responders to treatment; and 41% developed treatment-resistant depression.
Here is a graphic that depicts the outcomes for the two groups: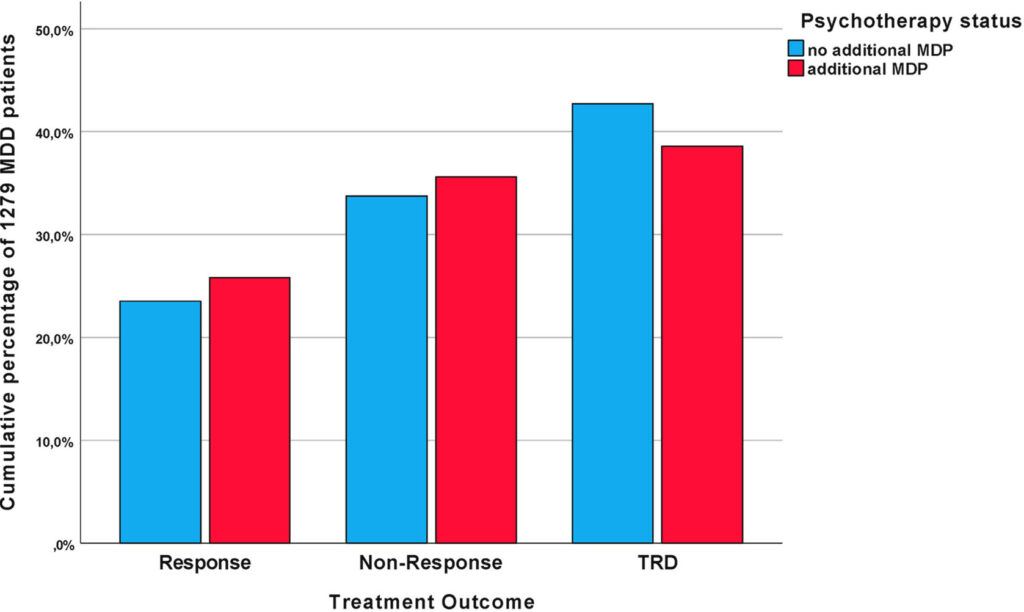 Thus, these three studies tell a similar story: the outcomes for "real-world" patients treated in clinical settings are quite poor. Only a minority of patients respond to treatment at some point, and only a small percentage get well and stay well.
Indeed, since the results from the STAR*D study were supposed to guide future clinical care and be "rapidly disseminated," the APA, on its website today, could list the numbers from that study to inform the public of outcomes for patients treated for depression. Instead of the 80% to 90% "respond well" figure, it could tell of a remission rate of 26%, and a long-term stay-well rate of 2.7%. In that way, the public could be properly informed about what NIMH-funded research told about the efficacy of treatments for depression.
Where Did The 80% Figure Come From?
In his last tweet, Aftab acknowledged that he didn't know the source for the "80% to 90% respond well" figure.
Fortunately, I do.
This is the very statistic that the APA has used to market antidepressants and its other depression treatments for at least 17 years. The APA's 2005 brochure "Let's Talk Facts About Depression," which informed readers that "antidepressants may be prescribed to correct imbalances in the levels of chemicals in the brain," said this about the efficacy of its treatments:
Depression is "among the most treatable of mental disorders: between 80% and 90% of people with depression eventually respond well to treatment, and almost all patients gain some relief from their symptoms."
That's the source that Aftab can't remember. His mind stumbled on a "fact" that he heard in some place or another, which in his cognitive dissonant state he assumed was true, and all the while he was unaware that he was citing a statistic that could be found in a 17-year-old pamphlet that assured the public that antidepressants "correct imbalances in the levels of chemicals in the brain."
The APA's propaganda, unfortunately, seeps into the unconscious corners of the brain, particularly when it is repeated year after year.
The Path Forward
Two years ago, Mad in America interviewed Awais Aftab and had him as a guest on our podcast, and I exchanged emails with him a couple of times after that. I have appreciated his interviews of critical psychiatrists published on Psychiatric Times. Even so, I wasn't surprised when I read his disparaging tweets. The language, the attribution of vitriol to me, and the claim that I twisted facts—it all spoke to an emotional cognitive-dissonance outburst, and that's how I perceived it. As such, I didn't really take it personally: To suffer from cognitive dissonance is to be human.
At the same time, his response leads to an obvious conclusion: Psychiatry cannot be expected to reform its ways. When push comes to shove, even those who would seek to reform the profession cannot confront the reality that exists in the research literature, which is so out of sync with the profession's pronouncements to the public and with their own understanding of the merits of their therapies.
So what is our society going to do? Our society needs to organize its thinking and care around the "narrative of science" that exists in the research literature. It is a matter of great public health importance, and at this point, the only way that I can see this happening is through the lever of the law. The law requires a medical profession to provide patients and, by extension, the public, with "informed consent." If that standard is applied, then the societal narrative will dramatically change.