On May 18, I had the pleasure and privilege of chairing a workshop at the American Psychiatric Association's annual meeting in Toronto. The pleasure was in getting to meet two psychiatrists I have admired from afar, my co-presenters, Hugh Middleton and Joanna Moncrieff of the Critical Psychiatry Network. The privilege was in sharing the stage not only with my UK colleagues but with our discussant, Stephen Marder, a professor from UCLA who is one of the world's preeminent schizophrenia researchers, and our co-chair Carl Cohen of the Radical Caucus of the APA.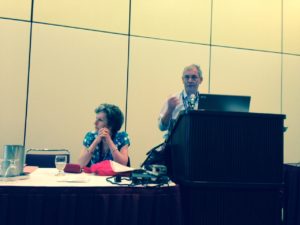 The topic: Rethinking the Long-Term Use of Antipsychotics in Schizophrenia: For Everyone, No one or Some?
Dr. Moncrieff began the session by reviewing some of the data that has led us to worry that exposure to neuroleptic drugs over many years is associated with a worse long-term outcome. She cited studies familiar to many readers here and elaborated eloquently in her important book, "The Bitterest Pills": the Harrow and Wunderink studies, Andreasen's long-term MRI study where brain atrophy was associated with longer exposure to neuroleptic, and the animal studies which found the same thing.
She also discussed the distinction she has made between drug-centered and disease-centered models for thinking about the effects of psychoactive drugs. In a drug-centered model one views these drugs as psychoactive substances with effects that are not on some central mechanism of disease, but rather on diffuse brain functions. For some individuals at some points in their lives, these effects may be warranted and welcome but they are not considered as intrinsic to recovery nor required indefinitely.
In a disease-centered model, the drugs are considered to be acting more directly on a specific disease state. If one considers them to be targeted to a chronic disease, then one would expect them to be required indefinitely and one would be more likely to consider unwanted changes when they are stopped to be due to the reemergence of the underlying condition than to the effects of drug withdrawal. She has argued that for many reasons, the field shifted from a drug-centered to a disease-centered model and this has blinded us to some of the negative aspects of long-term use.
Dr. Middleton, whose new book on critical psychiatry is published this week, spoke eloquently about the notion and nature of placebo. He pointed out that when a drug is given to a person there is more involved in the response to the pill than can be explained solely by the physiologic effects of the molecule ingested. These factors are often hard to understand in each individual but they are nevertheless present and powerful. He argues that it is a mistake to only consider placebo a distraction that might be mitigated by clever study designs. He considers it intrinsic to the act of taking any pill (or treatment, for that matter).
I presented on the results of my four years of following 66 individuals in my clinic who I have invited to slowly taper off the dose of their neuroleptic drugs. I have reported on the first three years of this project and I have now compiled the results of year four. I will report on these results in more detail in another blog but one point I want to make here addresses some of the fear that has been raised when people bring up concerns about these drugs, namely that people will abruptly stop taking them.
I have been keeping track of 66 individuals. At the outset, 41 individuals wanted to try and taper but 25 did not. Over time, there was some movement between the groups – some who started the taper decided to stop (17), some who initially did not want to make a change decided to give it a try (10). The point here is that individuals involved were extremely active in the process.  Many times they made conservative choices about their care.  There were 12 individuals who abruptly stopped the drugs but these were almost entirely people who had done so many times in the past.
There was a higher rate of hospitalization among those who started a taper, but most were ok. Among the seven individuals in the tapering group who were hospitalized during this time, they were hospitalized on average within 5 months of the last dose reduction and all of the relapses occurred with in a year of a dose reduction. So I use this to guide the speed of the taper. I found that abrupt discontinuation was almost invariably associated with a recurrence of psychosis and a very high rate of hospitalization. This allows me to say to people who want to stop the drugs that I will work with them on this but I implore them to go as slowly as they possibly can. It has been common that when people do go into the hospital they come out on a higher dose than before the taper began, so that going slowly and avoiding hospitalization is the best way to insure reaching a goal of being on the lowest dose possible.
Although I can not, at this point, identify a specific benefit of tapering – I tracked rate of employment, which did not differ among the groups – I continue to think this is an important conversation to have with the people I see and I will continue to track their progress in the years to come. I realize I am emphasizing the risk of hospitalization over other untoward effects of tapering. I did not identify specific or even non-specific withdrawal complaints. Some people had trouble with sleep and others reported some vivid nightmares but this tended to be transient and often was not a reason that people chose to stop the taper. Whether this is due to my not asking the right questions or the slowness rate of taper or the general tolerability of the reductions of these drugs is hard for me to say.
Dr. Marder's comments were supportive but he clearly approached this with a different perspective. While he agrees that it is important and valuable to try to achieve the lowest dose of the drug he also believes they will continue to be necessary for most individuals. For instance, he noted that all individuals should be treated with neuroleptics and although "it is plausible and inescapable that some people will do well without drugs, it is not probable." We were fortunate to have someone of his stature as our discussant. He enjoyed the workshop and seemed open to doing this again but also he told me he was surprised at the level of interest.
But he was not the only one who was unprepared for the level of interest. The most remarkable thing about this workshop was who attended. The room was full by the time we started and shortly into the session it was standing-room-only, and people were turned away. The audience was extremely engaged and we remained in the room for another 30 minutes after answering questions. We were approached about presenting again at another meeting, and were heard from a reporter who wanted to learn more.
I want to once again thank my co-presenters. It was an honor to be among you and I am grateful for what you have taught me.
***
Mad in America hosts blogs by a diverse group of writers. These posts are designed to serve as a public forum for a discussion—broadly speaking—of psychiatry and its treatments. The opinions expressed are the writers' own.
***
Mad in America has made some changes to the commenting process. You no longer need to login or create an account on our site to comment. The only information needed is your name, email and comment text. Comments made with an account prior to this change will remain visible on the site.